Hi there AppWorks fans,
Welcome to a new installment of AppWorks tips.
NICEEEEE…4 years of pushing the ball upwards on the hill, and we're still here! If you are too!? 🙏 🤝 👊 I just keep on grinding, and I'm here for you to support your journey being the best AppWorks low-code developer you'll ever be in the market. Trust me, it's worth being one! Just grab the time doing the continuous improvement and invest in yourself on new skills! But today we're standing still at our 4-year anniversary which this blog site passed this week! Time to recap, pick a beer and see what the future will bring.
---
Let get right into it…
As always a big THANK-YOU! to all people supporting me, giving feedback, asking questions, and collaborating with me and others over interesting topics. It's always great to have a chat with you; If you are novice or a "dinosaur" to the platform, I always love to have a chat with you. The last couple of years I build an interesting network of people that have a great background, experience, and knowledge about AppWorks. There is nothing we can't solve, discuss, or ask questions about, so don't hesitate to do so. Join the community and share that knowledge so everyone can benefit from it. Why keep topics behind walls?, why keep knowledge for yourself?, why not sharing what you learned today? If I can do it, you can too…Trust me, the world will be much bigger!
Special thanks:
The list of e-mail subscribers increases still each month; It's not too late to still join the party and get informed about our weekly posts on a monthly basis about interesting, AppWorks related content. It will continue…Also, this next year!
The 'AppWorks' colleagues I work daily with! We share knowledge, teach each other, and we'll continue doing so. All for the greater outcome on our valuable project, happy customer, and happy end-users.
The Dutch people I have my own monthly call with in my own native language; where we discuss anything that gets on the table related to AppWorks. So, projects, questions, and insider thoughts.
People from OpenText joining the monthly community calls and me having open conversation during live events under a glass of wine/beer…Thx…It was a pleasure!
All the other people who just want to take selfies with me…You know who you are… 🤳
---
Why did I start this blog?
A recurring question for each year…Why in God's sake did I start the blog? Well, let's rephrase the question: Why on earth didn't I start this blog 10 year earlier in my career!? If I take a look back on what I've accomplished so far, what appreciation I get, what new contacts I made and opportunities it brought me on my career path…UNBELIEVABLE! Is the gras greener on the other side of the hill? I always thought it was not, but if you put just that extra piece of work into it…For sure, it is!
I started to blog with the intention to help other people starting or continue their own journey on the AppWorks platform. Helping them in the first steps to dive into the platform and eventually providing guidance on best practices and the best knowledge tricks to implement your own low-code solution on top of it. It's been a great journey so far and I will continue with it, so you get the correct information on where to start with the platform, how a local installation works, and bring value how to build that first implementation that will have a solid foundation for the future. With this high-overview there are off-course a lot more reasons like:
There is a deeper craft of knowledge of principles for myself when I teach my knowledge to others…You should do too!
Starting a blog opens opportunities globally over the world…
People start recognizing you and want to join your ship of ideas
When you bring value, others are open to bring value back to you sometime in the future
It's important to build trust and a blog post is that first contact moment to have an open chat on any other subject
You bring value into a closed OpenText community, and it's about time to break open the mindset of placing everything behind credential walls; We are developers and want to have that StackOverflow community build by and for developers…Accessible anytime and anywhere!
---
Recap from last year…
Reviewing my posts must conclude to me, it was a fascinating year again…As in previous years!
Let's start with the 4 quarterly releases since our last recap where AWP 22.3 made a big step into the 'Dynamic workflow' BB which exposes more advanced business logic from a runtime perspective; Your business analyst role will love it being under self-control and delivering basic workflow steps/tasks to the end-users.
Next quarter was AWP 22.4 exposing a new way of the EIS connector implementation against OpenAPI specifications; Great stuff where code is generated, and you only need your low-code skills to embed an external system into your solution; With this version also GIT support is added to the list…The default for source control management in almost each company!
Then we got AWP 23.1 which was all about the new 'Notification' BB where mails are sent out by conditional events.
Finally, we also got AWP 23.2 with features for end-user (scheduled) event subscriptions and rebranding of 'iHub' to 'Magellan BI & Reporting'.
Across all releases let's not forget many other fancy feature updates; Like the extensions in the 'Type ReST API', accessible from the '/app/admin' portal for your solution making you communicate JSON to our beloved XML-minded-platform; The UI update on saving filters to let end-users define their own filtered lists; And what about the extended functionalities in the new JS library with 'Promise' objects which enhances the communication with the platform via JavaScript and refresh capabilities between layout panels…All great stuff to play with; Specially delivered for you! 🤗
Last year was also about the new 'Intelligent Viewing' product where a new viewing era was introduced to the platform; Not yet 100% compatible with all features at that time, but with release 23.2, AppWorks is ready to embrace all of its functionality (if you apply the correct license…off-course!?). Can it replace Brava! already? Well, for the exposed features it's mature enough now! Just try it out and ask your sales representative for more information and how to migrate from Brava! to IV.
It was also the year when I experienced my first xForm insights with webservices. Nice and great to have a sniff, but will I ever recommend using it…NOPE! Other technologies definitely made this experience much easier, cleaner and looking nicer too.
Let us also not forget the interesting archiving and auditing posts. This included deeper insights into where BPM data is stored and provided recommendations to archive or clean it where applicable. Also, the audit can increase into big data tables which you want to monitor, archive, and eventually clean up for a steady system in the future.
We implemented interesting customizations! Remember the posts about 'drag & drop' between panels, creating your notification icon with the new JavaScript API, and all the CSS/LESS tricks to show those missing icons for layout tabs and hiding the inbox from the runtime experience.
OpenAPI is further standardized and give the EIS connector a new way of embracing it; Just provide your OpenAPI specification URL, map the CRUD operations to your defined functions and generate linked entities out of it all…Also, more and more BBs are supporting on this linked type of entity which brings this way of implementation an interesting choice to connect with external systems and embed it into your runtime.
The XML Document Store exposed its insights…We did a walkthrough and went all the way in the store which in the end is just a data table structure in the same database all metadata for the platform is eventually stored. WHAT!? Yes, read all about it here
It was a long item on my backlog; I also failed a couple of times, but continuing the grind brought me to this "Upgrading the platform" post! Read it, benefit from it, and you have a better understanding of what hurdles you require to take.
Starting my own company was also a long-lasting topic on my bucket list…Well, I made the step last December 2022, and it's the best choice in my career! Thank you all for the support, dedication, contact moments, and trust…You know who you are! If you also would like to collaborate with me…You know where to find me "Bos ICT Services", and together we can and will conquer the world.
You probably noticed already; I did some personal branding by upgrading my photo's. So, the profile picture is now more "business" like and my photographer did a great job on new pictures; You will see them passing by on this blog to make it all a professional experience, and you have a better impression who you're dealing with. Comment me on your thoughts…Not only on the photos; It can be anything AppWorks or OpenText related.
The final quick recap was my live event in London (some weeks ago); I don't recap it again as it was broadly communicated. Read all about my experiences here. When you go to these events, let me know and I will make sure to put you on my list to make contact, shake hands, have a beer and a live chat; How's that about bringing value to you! 😎
---
Promises turned into actions
For this, we first look back what promises were done last year:
A "second booklet"…Well, a checkmark there. It's available on the 'Products' page. Check it out for yourself. After sign-up, you will receive a link to download the content. Let me know otherwise as I have heard from people the link has not received; although I see it was sent out to the correct mail. It's no spam, it's your pass through for valuable downloadable content in PDF format. You are indeed directly subscribed to the monthly newsletter, but the mail is included with an unsubscribe option. Just contact me in case of any issues.
"Forum posts"; It's more on my list again…I asked a product manager from OpenText the thoughts behind the forum as I see things are not seen, not answered, or not picked up for any other reason. I hear the forum will be monitored more often now with more people. So, get your questions fired away and let me also help you during your journey.
For me, an AppWorks forum (or any other forum) is like StackOverflow for programmers. It's all about sharing, caring, loving, and sparring about the product you love. Let's get rid of all the backdoor knowledge bases and standard documentation behind credentials. It should even be possible to get rid of licensing for developers; These are the guys helping OpenText to promote the products and the last thing they want is hitting the wall of licensing bureaucracy…We just want to try out stuff, so we can inform your customer on best practices, tricks, and experiences. Please, just help instead of building a barricade! 😲
A "Patreon / Discord server" is still on my list; I just didn't have the time to discuss it! So, I keep it on the list…Let me know if you have any need of such a thing where we can collaborate and share information.
"Bootcamp"!? I'm in contact with OpenText to see if it's possible to provide AppWorks training from an OpenText perspective. So, with material from OpenText and also their environments (I think it's on Azure!?). There is still a possibility for me to build my own bootcamp, but seeing the time it will take to build this and I don't see a large demand for it, I have my questions to start with it. What I can do is provide you value with "Workshops", but my question to you…Do you need this and what would be possible topics to workshop about!? Let me know…We can have an open call about it.
---
Google Analytics
As every year I'm very curious what has changed in the data since last year. One thing has changed and that's the way data is collected. Google moved to a new way of collecting data (from UA to GA4) and my website move with it since March 1st, 2022; The main differences:
| UA | GA4 |
| --- | --- |
| Tracking ID | Stream ID |
| Hit types | Event-based |
| Only website data | Includes Mobile app data |
Read more about GA4 here
The below insight is from March 1, 2022, till May 12, 2023
Audience
The numbers of users and sessions is always great to start with:

That's 18K!! What if I tell that's equals the number I build in the first 3 years; We did it now in 1 year! I love you too! 😍
This is also an interesting insight: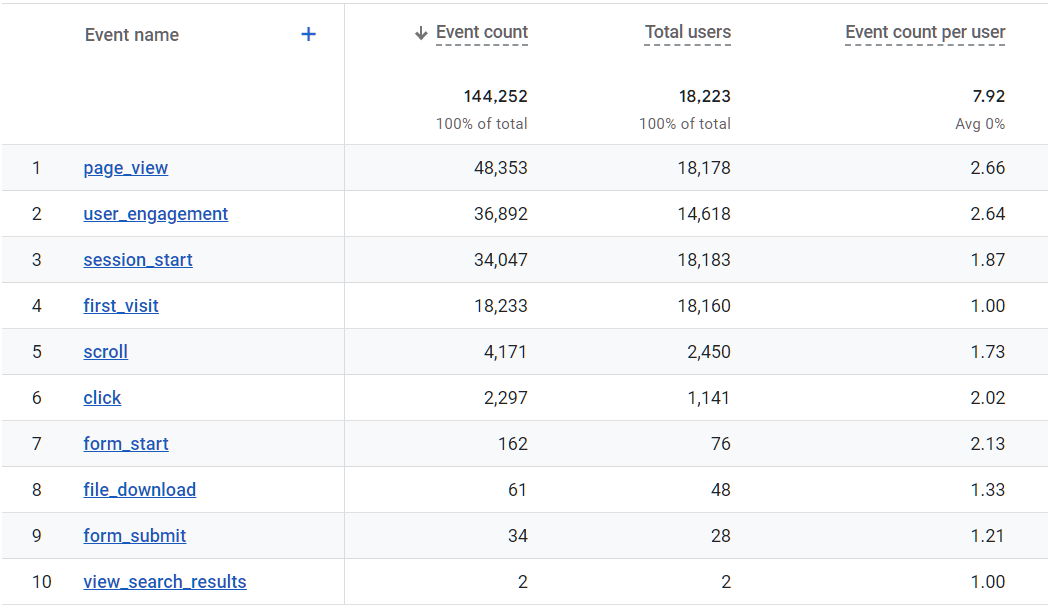 Almost 50K page views in ONE year! Do you remember last year hitting almost 60K-page views in THREE years? Holy crap!!
Where are all those people coming from?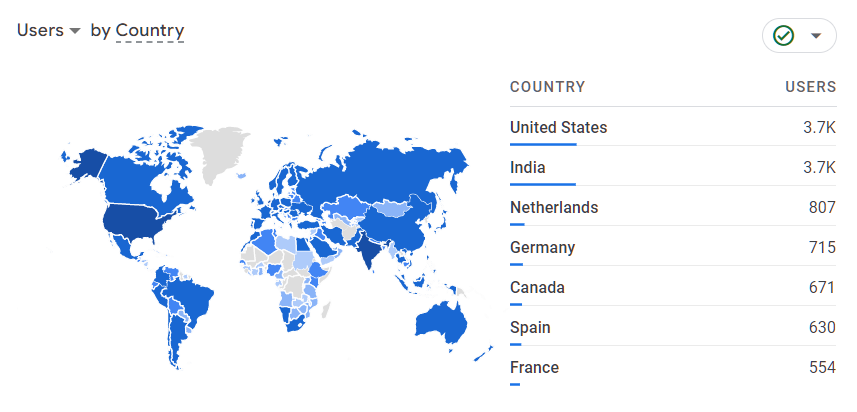 India and the United States are still in the top 3!
The browser they use?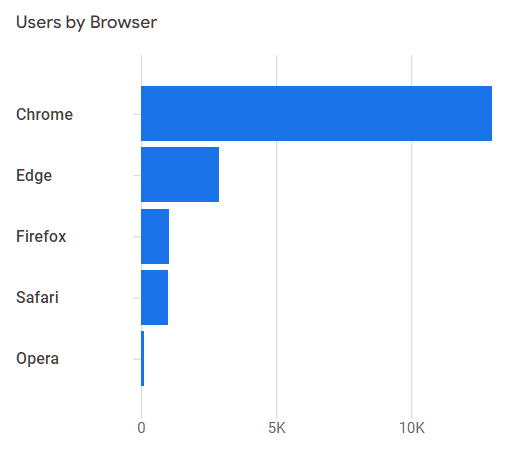 The OS?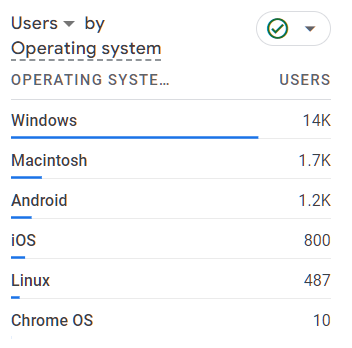 Screen resolution?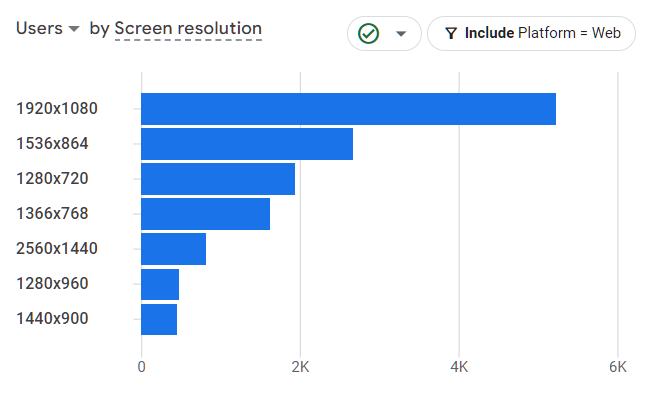 Acquisition
How did the users get on my site?

Behavior
The top 10 pages that are visited?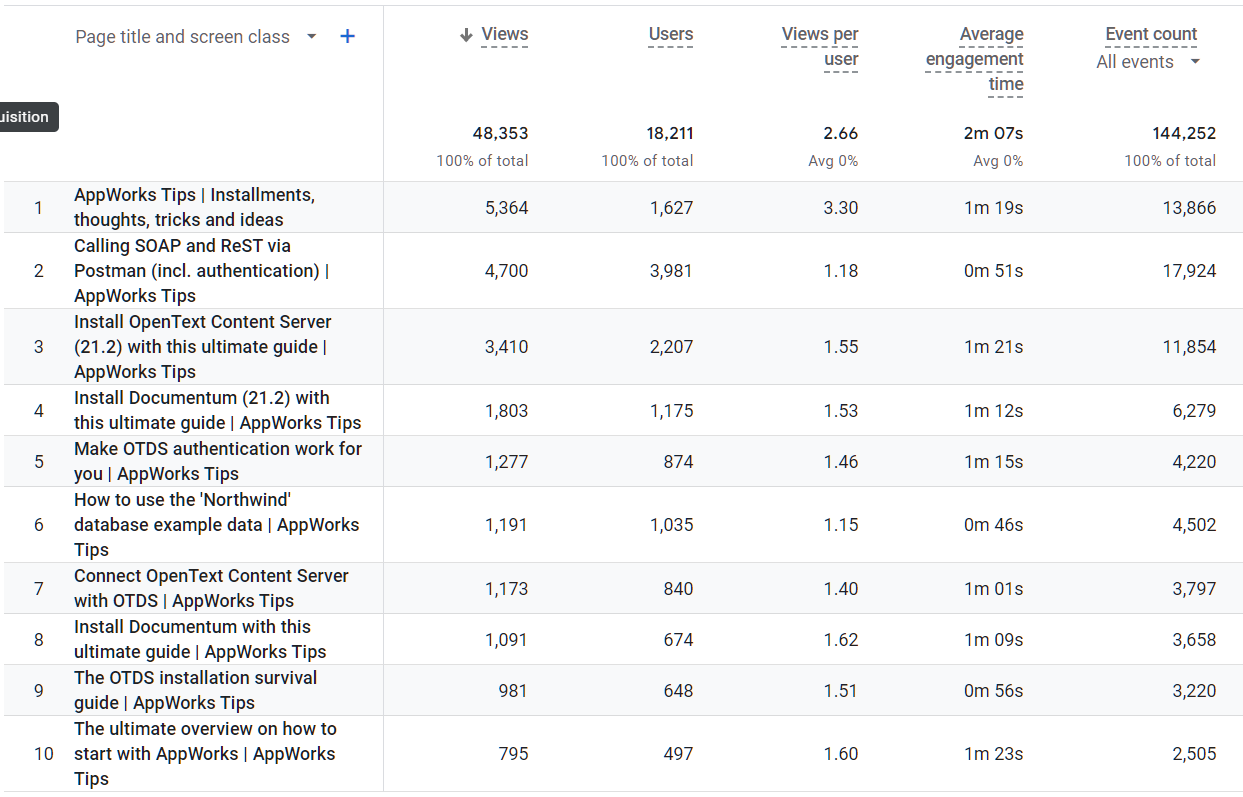 Interesting to see here are the authentication and installation posts! The real deep-dive AppWorks topics on BPMs and customizations (where I see the most struggles) are not high on the list.
What did you search for?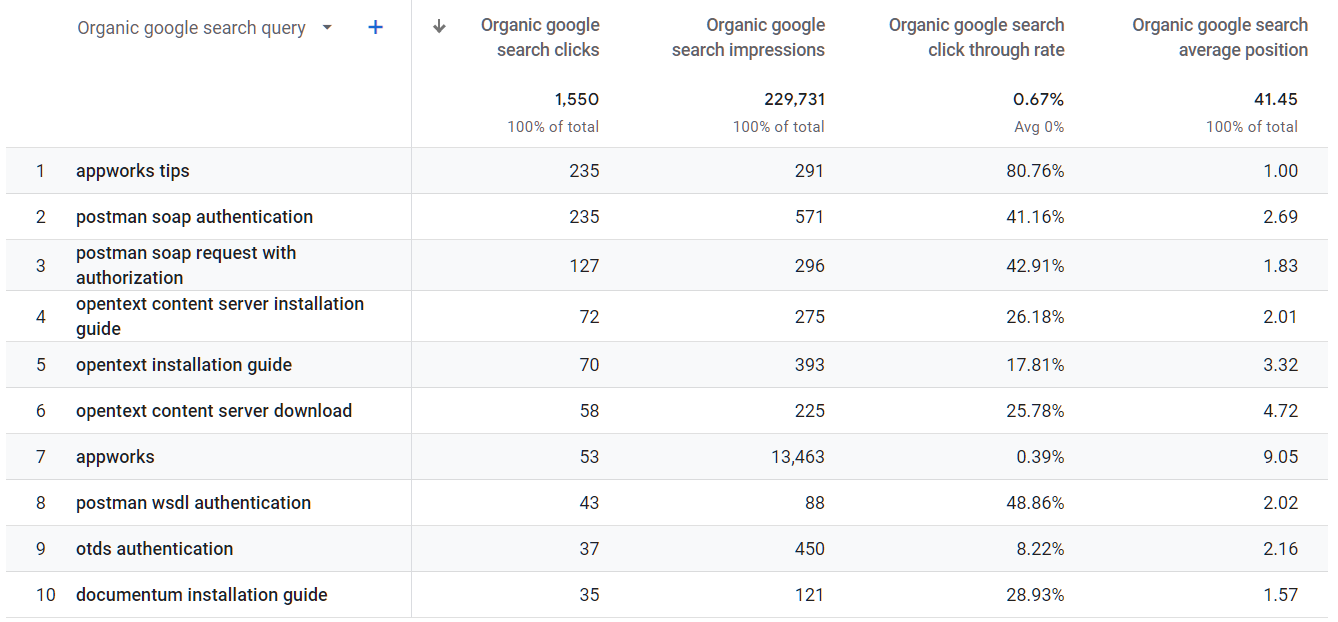 The page loading time?
Well, after searching for it, I must conclude it's not included by default in GA4…That's too bad! I know my pages load quick enough, but having an insight would put the cherry on the cake. Not for now, but I'll put it on my backlog for improvement via an implementation explained here…Looks like I'm not the only one missing it.
…
Great numbers again with one backlog item to improve on! Not bad at all and feeds me the power to continue this journey for another year (and beyond it!) 🤠
---
The future
It's always good to have a focus on things somewhere in the future. Let's see what I see in my crystal ball…
AppWorks Hosting would be an interesting thing. Not a production environment, but I think there could be a demand for developers to have a high performant shared environment up and running to build your POCs, try-outs, or for other specific reasons from your side…Let me know as I would love to help you with it.
A third booklet about another underrated topic of the platform called "Administration". There is lots to be discussed in this area of AppWorks and I still think people would like such a booklet. Again, let me know your thoughts about it…Or maybe a totally different aspect of the platform?
Training is also mentioned in the section 'Promises turned into actions' and I'm looking for a way to partner with OT on this one. It's a win-win-win; I hear people want me to teach them, I want to get in contact, and OpenText want to sell their training. So, where are we waiting for…Would it be HR again? 🤔
I always love building for a community. It helps others as well as it helps me, so why not join the party and share whatever you know, ask whatever you want, and talk wherever you can. I do it in several ways currently; In my project, In my WhatsApp, On my blog, A monthly call with AppWorks gurus, and we have the OpenText community session on a monthly basis.
Forum posts; Still on the list…A bit quiet, but I hear there is movement on the other side of the wall! So, keep your questions posted; They will be monitored and answered.
Sponsorship…That's an interesting one! You might have followed this URL once, did a quick scan and continued life. I totally understand and I also don't have any problems with it; I only wonder if I would want to put new time in it as the sponsorship at GitHub is going to change which requires time from my side to move with it. Disabling is just 1 minute of my time. So, let me know if this option would still be valid for the website, maybe stop it, or move elsewhere as it also requires you to sign-up with GitHub to make it possible. We can always have a free call to talk about the possibilities.
---
Backlog topics (preview) for new posts
Just a handful of topics on my Kanban board:
Containerized deployment; High on my list, did it several times already, failed dramatically, but I'm not giving up on you…I will have a 10th time, if needed!
Silent installation; That's the same ticket…Sounds easy, but harder than thought. I saw it several times now and discussed the topic regularly; Let's have another try this year.
Connectors (File, Gateway, Case Accelerator); Sometimes unclear, sometimes unknown, but most of the time highly effective and valuable in the features they bring to the platform. Get yourself informed on what is available on the market, so you can inform your customer with solid advice!
Create your own connector (for a new type of service container!); A technical guru from OpenText PS triggered me for this post…Well, if he can do it, then we will too.
Performance (load-balancing, OS processes); Always a hot topic we need to inform ourselves about. Let's see the possibilities and the walls we'll hit.
Calling OpenText Developer cloud; aka IM Services; YESSS, now we're talking! It's all OpenAPI specified, so why not try some stuff with the new EIS connector!? Or build a custom documentstore connector to call the fancy stuff and misuse AppWorks for the UI implementation!? Just some wild thoughts to explore…
Meet the founder of AppWorks (aka "Cordys - Business Operations Platform"); I go back into history with two other godfathers of the platform, and we'll have a glimpse of the new way of working where APIs and ReST calls are definitely on the menu-card. We only need to embrace it…Also in EMEA!
…
I can highly recommend a board like "Kanban" to keep track of things. I have quite a simple approach with several columns to work with and provide structure and overview on tasks to work on. There are others on the market, but I just find this one doing the job very, very well (even on the free tier which even makes repeating tasks and due-dates an available option!)
How I do this? I plan all items on Sunday for the whole week. The only thing last on a starting Monday is executing on the tasks. I work with a self-defined pomodoro approach. The pomodoro technique itself is for me too strict in relation with customer work and meetings (they never fall in my planning and for a reason!); There are too many breaks otherwise. I plan my pomodoro around it; So, in early mornings; Just one after lunch, and after customer work.
This is my collapsed planning board: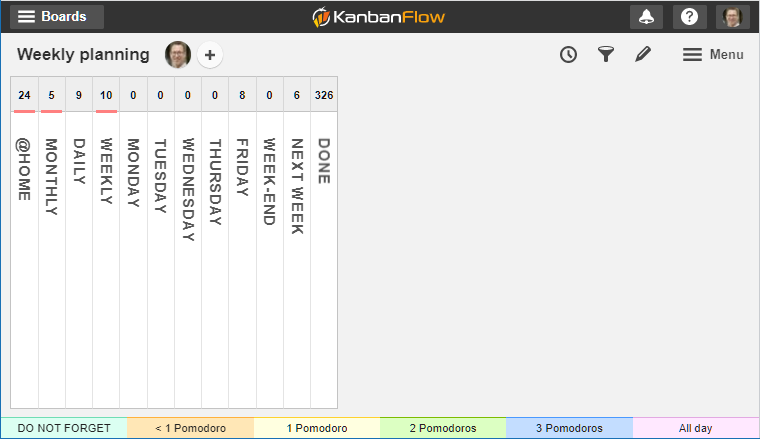 Each column will get tasks, and they will move from column to column. A task is what you execute on and will have the correct pomodoro color (so I know how long to work on). It will also have a title, description, small subtasks if applicable or maybe due dates (mostly for calendar specific items…It's up to you!).
'@Home' just contains my tasks to not forget at home (mostly stuff around the house, like car cleaning or garden cleanup).
My repeating tasks are in the 'daily', 'monthly', and 'weekly' columns. The monthly mostly have a due date and I will get notified in the column itself to pick up. The 'daily' tasks are ALWAYS DONE!…I even get myself a point for that day…An 11 was a very productive and appreciated day! Why doing this approach? Well, to keep myself on track things start to fall apart…When I don't hit those 11 numbers anymore, it's time to kick myself in the nuts and ask myself #WTF Mr. Bos!?
The 'weekly' tasks are nicely planned out in the other 5 next columns per day; Here I also pick my Google calendar and add a task from it on the board! This way I only need to focus on my board!
'Week-end' is normally empty, but sometimes a special weekend task (to not forget) is placed in here.
'Next-week' is for new things popping up in the current week which can be planned for the next week (I kind of do-not-forget-next-week list).
In the end all tasks will land in the 'DONE' column which I clean once a month to keep the experience smooth. I don't report over it which I see other people do…For me, it's important to get the job done and that's always case when I hit the 11 points for the day! 💪
---
Quote for this year
"Crap in, is crap out"; I see this in all aspects in life! Not only in projects and business, but also in sports, music, and even family. I always make sure to input myself only with positive thoughts and get rid of all the negativity as quick as possible; It will only limit your thinking and keeps you small and average. Do you need anyone else for this? NOPE…It is all about your own choices in life and what YOU make of it; Never blame somebody else from where you currently stand. So, say "No" to the things you don't want and embrace with you do want. If you stand in the middle of anything negative; Just walk away, don't complain and continue life as you want to have it.
After reviewing my quote, I conclude my mindset is starting to shift (my wife also noticed in a positive way)! How is this possible? What I say…Add positive things in life; I do this by:
---
That's all for a recap for this fourth year…"DONE"; Our mindset is moving, and the future is bright with interesting items on the backlog. Four years of sharing brought me in a new era of life with great improvements in knowledge, communication, and appreciation. I'm not only doing it for you, but also for myself as I now start to see where this mindset will bring you; Eventually on the other side of that hill. I just keep pushing the ball upwards till we're there; more than enough data and information is available to improve, to implement, to learn, and to just try out for fun. I will for sure continue with it, and we'll have a fifth anniversary in 2024! Thank you for all the support this far and hope to speak and shake hands somewhere in the future on any life-event…Just ping me; I'm always open for a chat. Cheers! 🍻
Don't forget to subscribe to get updates on the activities happening on this site. Have you noticed the quiz where you find out if you are also "The AppWorks guy"?