Hi there AppWorks fans,
Welcome to a new installment of AppWorks tips.
Last week was OpenText World EMEA Innovation Summits (Registration was possible here)…It's your chance to get involved into the latest and greatest information from OpenText and connect with the people behind all this information. You can attend the event virtually, but I grab the opportunity to be in London (April 27, 2023) during this event. Just to search the involvement again and because it's been a long time ago such event is close enough from where I live. I also go totally unprepared into this week, and we just see what we can pick up from all the information! I started my own business, so making connections with the correct people is my primary focus this time.
---
Let get right into it…
The event is partly virtually, but you can also attend live in Munich, Paris, and London…I was live in London at the iconic etc. venues County Hall:
It took me 6 hours, starting at 3.30 u. in the morning to get there (by car, plane, train, "the underground", and a last 5 min. walk), but it was worth the trip and time. Boy did I re-connect with people I already knew and also with new people. I even got a selfie with someone recognizing me from my blogposts; And exactly those moments trigger me to continue my journey, so thank you for that; You know who you are!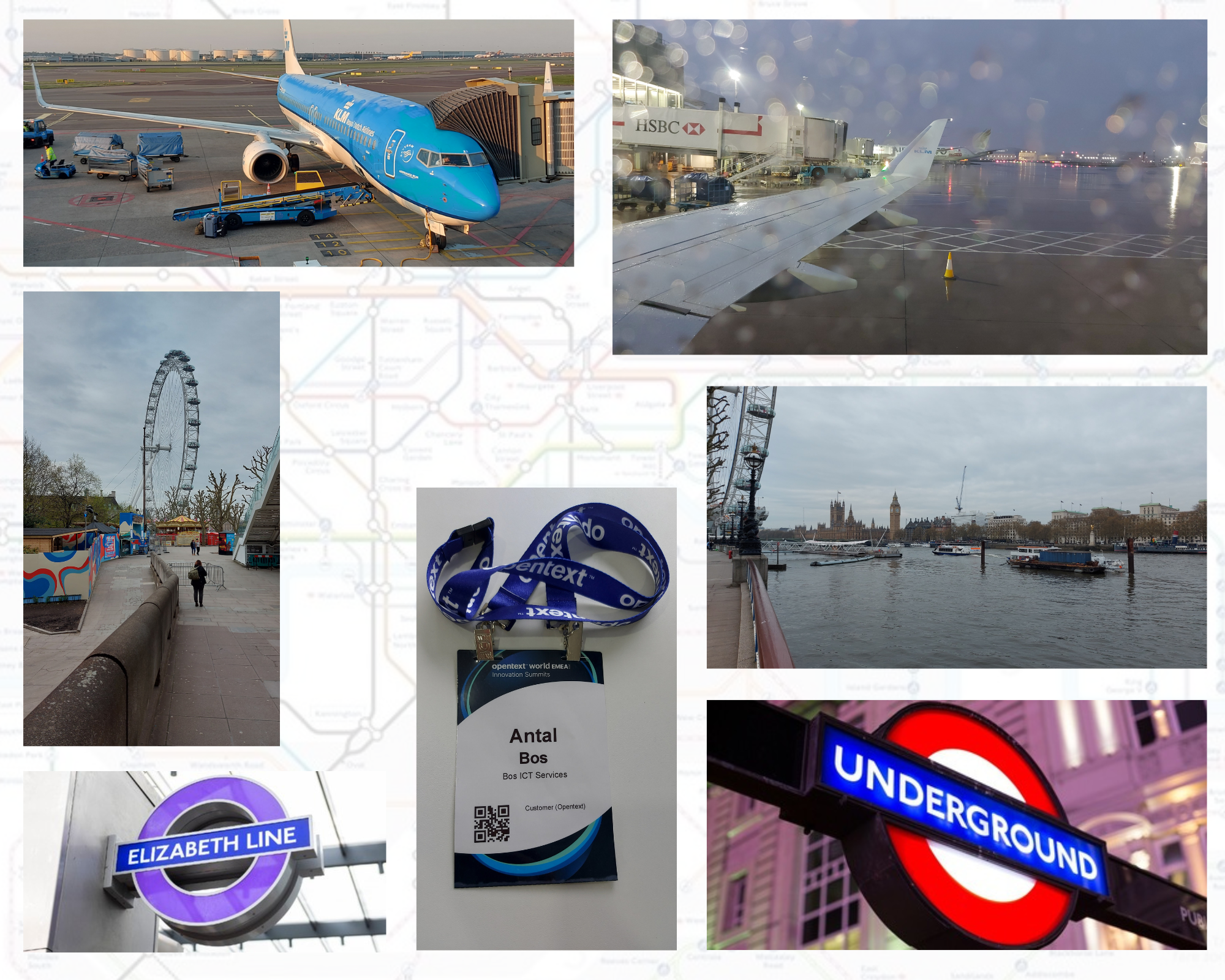 Just a list on the type of people I met:
"Head of ECM Division"; I got in contact already some years ago, and he also joins the OpenText community call regularly. They have an enthusiastic team following my blog posts weekly.
"Director of Product Management"; A highly valuable guy, always sharing knowledge, and I'm glad having a great chat about what the future will bring. Not only for AppWorks, but as well for the API platform! Greatness will come my friends…Keep it locked here for all that news.
"Founder & CEO"; Decision makers are always great to connect with. Working for my own and connecting with them, helps me to thrive forward my own company as independent subcontractor. Make sure to listen to what they need, bring what they ask for and the rest will be a win-win situation.
"Entrepreneur | Transformation Leader | Strategist"; A person having its move into the same direction as I did. Again, listen and learn…They can bring great value into life. Thank you for the quick chat.
"Customer Success Partner"; Standing alone at the coffee-corner, blinking with his "Micro Focus" badge gave me the opportunity to get in contact. We had a great chat together with the AppWorks product manager.
I'm not communicating personal names/companies here as I didn't validate for approval on that.
Just an impression on that valuable day…Including a treat on The Greatest Show in the evening: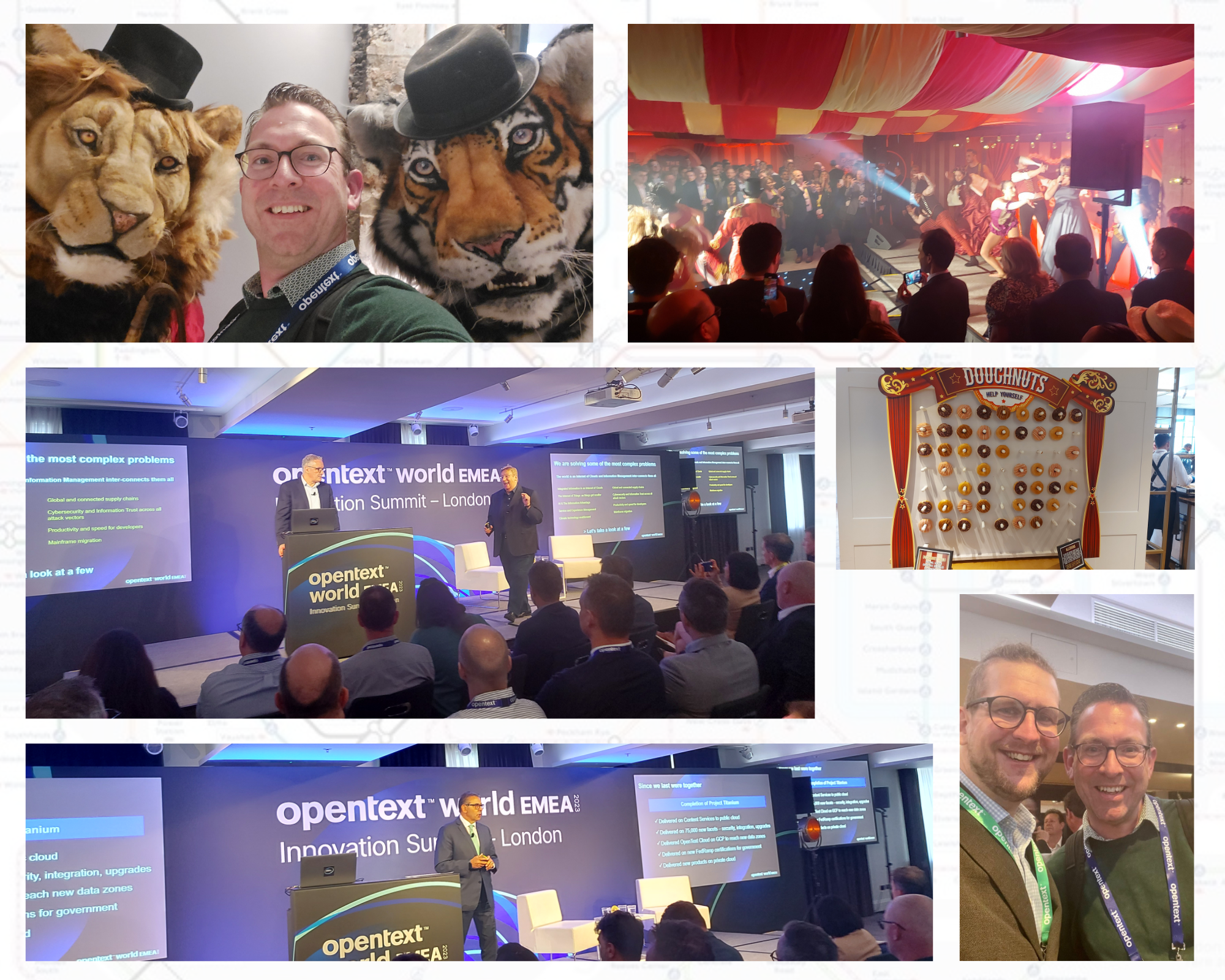 After the first hour of the evening program, I really needed to go for a 6-hour travel back home. ETA in the Netherlands was 0.30 u. It was "time well spent" as one of my project colleagues would say, but it was also time for a good night's sleep! 😴😴😴
…
Ohwwww…Before I forget…there were also sessions to follow! 🤗 Let's jump into the keynotes of Mark and Muhi…
---
Opening CEO Keynote: Get Ready for Business 2030 & the New Tech World Order (by Mark J. Barrenechea)
First a great thank you for all the customers (or navigators!)! You know who you are. OpenText is there for you with a 25K strong experts pool of people (still expanding with the acquisition of Micro Focus) bringing the world's leading Information Management Business Cloud and company to that great success! They service 10K governments globally, and SMB with the OpenText cloud. OpenText is your trusted partner to solve the most complex problems in new and innovative ways, at scale, with open multi-cloud services, eco-systems, and infrastructure.
Spoiler: ChatGPT makes its appearance at OpenText as well!
Expanded missions are at 'Enterprise Cyber-security', 'Enterprise Technologies', 'Digital & IT Operations', 'Developer Operations (DevOps)'; All these missions reinforce the importance of InformationManagement, ContentManangement, ExperienceManagement, BusinessNetwork, and wrapped around ServiceManagement.

We do 20 years of progress over the next 5 year! Why do we fill in all kinds of forms while we have all the data available!? We only need to have it analyzed by AI and bring it to the surface. AI is going to change the world in all industries. It's beautiful, and we can all benefit from it!
Interesting things are said during the session! People don't need to sign a "Hold AI agreement" as it will only slow down innovation. Well, if OpenText is so smart in AI why do I (as a business owner) need to sign 4 PDF papers to provide training to their customers? How is that slowing down innovation? Can have a discussion on that dear Mr. Barrenechea? You can reach me at https://bos-ictservices.nl
Demographic things are changing too. People under the age of 30 are now labeled as "Generation Digital" with a new set of expectations. Control of time, space, and education is changing. We have new rules to check all your assets to reduce your footprint with live data. New opportunities make AI and VR available; Things get smaller with the smallest "active" RFID tag which will explode in the number of devices having them included. AI has large language models that can uplift the skills of our businesses.
The landscape of clouds:
OpenText Content cloud
OpenText Cyber-security cloud (powered by Micro Focus)
OpenText Business Network cloud
OpenText Experience cloud
OpenText IT Operations Management (ITOM) cloud (powered by Micro Focus)
OpenText AI cloud (powered by Micro Focus)
OpenText DevOps cloud (powered by Micro Focus)
OpenText Developer cloud
These all run on the so-called "OpenText Cloud platform" with over 30 API services available today to consume from.
…
The world is an Internet of Clouds; Open multi-cloud infra, ecosystems and applications. We have only one internet, it's universal, and it's the new corporate network! OpenText mission is to be the IM Business Cloud and the interconnect for the internet of clouds; This includes Dynamic information and static information (Call it interconnected information!)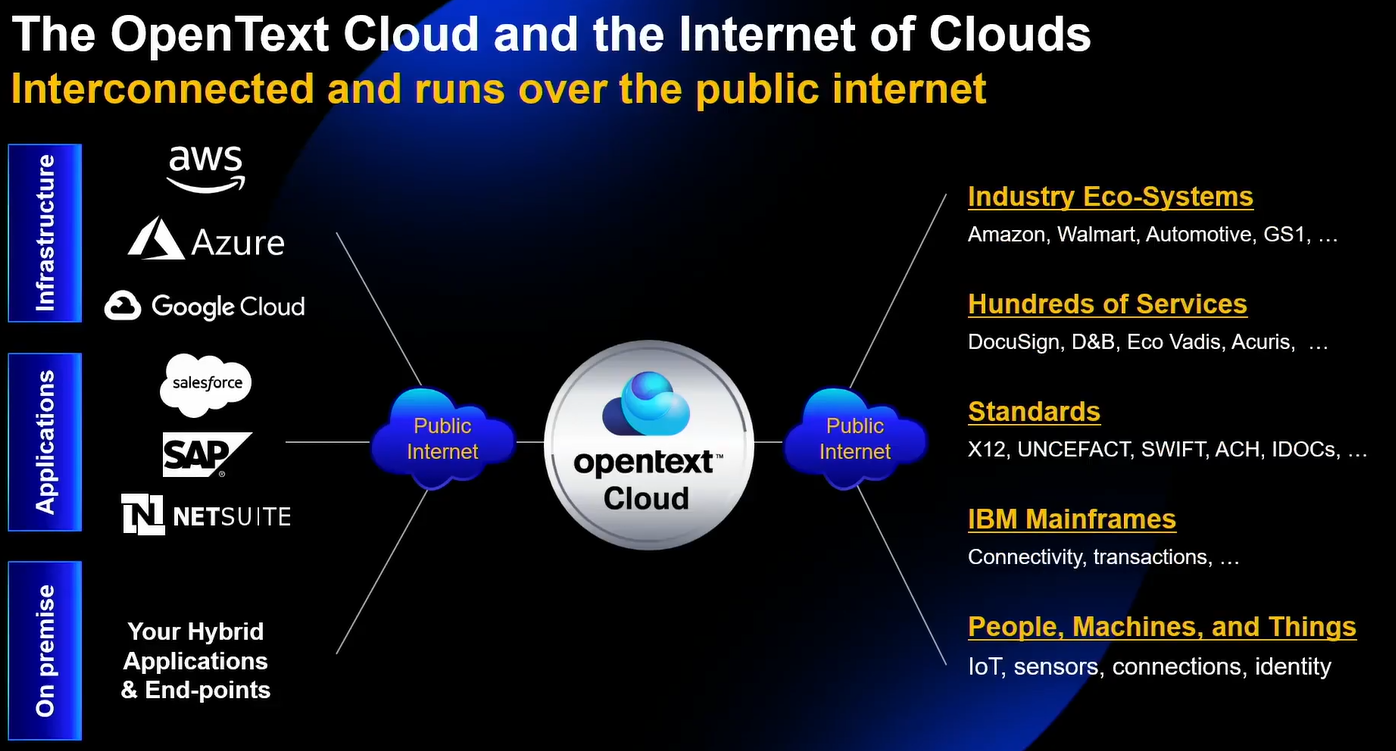 During the pandemic and working from home we all worked over the public internet; Now we're all back to the office and working again in the private internet/networks (that's the world up-side-down again). Next year, OpenText doesn't have a private network structure anymore in its buildings. The OpenText cloud is designed to be run over the public interwebs. It's high speed, resilient, and scalable.
Choices, choices, choices…You're the customer, so take a pick:
Off-cloud; Cloud Editions run off-cloud, and supports multi-cloud connections and services (This is how I see most customers still doing it currently)
Private cloud; Cloud Editions are fully supported by OpenText's leading private cloud platform (Running software at OpenText but having control over their own environments!); 4K customers already embraced it.
Public/SaaS cloud; Cloud Edition features are fully featured and certain workloads only available as SaaS (Here OpenText is managing and in control as far as I understand); Here you see the discussion who is responsible for what is eventually delivered from a solution standpoint and are customization allowed!?
API/Services cloud; All big cloud edition functionalities are built as an API; So, you are in self-control building and calling whatever you want! Remember: With great power, comes also great responsibility!
What about standards and compliance offerings? Don't hesitate…OpenText has the most comprehensive coverage in Information Management when it comes to compliance rules, data trust and standardization!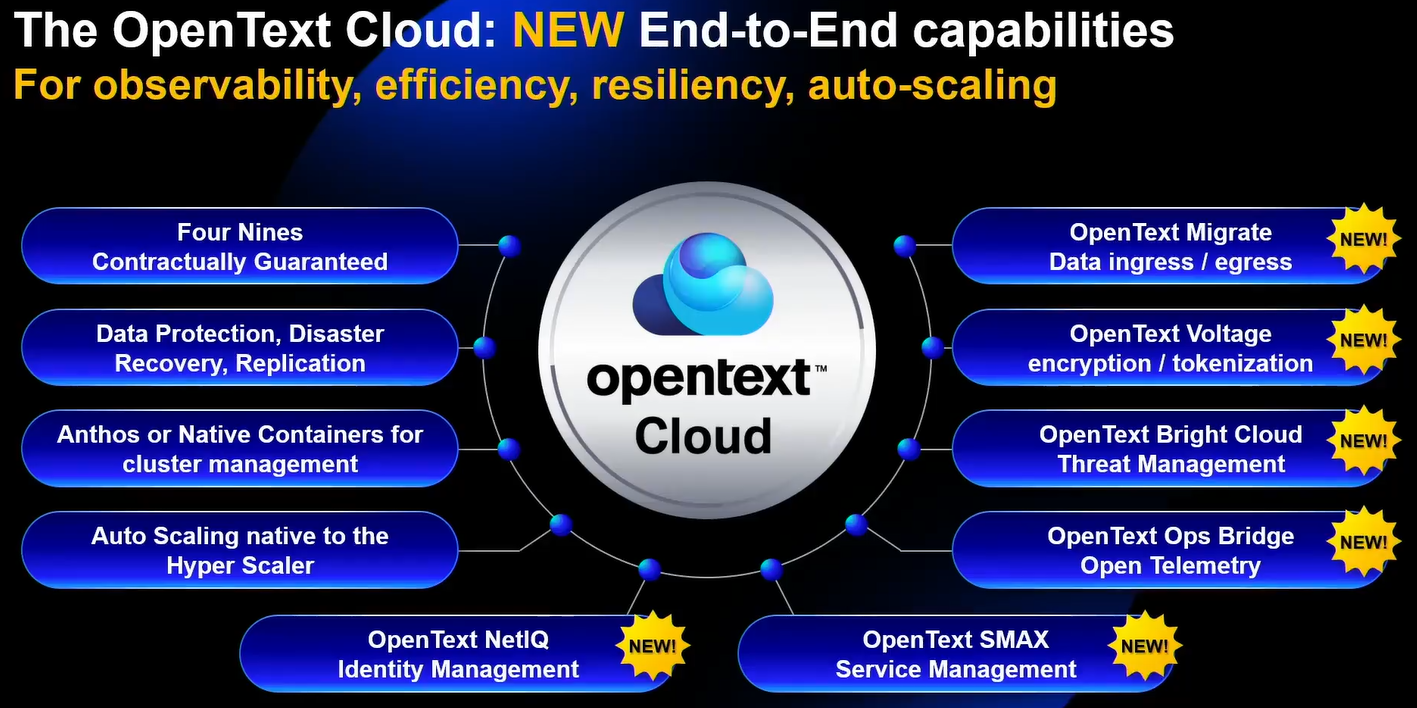 …
Micro Focus update
Cloud Edition Acceleration; Moving the Micro Focus products to the cloud! DevOps cloud today available is private/public cloud. The Cyber-security cloud will have Fortify and Debrincks (security for the software supply chain) available today, full cloud available in CE 24.2. ITOM cloud with today available FinOps and SMAX today in the public cloud. Application Modernization & Connectivity makes it entrance today in the private cloud. Finally, the AI cloud gets Vertica in the private cloud in 24.1
Titanium update
It's here, It's delivered in CE 23.2! We now have public cloud, SaaS ECM; Meaning we can do content, workflow, collaboration, case, capture, archive, and RM in the cloud. New SaaS capabilities in the public cloud; Meaning we have Code, ValueEdge, eSig, SMAX, Fortify on Demand, and Debricks publicly available in the cloud. The second generation of private cloud will have data ingress and egress; Meaning xECM (with X-plans), Documentum, InfoArchive, eXstream, Teamsite, Media Management in the private cloud. The self-service trading grid for an internet of clouds; Meaning ERP adapters and trading partner kits. Finally, a second generation of APIs (self-managed, self-regulated, open-telemetry); Meaning 30 service categories and more to come like Voltage - Tokenization, encryption, and file analysis.
Project Titanium X (or OpenText CE 2025!)
Tx is cloud first!
All clouds will get Large Language Models, IDOL, Identity Access Management and Voltage
Introduction of XDR cloud (security!)
Cloud ECM data across SAP, SalesForce, Oracle, Microsoft, and ServiceNow
Distributed databases (with DB2)
Codeless for testing!
Embedding LLM into the OpenText clouds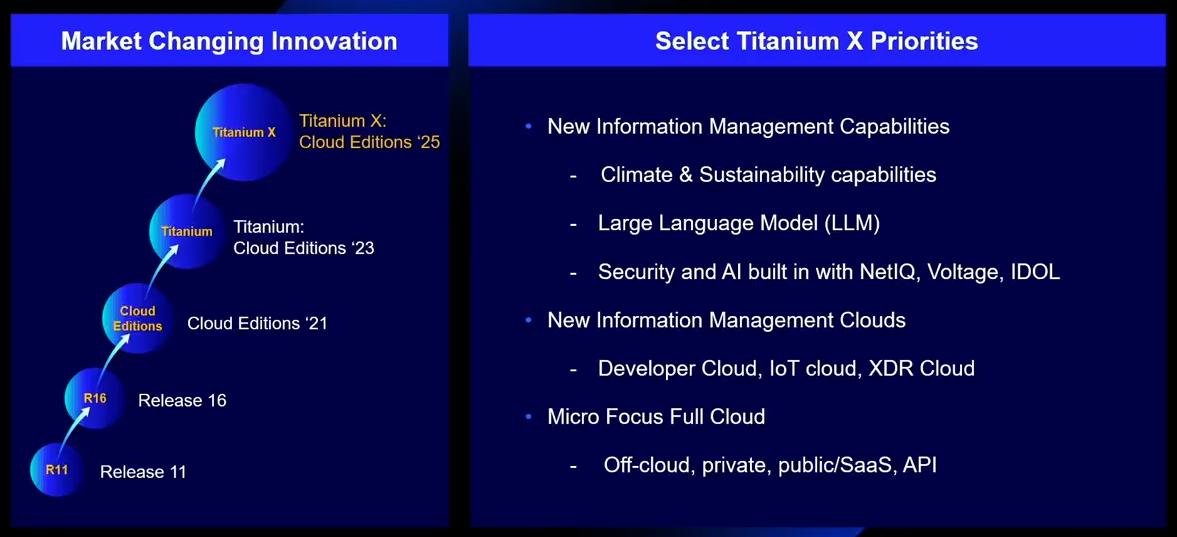 …
Solving some of the most complex problems - The world is an internet of clouds and IM inter-comments them all
Make the complex simple in these areas:
Integrated Information in an Internet of clouds; All kinds of software run in the cloud, but what is in the center? Well, that's intelligence over information; inter-connected!
Open IoT cloud (as things get smaller); Real-time API, scalable for trillions of events based on standards.
AI & the information advantage; T5/GPT4 MML for chatting between an IT service chat agent and the performance engineer.
Service and experience management; Simplification is key here to secure your assets (like content), lower your carbon footprint and rate services to give insights on cloud spends/savings.
Climate tech. enablement
Global and connected supply chains
Cyber-security and information trust across all attack vectors; Like the network, the endpoint, the application, the individual, your mail, and other unknown threads.
Productivity and speed for developers
Mainframe migration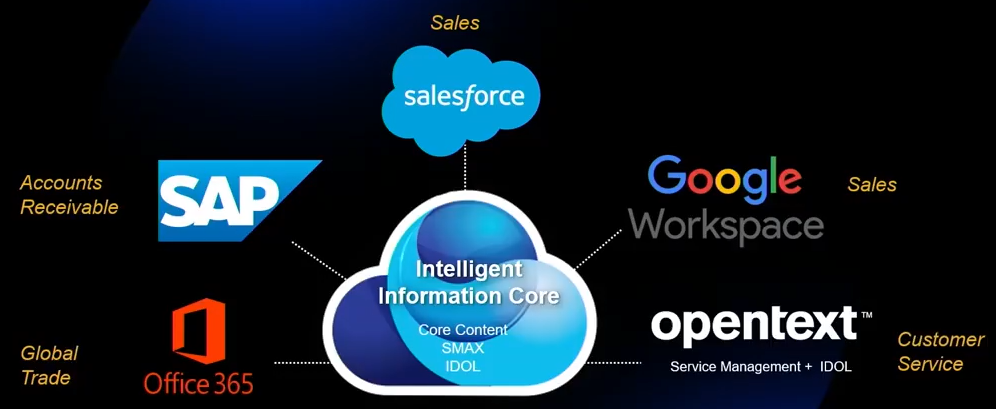 …
Key concepts tree related to generative AI
Artificial Intelligence (AI)

Machine Learning (ML)

Generative AI

Large Language Models (LLM) within IM

Text generation
Classification (metadata)
Knowledge answering (ChatGPT)
Translation
Dialog generation
Tools used here are: OpenSource Models (so you can choose!), OpenAI (with its risks and benefits!), IDOL (to de-construct information to feed LLM!)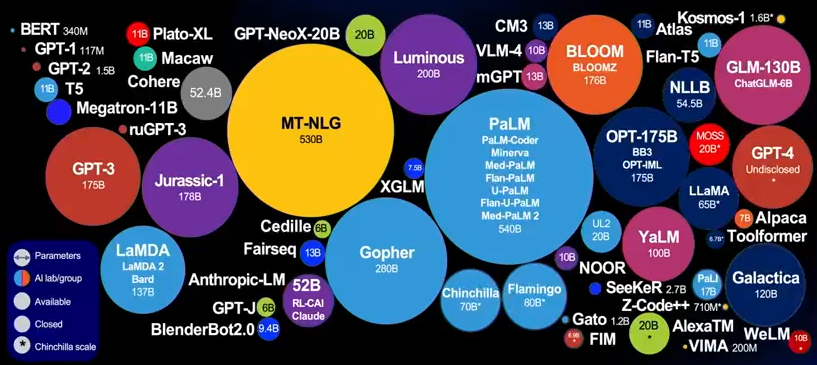 I found these sites also interesting:
---
CPO Keynote: The Muhi "techies" update - The walk-through Titanium X
Titanium is complete and so much is changed and delivered in the difference cloud paths; Content services are public now; Security, integration, and upgrades get in total 75K new facets; OpenText cloud arrives at Google Cloud Platform to reach new data zone (like the Canadian zone which is based on customer demands); Regulation, privacy lays and requirements are met much faster to go forward in any region over the world. New products are exposed in the private cloud (like xStream). OpenText doubled in size and in portfolio with the "Micro Focus" acquisition with an additional 760+ products in the current stack of products.
Get to the cloud on your terms; You can select your cloud with every variable you like; Even in your own datacenter containing their own IP/hardware. Your content is secure in any cloud!
…
Information Management: It's all about analyzing data via monitors and sensors; All for the best for delivering better results and innovate for the future. Why is this important? The future is AI-Led (not human, but robots), Security-enabled (which is top of mind in each company), and integrated multi-cloud (don't put it all into one cloud…spread your assets!) The developer, the development cycle and IT operations get increasingly involved.
…
AI-Led
NEW: Connect knowledge across multiple virtual workspace and find hidden insights and data relations in your content cloud
COMING: Search across different channels for better customer service over the experience cloud
NEXT: Monitor supply chain risks and disruptions from a control tower that provides full visibility to threats
Security-enabled
NEW: Deploy applications faster with accelerated testing of source code and open-source for vulnerabilities in the DevOps cloud
COMING: Protect and secure domains against cyberattacks by enforcing web usage policies to reduced security risk in the cyber-security cloud
NEXT: Enrich privacy and data protection where encryption is delivered in a completely cloud-agnostic approach for the content cloud
Integrated multi-cloud
NEW: Control spend on cloud infra. and avoid cloud waste with IT operations cloud
COMING: Modernize COBOL based apps on the mainframe to cloud and easily integrate with hyperscalers via application modernization
NEXT: Supercharge the IT help desk with self-service search and wide knowledge base to find answers faster over the IT operations cloud
…
The titanium X roadmap for "CONTENT"

Content is important and must be available across all multiple SaaS providers with only 1 version of the content (incl. proper security)! At the lowest level OpenText is a trusted partner for your valuable content.
The titanium X roadmap for "CYBER-SECURITY"

XDR is high on the list; It's all about security which in the end makes it all more trustworthy; Yes, you can trust OpenText with your valuable content.
The titanium X roadmap for "BUSINESS NETWORK"

Compliancy is long on the list to make it available in the cloud.
The titanium X roadmap for "EXPERIENCE"

Digital asset management from the content cloud platform and APIs; Your content is saved in one place…Ohw, did I say already you can trust OpenText with your valuable content? 🤣
The titanium X roadmap for "IT OPERATIONS MANAGEMENT"

The plan is to update the innovation labs with new UIs for customers to provide feedback.
The titanium X roadmap for "APPLICATION DELIVERY MANAGEMENT"

DevSecOps which is AI-powered supported with ML, dashboards and giving insight to your valuable and secured content…At OpenText!
The titanium X roadmap for "APPLICATION MODERNIZATION & CONNECTIVITY"

ReST, API, CLI, GIT, .NET, COBOL, CORBA…It all there for accessing your valuable content in a modernized way.
The titanium X roadmap for "ANALYTICS & AI"

Scale and grow the explosion of your data; You have too much data, you don't know what to do with it!? Why not store it at OpenText? You can trust them! 😇
---
Update on the virtual experience
After my trip to London, I also did a dive in the content exposed in the virtual portal! Let's see if we can pick some additional fruits to have a share on…
---
ADM00 Accelerate application delivery management (ADM) to crush your competition
Just a quote to start with: There is more to come in the joined solutions between ADM and the OpenText ecosystem!
What is happening in the market today? Challenges in delivery teams to have a quick time to market on releases. However, fast delivery can never come at the costs of quality or security. The DevOps space has an explosion of software delivery toolchains. Things get fragmented and companies get floated with data with inefficiency as a result. Regulated industries require audit trails on validated systems. This is essential for agility and innovation for the future; You don't want to suppress your creativity under any circumstances. Businesses rapidly change, and you need to adapt the dynamic demands with resource investments for maximum strategic value generation.
Two valuable questions to ask yourself to crush your competition:
Are we developing the right software?
Are we developing software the right way?
Application Delivery Management is giving you the answer on these questions to DevOps from strategy till delivery. It comes with a mouthful of products under the flag of "The cloud-based, AI-powered, DevOps, and value-stream management platform"…It really changes your delivery management.
It starts to fall in place now; I thought ADM was more a kind of principle, but it's just the product portfolio of the recent takeover from Micro Focus!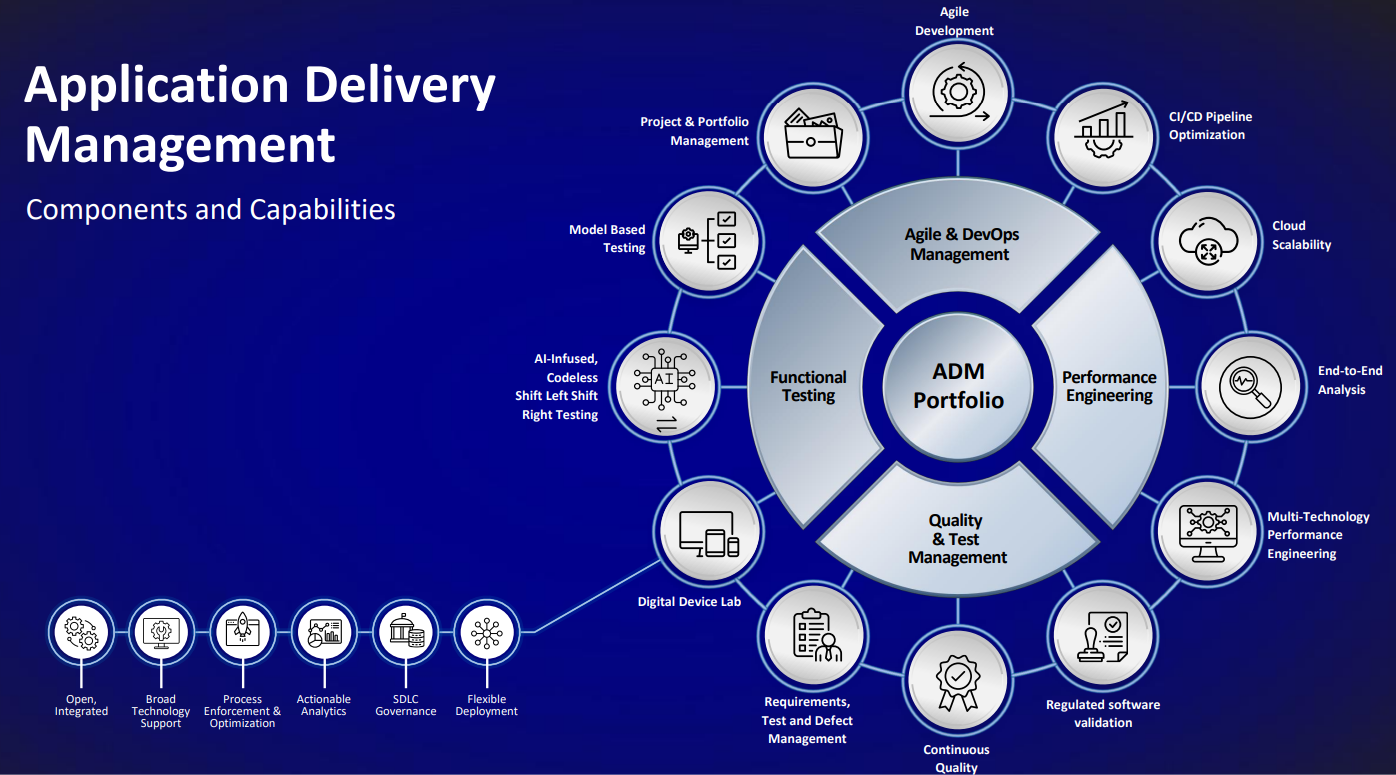 The ADM portfolio has a central focus on quality with risk reduction and adds market leader test tools. It also supports automation and governance capabilities with connectors and broad support with ReST APIs.
Focus areas for lifecycle management:
Smart planning and governance
AI powered execution
Modernize ALM for regulated software
Securing the software value stream
Focus areas for functional testing:
Codeless test creation
Model based testing
Universal digital lab
Expanded shift left support
Focus areas for performance engineering:
High scale chaos engineering
Browser-agnostic TruClient
AI driven OneAnalysis
TCO improving advancements
…
ValueEdge: DevOps & Value Stream Management Platform
This will give insight & analysis with a portfolio & strategy, agile delivery, and quality management. With functional testing and performance engineering you continuously improve your release & process management. It will come with acceleration modules in areas like 'strategy', 'agile', 'quality', 'functional test', 'performance', and 'release'.

---
ADM03 Smarter Application Delivery Insights - powered by AI
AI is changing the world (Google it, and explore shared knowledge!), but what does this mean for the software industry?
The DEV process in changing; transform business requirements into backlog items, planning and tracking
The DEV role is changing; AI will shorten the development process (?) and results in more and faster content delivery
The TEST role is changing; AI will adopt the workload, automated testing, coverage, and risk management!
The Delivery flow is changing; Autonomous delivery based on pre-defines rules and data driven actions
Watch this to be amazed on what AI can already do for programmers: Join The No-Test-Writing Movement
How to prepare for the new world? We need to smarter plan and governance with the power of AI/ML that supports business decisions and design gaps analysis. We need to do smarter executions with dashboards, analytics, test optimizations, and alert on risks. Automate the delivery process gives visibility into hidden aspects and embeds security into the delivery process.
When do you do the correct things business wise? Well, make graphical insight by value stream a products' contribution to strategic themes! The insight can drill down to specific product and evaluate it to the full stack. In the lower level it's all about data we would like to get a forecast on ROI based on effort, value, risk, and contribution.
How do I measure the Agile execution and quality status? We're doing the things right! So, with dashboards we give insight to visualize quality and to measure KPIs. We can track, analyze, and optimize test automations to get faster insights in defects.
What are the bottlenecks, and do we improve over time? Value Stream Management flow metrics helps us to optimize and analyze the delivery process! So, how much time is wasted or what is the trend to improve on?
Improving speed is great, but what about quality and risk? We have a quality risk dashboard to give you insights. With test coverage we know if tests are sufficient, which increases quality and decreases risk. We can even recommend tests to reduce the quality risk!
The customer is waiting; how do I know my improved process leads to a timely release? AI-based delivery time prediction module can predict time to market with red-flags and re-planning recommendations.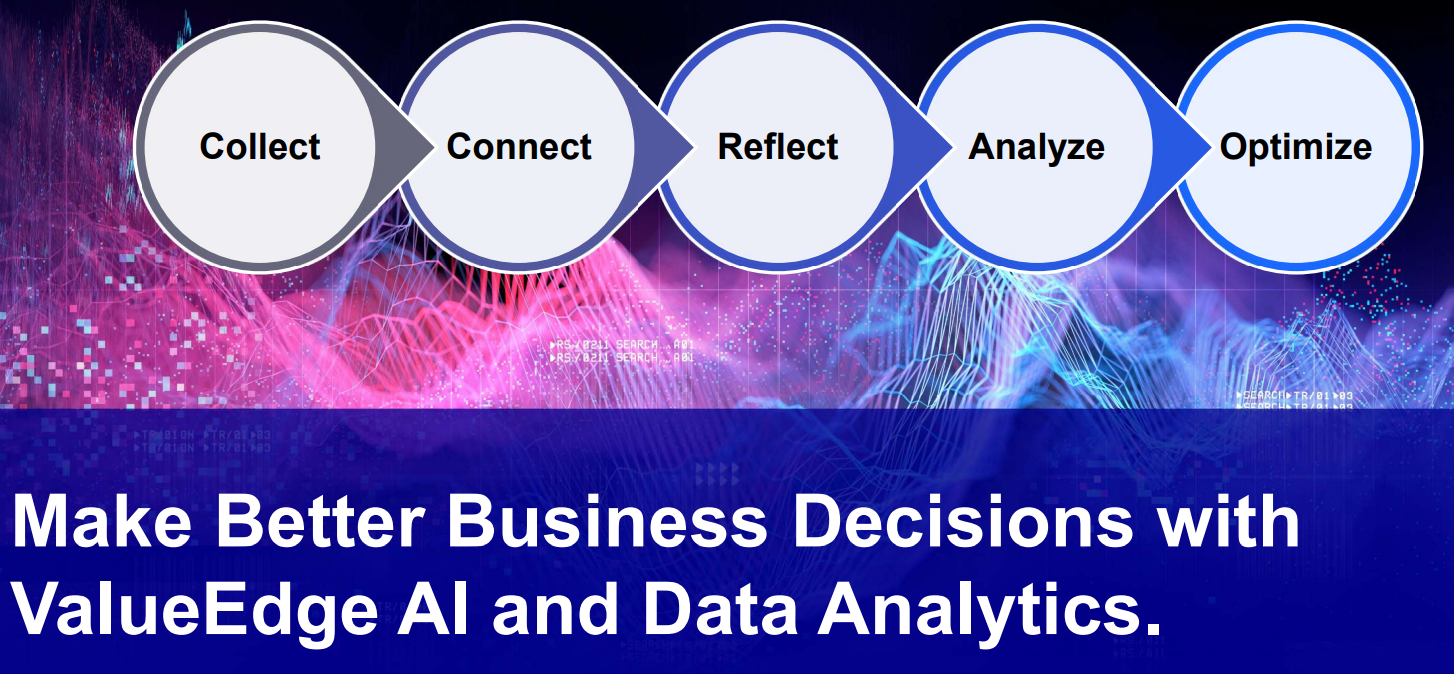 ---
CS00 The future of work is here: Unlock strategies to work smarter with Content Cloud
"OpenText - Master Modern Work - Information"
91% of an employee's day that improving their digital dexterity improves their work effectiveness! A happy customer will have a better business outcome.
WHO: Sales, HR, Customer Service, Legal, Accounts Payable, Operations, Engineering, Employees, Supplier, Contractors, Partners
WHAT: Product-to-Pay, Risk-to-Remediation, Idea-to-Market, Acquire-to-Retire, Lead-to-Order, Issue-to-resolution, Hire-to-Retire
WHERE: Anywhere, Any device, Fluid, Digital Workspaces, Remote, In office, Hybrid
"Modern Work" is diversified, flexible, instant, frictionless, and has the demand for any immediate access.
"Work Smarter" is a composable and scalable platform based on how your teams want to work.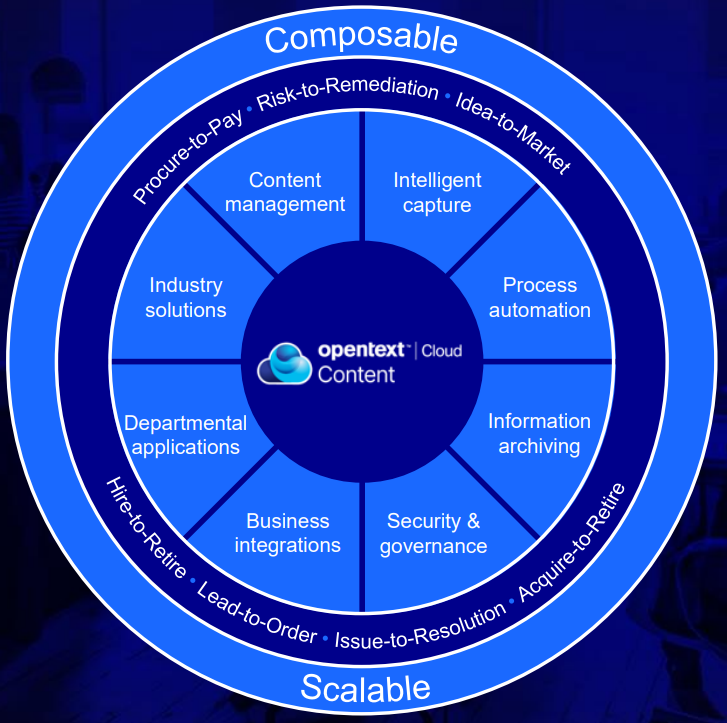 Information when and where it's needed:
Modern user experiences (like the Smart UI for Documentum D2 or the SDK for xECM customizations!)
Automated content filing (like the intelligent filing widget in xECM)
Document generation (like the alerts on missing documents in xECM)
Business-driven collaboration (like collaboration with Google Workspaces via Core Content)
Connect content to process and bridge information silos:
Capture-powered automation (like Core Capture (with AI/ML) directly into Salesforce)
Next-gen case management (like embedding AppWorks to do case management within xECM!)
Modern government solution (like the Government Desktop widget for xECM)
New business integrations (like SMAX dashboards)
Keep information safe with a zero-trust approach:
Adapt to industry requirements (like GxP compliance cloud service with audit-ready confidence)
Enable secure external access (like "Core for Supplier Exchange" in xECM)
Intelligently identify risky content (like IDOL in MS-Teams for AI-powered content insights)
Gain AI-powered insights
…Finally, the content services innovation themes:

---
CS03 Re-IMAGINE your content strategy and prepare for the future of work with Documentum
Nice, an update on Documentum…With my 15-year experience behind me, it's still good to see OpenText still invests into a solid content management platform which Documentum is (in my opinion!). The agenda of this session looks promising, let's go through those points one by one…
Investing in your future
1




2




3




4




Documentum is a recognized leader in content services. It's strong across all 




technology areas; In particular, content services platforms, document management, 




collaboration, and search. The CS-platform is feature-rich helping enterprises 




to manage vast repositories of content.



Connect with the "Documentum user group" community and get insights and fantastic use-cases on how to move your Documentum into the cloud and migrate your users from Webtop to the new D2 experience; Ask your sales representative to gain access! Ohw…You can also join the advisory council to bring your feedback on any improvements.
>> It doesn't matter where you start; It matters where you're going! Documentum is not going away at all!
Recent innovations:
Enhance content drive business processes

DCTM Reports; custom reports with data from multiple sources
DCTM D2; an intuitive UI to manage workflows
Advanced Workflows; create process-driven apps with basic UI

Graphical compare in D2

Compare CAD drafts in single view
Overlay drawings

Automated mass updates in D2

Increase productivity by updating many objects, faster

Integrations to drive operational excellence

xECM for Documentum; Bring DCTM into SAP, Salesforce, and Microsoft
Optimize infra and ensure compliance with InfoArchive native integration
Bring content in context!

Access, manage and share regulated content
Access and transmit asset information

Transmittals, site and facility operational vault, and project specific documents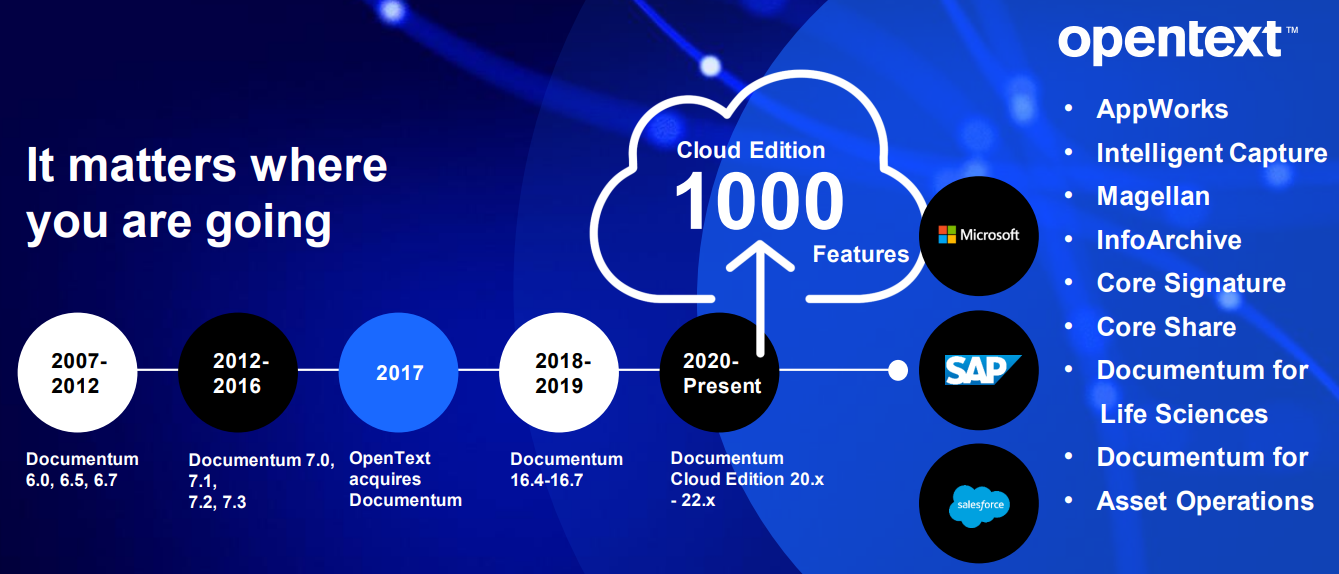 Documentum CE 23.2
Augment productivity in D2 SmartView

Resize columns in table views
Default view mode
Switch between list, pinned column, and grid modes
Persistent (sticky) memory browser cache
Updated widgets

Enhance the 'on-the-go' experience (D2 Mobile)

Scan and upload documents (iOS)
Improve usability for mobile device users

Capture iPhone images to drive business processes (Documentum CTS)
Supporting your cloud journey

25-50% reduction in container sizes in 22.4 CE
Further reduction of up to 70% more in the next release
Pod (Kubernetes) start up time reduced by 50%…Well, first see before we believe! 😉

Customize the UI to empower employee productivity (D2 SmartView SDK)

Enable customization through D2FS dialogs
Help with D2CL to D2SV migration (Classic UI to SmartView UI)
Define and layout extension/override capabilities
Infra to build product innovations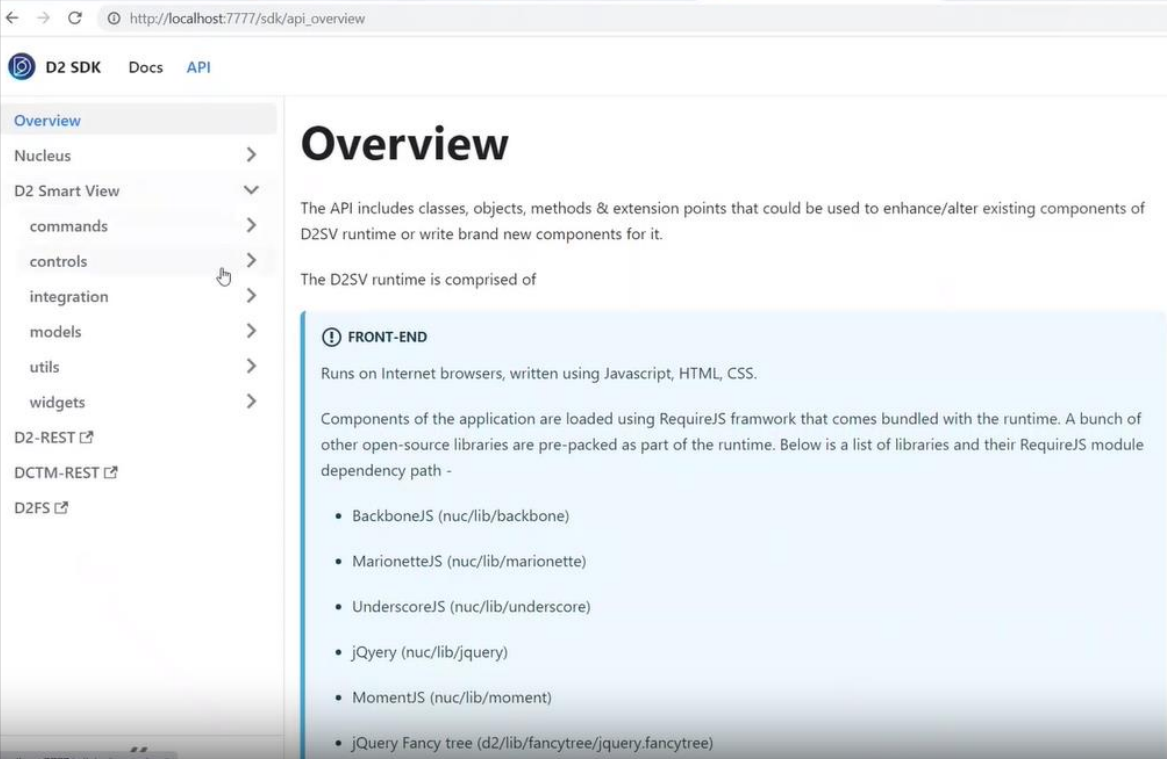 DCTM SDK demo
Demo done on D2SV-SDK-23.2.0.zip; These are the high-overview steps:
Download and extract the ZIP
Read the getting_started.md file to get a first start
Open a command prompt from you extracted folder
Hit the gazzzz with ws-init.bat (it will start a workspace generator CLI!)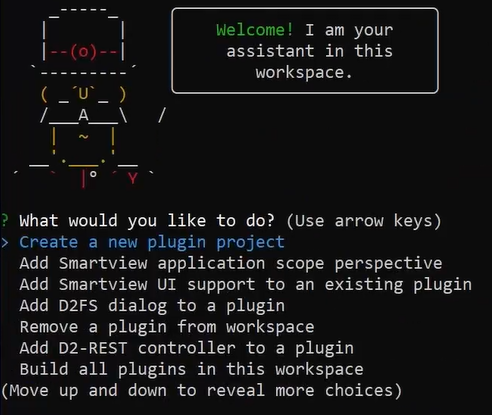 The options explained:

Create a new plugin project; for any new thing you want to create first
Add SmartView application scope perspective (to an existing plugin!)
Add SmartView UI support to an existing plugin (a key feature for the SmartView SDK! It was first only possible for the classic UI; You now get just one JAR!)
Add D2FD dialog to a plugin (NEW in 23.2; Add an action menu item to show a custom dialog in D2 SmartView)
Remove a plugin from workspace (guess what this will do!?)
Add D2-REST controller to a plugin (it will generate MVC skeleton code for a new custom ReST service)
Build all plugins in this workspace (for package delivery)
Check out the documentation (embedded with PDF)
Check out some samples
Add SmartView shortcut behavior (what should happen clicking a shortcut tile?)
Add SmartView list tile (like a favorites tile on your landing-page)
Add SmartView shortcut tile (also a landing-page plugin)
Once your Maven-plugin is created (In IntelliJ, Eclipse, VSCode) and deployed (on D2SV appserver instance 'web/inf/lib') it's accessible via your local browser via URL: http://localhost:8080/d2sv2/ui/#d2
How to Re-IMAGINE Documentum
Engagement with customers is important to understand what you (as customer) really need from Documentum (and from OpenText). Upgrading is important and moving to the cloud is too…But how to start? Well, you're not alone and OpenText will help you get started. You will get FREE modernization discovery & analysis via a virtual assessment with experts in the field.
Goals during this path:
Understand current environment challenges & needs
Discover configuration, integration, and customization
Discuss options to modernize
Get guidance on next steps

Cloud Readiness Assessment FasTrak
OpenText Migration and Upgrade Services
---
DEV00 The OpenText Cloud Platform; bring light to App dev through the power of information
The developer experience; It's all about more ways to use the services and more control over your deployment. OpenText APIs brings the enhancement and value for a simple API experience. It's all about learning, building, and running your applications. It all start here
Features:
New sidebar
Multiple learn path
New tutorials
Example codes on GitHub
Test service calls directly on the service pages; This is a typical OpenAPI Swagger way of doing public APIs!
…
Build (In Visual Studio Code); Deploy (To Developer Tenant); Run (Anywhere)
…
New in the API services landscape is the 'Decision Service' to manage "DMN compliant decision models". The visual studio code plugin (extension pack) will have a "decision table modeler" available to build it for your solution! You can even track the decision executions…Hooray! 🎉
Another update is going on in the "Admin Center" for managing your Services/Tenants/Apps/Plans…It looks like it just feels a bit nicer after each OpenText event.
Support your business model. It's not just about building, but also supporting you with smart development; It's a vision on how a technical solution will look like. There is a self-service cost analysis tool to see what involving into all the APIs will cost you. Go-to-market (GTM) and planning support to bring your app onto the marketing; Courses will be available, so you can easily understand your services can support your solution.
Promote you as an expert to get you faster to that next level to embed information for smarter Modernization, Operations, DevOps, Security, IM, Analytics, and customer experience. The acquisition of Micro Focus even extends the list of APIs to a bigger pallet of implementation. OpenText will give as much access to information available for your best interest based on solid stories and expertise currently available from the experts who build demo's and POC's.
My first question here would be: When does OpenText come with a real developer plan where "we as developers" have all the APIs freedom? So, not a 90-day trial, but unlimited/unapproved access. We as developers don't consume all your resources, we just want to try things and play with it. So, a 10K-free-API-calls-subscription per month would be a sufficient number to start with…I guess!?
There will be a new Hackathon 2023 in September; When, how, what, and where will be communicated shortly!? So, stay tuned!
AND…I heard about a very interesting tool, low-code developers will love to start using on this API platform!…You don't have it from me! 😁
---
DEV01 Dark data; the reason your Apps fail
An interesting header! That's how you connect to your audience…What is dark data? Well, it's the unstructured data (like files, images, etc.). Are traditional object stores being the best place to store your app's content? It's useful and easy to implement, lower costs, scalability and can consume any amount of data. A typical app saves unstructured data like content, but also contains meta-data and content logic and controls. However, the dark data has pitfalls! Now you guess what will solve all those pitfalls? Yes, my friend:

Is a file more than just a content object? Yes, in healthcare, car dealers and HR a lot of attributes will enhance the content and give it context; "Content in Context"! Once you use the content specific API services from OpenText it's possible to directly embed it with all the other available services to enrich your data to a new level of context.
During a demo, some interesting services pass by:
Risk-guard services to detect information in content; Can also be images
Content and metadata services to have a simple content browser app
Capture services to extract metadata from content and OCR content to extract text
A question from my side: Where is the OpenText Cloud Platform Services API at the lowest level saves its content? Would this not be that same scalable, easy to use, lower costs object kind of store? Or is it just me? 🙃
---
DEV02 Users are from Mars; Developers are from Venus
Are you sure on the above statement? Well, we're not storing content, we're managing content! A small nuance I experienced already for years. It's all about finding content easy and quickly; Market trends here are 'Cloud', 'SaaS', 'APIs'.
The proposal…In a long story short: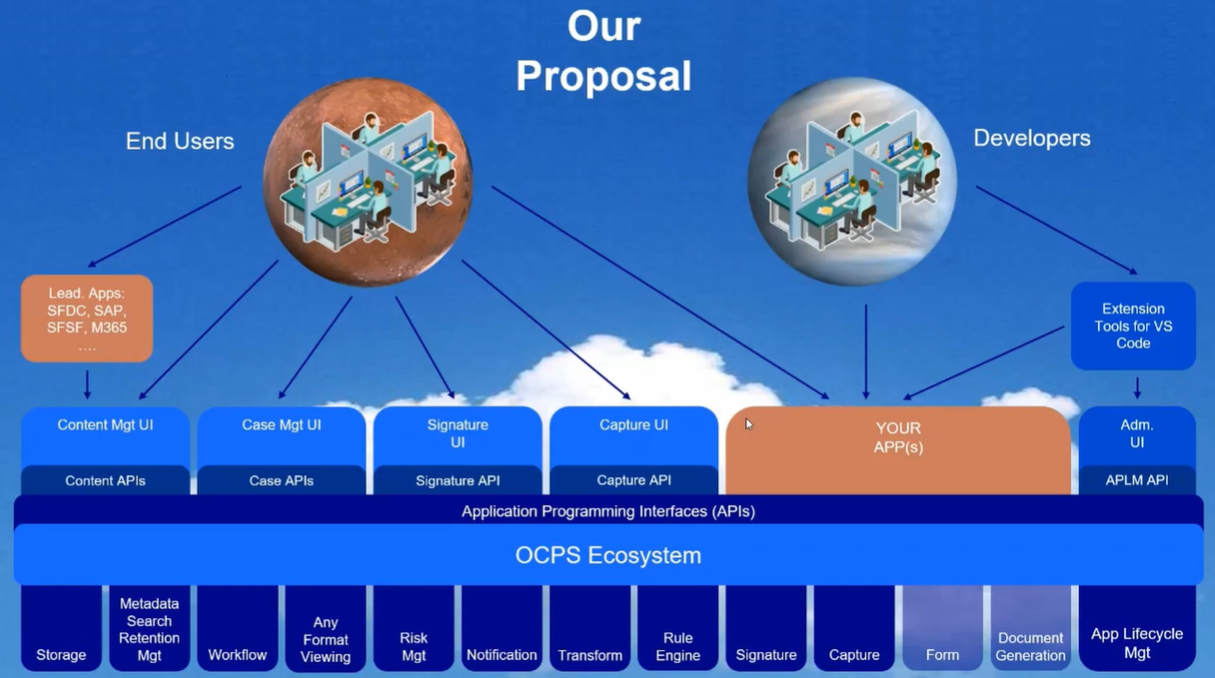 During a demo of the "Talent recruitment" app most available services get a checkmark using a simple UI…Looks like anyone can do this! Well, I think so too, but for sure not within "a few weeks" when you're a first-time consumer for the APIs! I played with it myself, and it already takes a full week investing in all the available services; After that you still need to produce a content/metadata plan, a security plan, a process plan, and a plan on how to glue it all together. When you think that's it, you finally also need to code a UI that makes it user-friendly for your end-users. Maybe people at OpenText have 168-hour working weeks?…But still…It's API!! We just love it; Whatever it takes! 🤓
---
That's a "DONE" with a collaborative long day in London and rest of the week. It was great…For sure! I'll be back next time. What did I miss these days? Well, all the new stuff about AppWorks, OTCS, xECM. Looks to me like OpenText is pushing for the cloud API services in EMEA, so we can embrace it all. Is EMEA ready for this? Well, one thing a learned these last 5 years…Keep grinding on whatever you want and eventually it will happen. So, also EMEA will embrace the power of APIs; Maybe it's time blog a little about it on devcloud-tips.com?? Let me know…Make that comment and I see you next week on another great AppWorks Tips topic.
Don't forget to subscribe to get updates on the activities happening on this site. Have you noticed the quiz where you find out if you are also "The AppWorks guy"?