Hi there AppWorks fans,
Welcome to a new installment of AppWorks tips.
This post will give you a wrap-up of the 'Enterprise World EMEA Digital 2022 Q2' event from this week (June 21-22, 2022)! A two-day digital event with lots of sharing sessions to join. Still free, but not less in bringing excellent value!
Table of content for you to jump around on this blog page:
Day 1
Day 2:
In between / on demand sessions in the resource center:
My focus points for this week (as technical consultant) to keep you updated with AppWorks related information.
"AppWorks"…As always!
"Documentum" with a bit of 'D2'…and a quicky for 'xCP'!
Unlock your digital sixth sense with "Titanium"
"OTDS" (the authentication spider)
"OT2" (or 'Developer Services'?)…The cloud-based future of "Information Management as a Services" (IMaaS) on developer.opentext.com. The technical consultant in me is eager on all the latest information in this area! I skip the "IoT" platform as I personally don't hear a lot in the field about it.
"Intelligent Viewing"…It's the future of viewing content and beyond.
A skip this time on "AI and Analytics" with Magellan together with AppWorks. I know, it's big, but the last release of the AWP was delivered with a light-weight version of reporting which fit for the simple use-cases.
"OT Content Server". I'm learning it as we speak; it's getting closer and closer in my daily job (although Documentum is still a great ECM platform to use…Both have their own use-cases covered!)
"xECM"…Just because it's xECM. Who doesn't want to extend their ECM platform to other lead applications!?
Some 'InfoArchive'…Just because!
---
Let get right into it…
We jump strait into portal from the "Registration Confirmed" mail with a direct jump into the portal: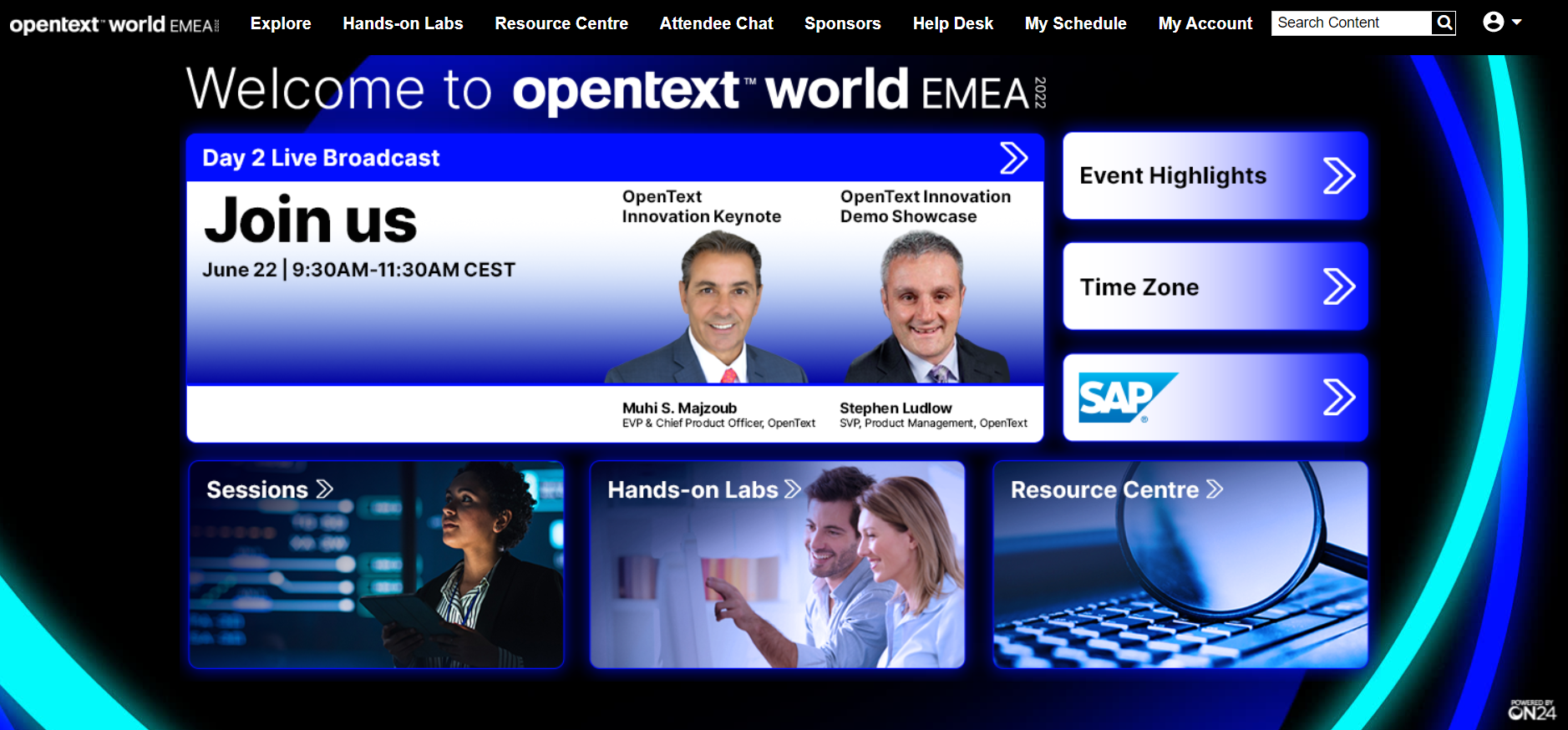 For the observant reader: I had a day off (for a valuable kids-trip to the "Efteling") during the first day of the event. I currently jump into the hurricane of information after day 1, but before day 2 (…I know; It's almost 23.59, but I want to watch that precious first keynote!)
This will be the digital zone for two days with several location to choose from…Things to note:
'Explore'; is where you 'explore' mostly the keynotes, but also other sessions like breakouts and meet-ups…nice, but I "search" my stuff together.
'Hands-On Labs'; where you can sign up for interesting sessions:

Product labs (I didn't follow them this year, as time was (again!) too limited)

'Resource Centre'; this is the bulk of all the rest of the information streams on "what's new", "roadmaps", etc.
'Attendee Chat'; great to chat with other, but I learned it's more valuable to ask "What's up?" in real life.
'Sponsors'; promotion for the big money-stream behind it all…
'Help Desk'; when things don't work as expected!? I don't have a problem at all…Only some less sleep!
'My Schedule'; is more a briefcase with all my favorite tracks and sessions.
'My Account; is just what it is…It's my account.
'Search'; works great for all my searches on 'AppWorks', 'xECM', 'Documentum', 'Viewing', etc.
Time to jump into my first session for this event…The 'recorded' keynote from Mark J. Barrenechea…Let's jump into it!
---
CEO Keynote: Discover Your Information Advantage (by Mark J. Barrenechea)
Aha…Looks like we're in Munich; I didn't know!?
Strong and connected after the pandemic with trusted relationships. We're building digital fabrics for growth and innovations during the extraordinary time.
We live in an exponential and accelerating world with a new 'Quantum' on top of the exponential graph. We see this in several areas of our lives (like 'crypto', 'electric cars', etc.).
You cannot always see "the curve" you're on. Linear (disappointment) vs Exponential (amazement)…There is a cross-over between both, and we definitely passed it at this moment in time.
External forces are accelerating (exponentially) in areas like health, tech, business, people…even climate!
Where is this force coming from? That's the information we're creating together with devices, modeling, simulation, and events.
…
Everything, everywhere, all at once! (the movie reference)
…
Also, the opportunity is exponential which is driven by 'integrations', 'chains', and 'transactions'. Also 'trust' and 'talent' is an importance factor. Diversity pools and talent pools make it possible to connect people to the correct opportunity.
OpenText is proud to have helped customers be more agile, responsive, and resilient during the pandemic.
The OT API cloud is scaled with you (exponential)
20M end-points
3K private cloud customers
2M trading partners
100M end-users
1T API-calls per year
Information is the disruptive force…Not process automation. That's why we are dedicated to the information advantage…Turning these exponential opportunities into sustained business value!
The cloud edition (CE) narrative falls under the pillars of 'Intelligent', 'Connected', and 'Responsible'.
📢 ANNOUNCEMENT: Project 'Titanium'!!
What is it? An internal commitment to have 100K new innovation-facets between CE 22.2 and 23.2 (a time span of 1 year) in all the cloud-based pillars. This will be integrating-cloud-acceleration (and functional parity) at scale! 😀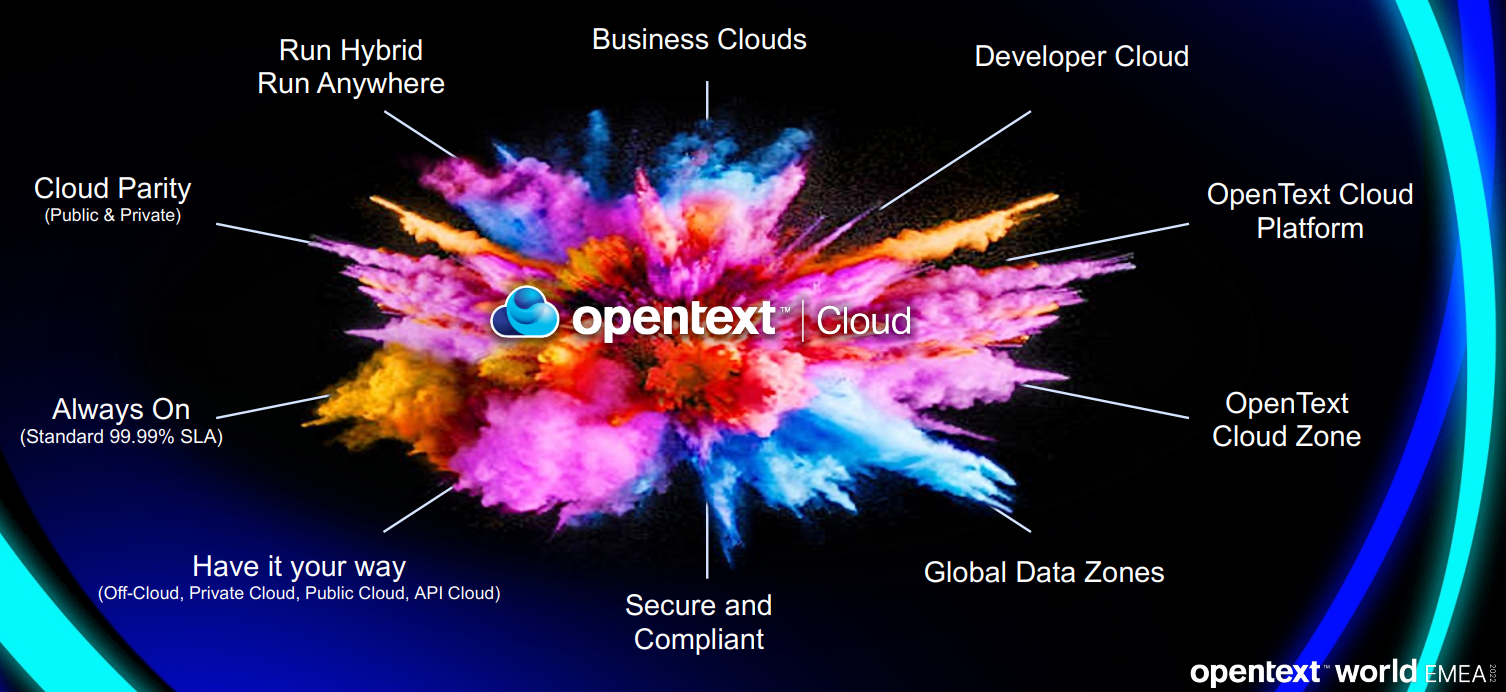 Yes, it will be great and "Almighty"!
CE 23.2 in the eyes of cloud-components:
Business clouds
Developer cloud
OpenText zone
Scaled ecosystem
Business clouds in more details…
Content cloud is where we do business processing with integrations and collaborations on projects. We also get deep machine integrations and open APIs
Business Network cloud is all about sustainability, visibility, and regionalization.
Experience cloud focuses on multi-experience and personalization
Security cloud is where we find a full-featured and integrated 'Edge' stack (like forensics, data backup, and behavior analysis)
!!No edge, no cloud…No cloud, no edge!!
"Titanium" enables digital fabrics for content where warehouses, office/field workers, partners and customers can work into one big cloud corporate office. Titanium also enables digital fabrics for business networks where your company becomes a trading grid in the cloud. It's a complicated web of services where devices are key for the input.
The cloud platform! What is it? Well, this is the platform itself where all the other communicated cloud run on. It's open, It's integrated, It's OT software, It's integrating with all cloud editions (off-cloud, private & public), It's the basic of the developer cloud, It's open to third-parties, It's open for integration service, It's open for custom apps, It's accessible through OT public APIs, It's evolving. What is it not!? Looks like the holy grail for our content and metadata. 😎
…
Elevate your developer in the "OpenText Developer cloud". This is information management as public SaaS APIs. You can sign up yourself where you get a single console for administration. It is secure and encrypted at all layers. With a trillion+ calls per year and 99.99% available for over 1K of customers it solves exponential challenges in a rapid way.
developer.opentext.com with a large set of APIs to consume from: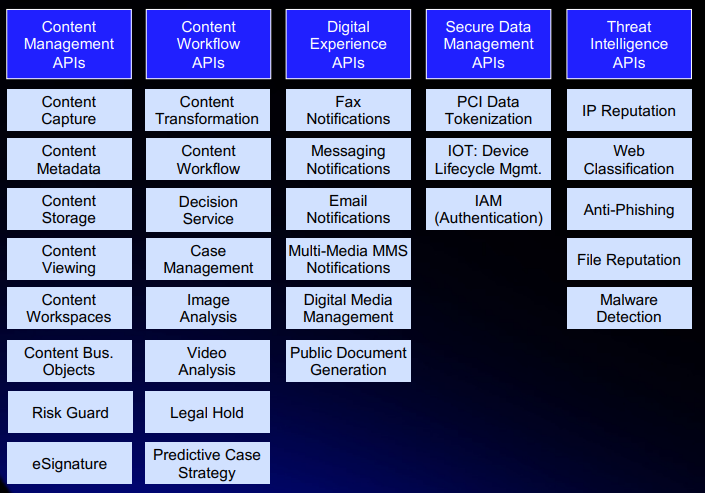 After this slide an interesting demo is given. This suggests to build a fully functional application with 2 developers in 2 weeks with just a bit of JavaScript!? Sure, maybe if you're an expert in building standalone web-applications, an expert in consuming the developer cloud APIs from scratch and don't need to meet the most advanced requirements a real customer asks you to build! 😉 Did I mention the implementation of a solid security layer for the app itself for several types of users? I don't want to disappoint you, but that's the reality. Nevertheless, it's still great to work with the cloud APIs yourself…Give it a shot; It's the future for content management and beyond.
The tools to start with it are now fully integrated into VS-Code: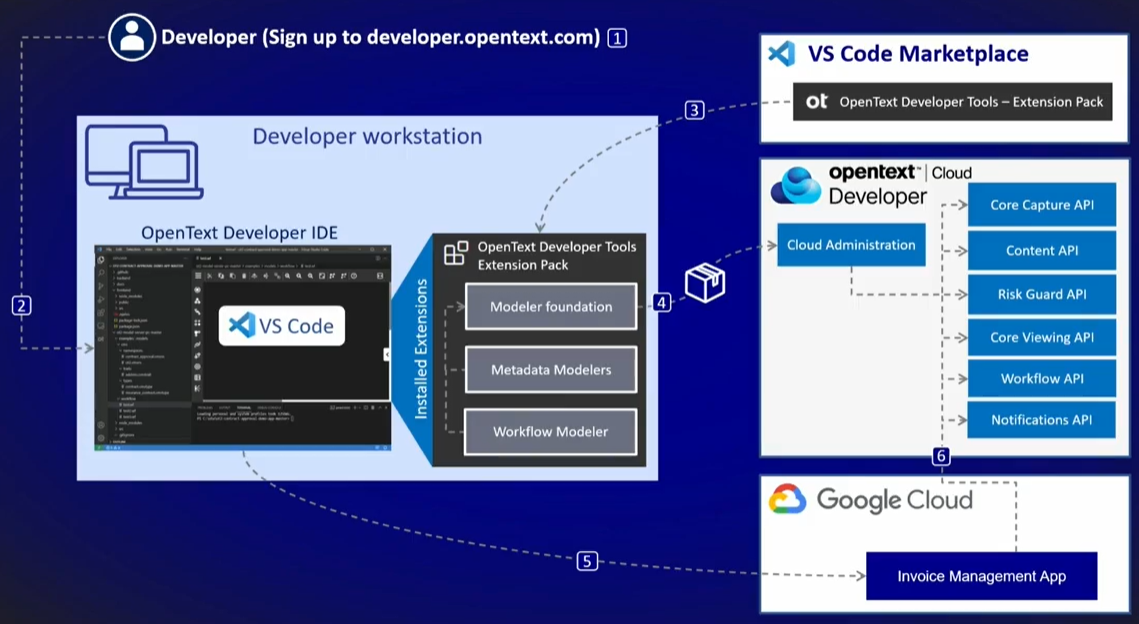 This is your starting point for the marketplace!
…
The "Cloud zone" is new digital resource zone for OpenText customers. It supports single sign-on, you can learn, try, and buy. You get provision & support with resources and enablement. Even renewals are on the menu list! It's "integrated" list of capabilities! 😎
The flow behind it: Evaluate > Use > Procure > Support > Renew > Administrate
"Titanium" roadmap: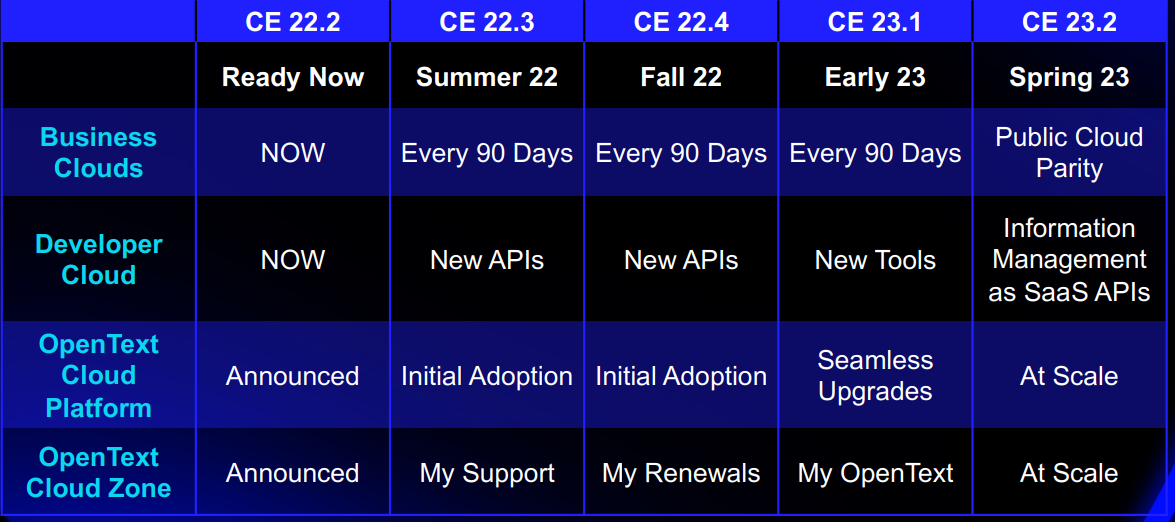 How will customers be involved? Well, by following the red carpet: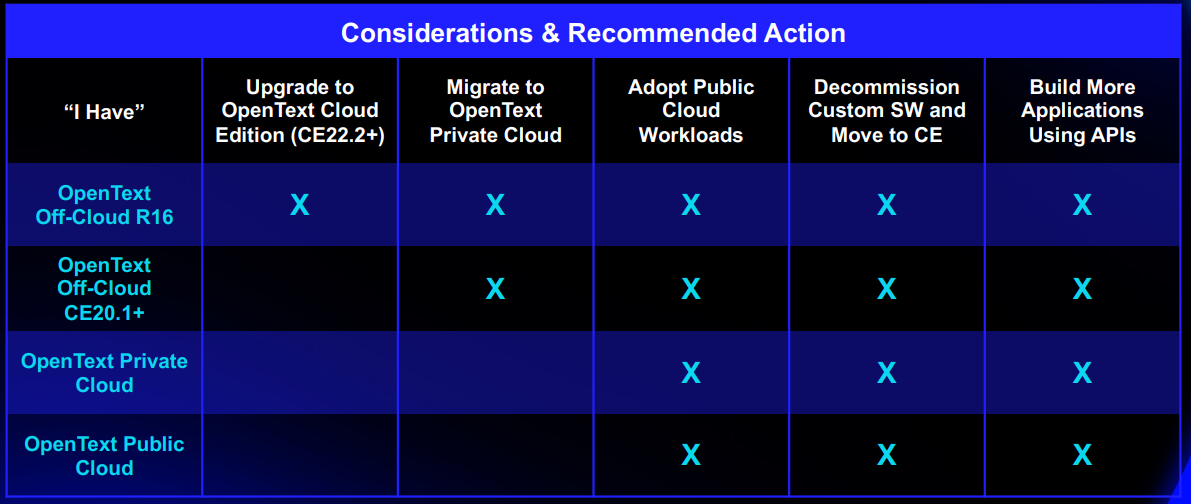 …
Last year the zero initiative was introduced…Hereby an update on being responsible for both an inclusive and sustainable growth:
Zero footprint where we help customers to move to the cloud, remove waste from operations and reduce science-based emissions.
Zero barriers help to advance equity, diversity, and inclusion (ED&I). Center on ICT education and training and advance wellness & well-being.
Zero compromise on what matters most. This will be a principle-based approach with annual report (the OpenText way!)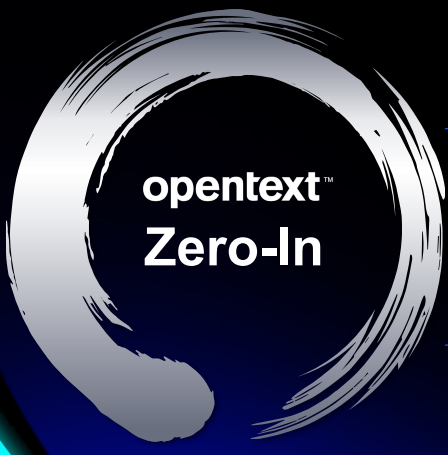 All together; Tous Ensemble
---
Developer Cloud; simplify your solution building with our APIs (by Nick Carter)
Nick starts with an interesting question: Who is a developer?
Everybody is a developer where we differentiate between the "pro-code" developer and the "low-code" developer. Pro-code is where we create apps and products with your own favorite language that completes API access; Low-code is where we build solution and extensions with the use of simple interfaces.
How is OT using its own APIs? Another simple question! The answer is even as simple where OpenText uses its own APIs to build applications (the 'Core' apps) that consume from APIs like authentication, workflow, content, and metadata.
Impressive (or should we say "exponential") numbers on the APIs:
From 1B to 90B API calls per month (hmmm…the previous keynote mentioned 1T API-calls per year…Let's say it's a lot!)
From 136 to 524 customers using API since last year (those are pretty specific numbers!)
From 2 to 10 OT apps built using APIs
From 1 to 20 public APIs in the last two years
OpenText is committed to support developers on their journey! You start to see more samples and tooling built around it. Like Postman template projects, but I already saw slides with VS-Code extensions passing by. So, APIs need to be self-service, combinable and easy for a developer to use!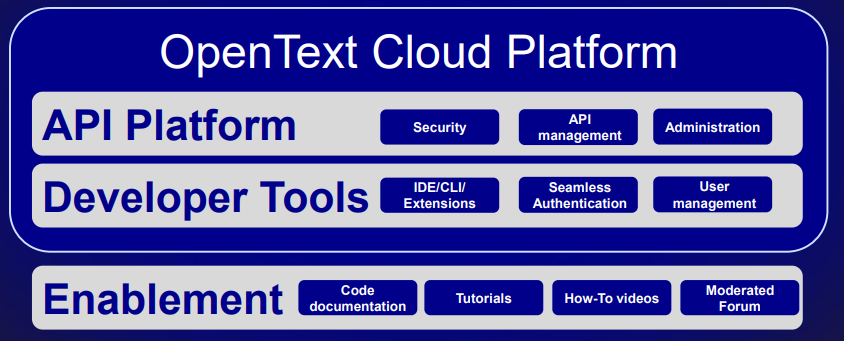 …
DEMO by 'Gino Vicari' with a quick steps guide:
Get a copy of VS-Code
Get the developer tools extension pack from the marketplace
Configure a connection to the API cloud from the dev-tools
Start creating models (contract and flows) with other configuration artifacts
When done, package and deploy to the public API cloud
Testing time…Here we can run our UI locally (via a NodeJS app) which consumes our deployed models.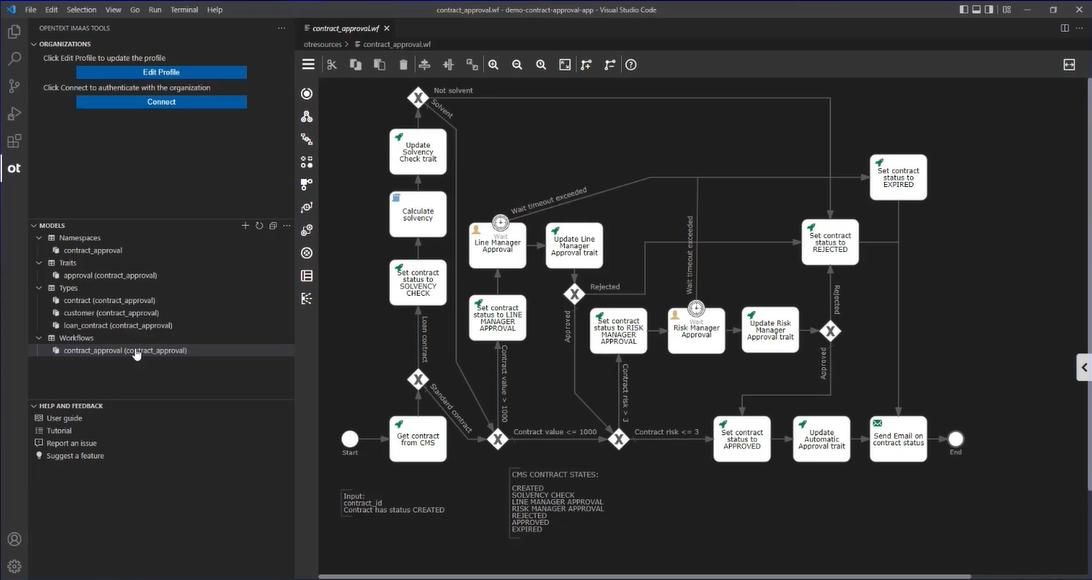 I do a deep dive session later that day on this new extension pack…keep on reading!
…
DEMO by 'Claire Denton' on managing your apps and services…There is a new console available on developer.opentext.com (after sign-up and login):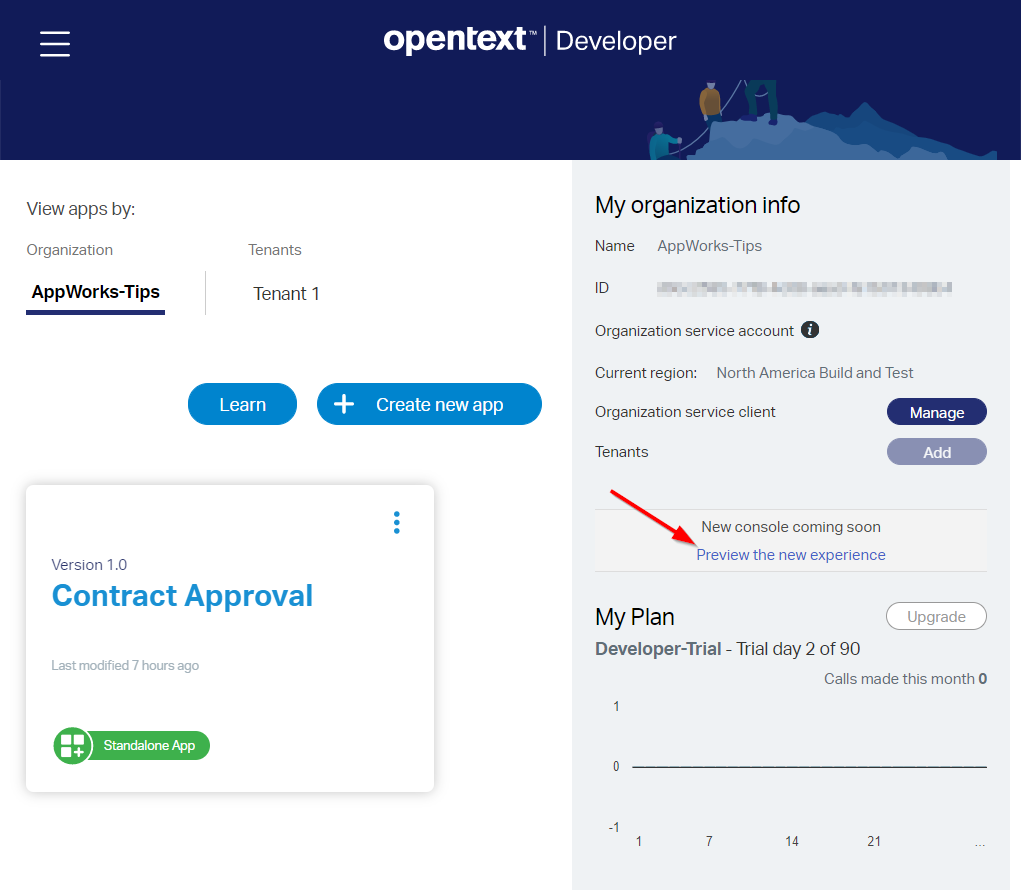 Behind this link you find the 'Cloud Administration' portal with these features:
Overview on the current organization details and API consumption for the month
Service clients where you authenticate the API calls for the organization or per application
Apps will let you create a new app or remove any app at organization level
Usage will show the data consumption for a specific app
Tenants let you create and remove tenants from your organization space. See tenants like spaces. So, we can create tenants for dev, tst, acp, and prd.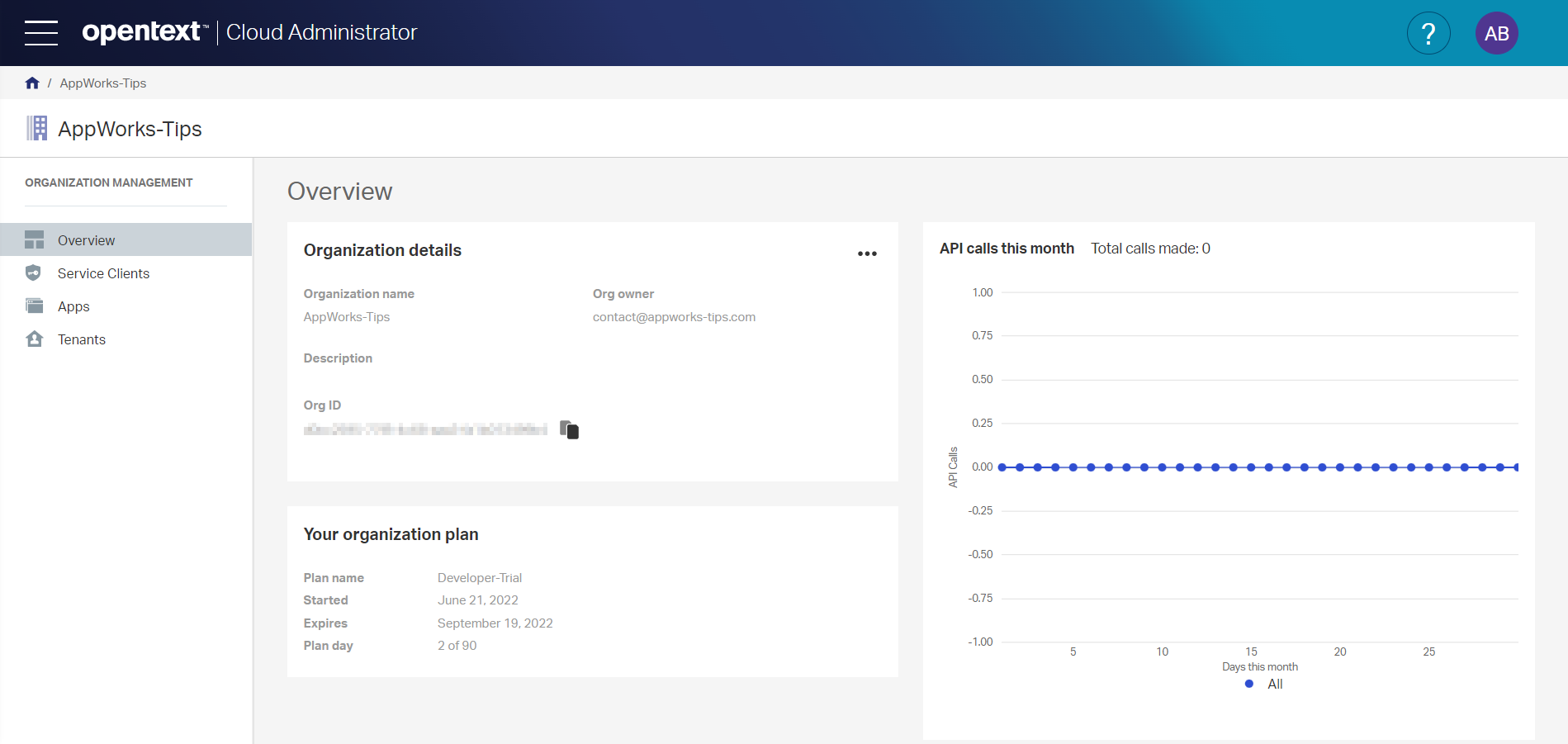 When you open a tenant for more information, you dive into a new page for tenant management where you can also manage user-access: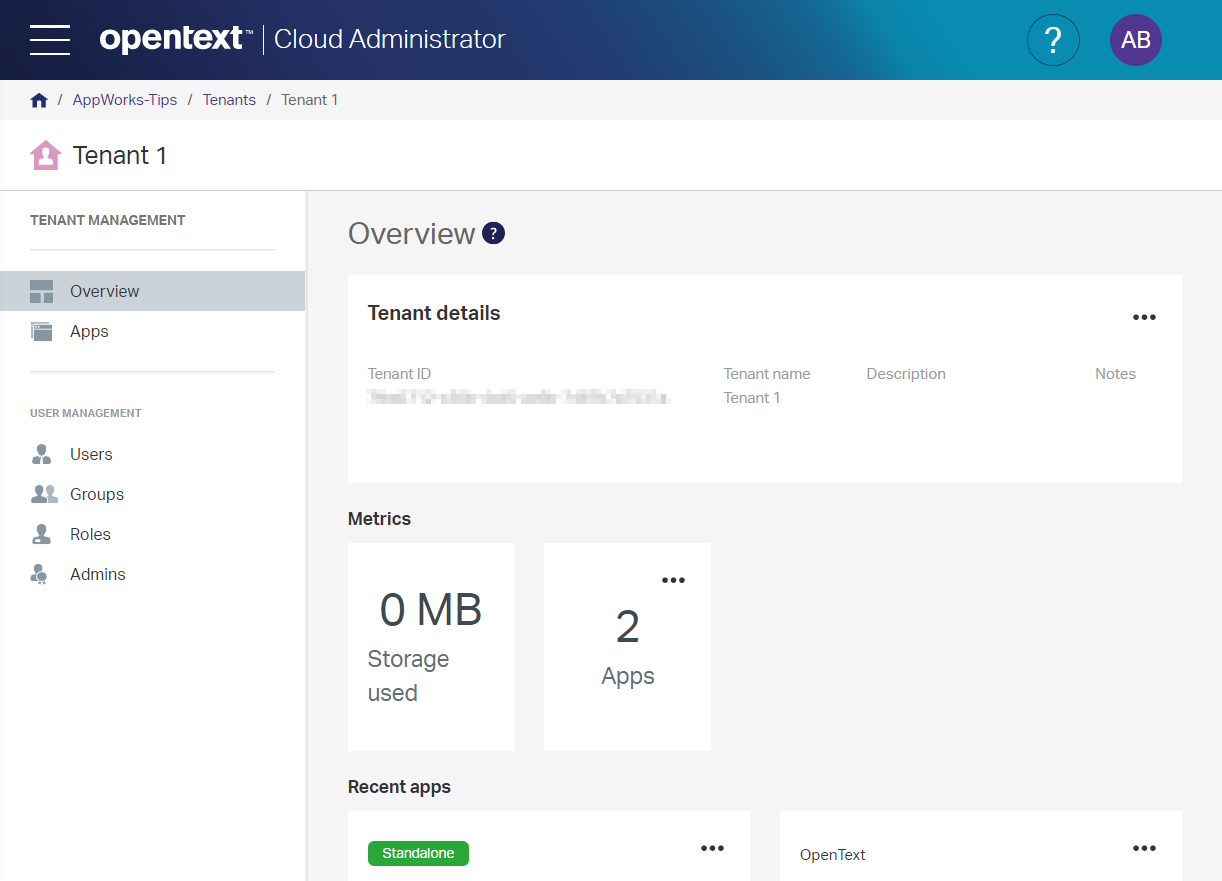 …
Acolad point-of-view by 'Marco van Schaijk':
Big applications (and platforms) contains all the information in one location and the end-users need to bring it; Why not turning it around and get the information from the source and pull it into the platform (the xECM way with a headless CMS!)
Bringing a monolithic app into the cloud is dangerous to do (big-bang!); The answer: First move small parts of the large application into the cloud. This is called future-proof modernization.
Documentum has the strongest object model as a base for Core Content and use business workspaces to connect to lead applications…
Start small; think big to grow into the paradigm shift!
…
How do I get started with the developer experiences today? Well, you have the 'IM API services' (incl. the new Messaging API services); You have the 'IoT/IAM API services'; These are all open for consumption, but there is more…You can also low-code with Core Case Management build on top of the 'IM API services' on developer.opentext.com and running it in the OpenText cloud platform.
---
Experts showcase a demo of an app built via OpenText APIs (by Claire Denton)
A quick session on consuming the API platform…
App description
It's a "Talent Recruitment App" prototyping the OT APIs simplifying app development with minimal infrastructure and concerns on ECM management. It will show viewing capabilities, workflow initialization, content storage, and eSig.
IMaaS Services (aka APIs) used
Content Storage, Content Metadata, Core Content, Core Capture, Magellan Risk Guard, Core Signature, Workflow, Workflow History Service, Core Viewing
Demo screenshots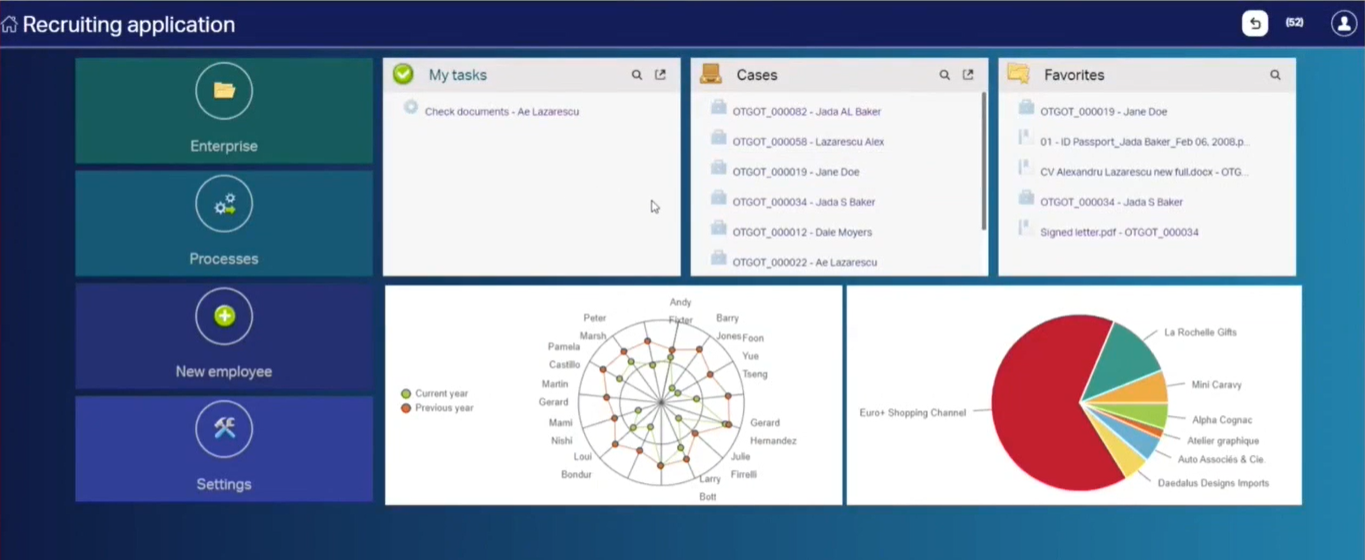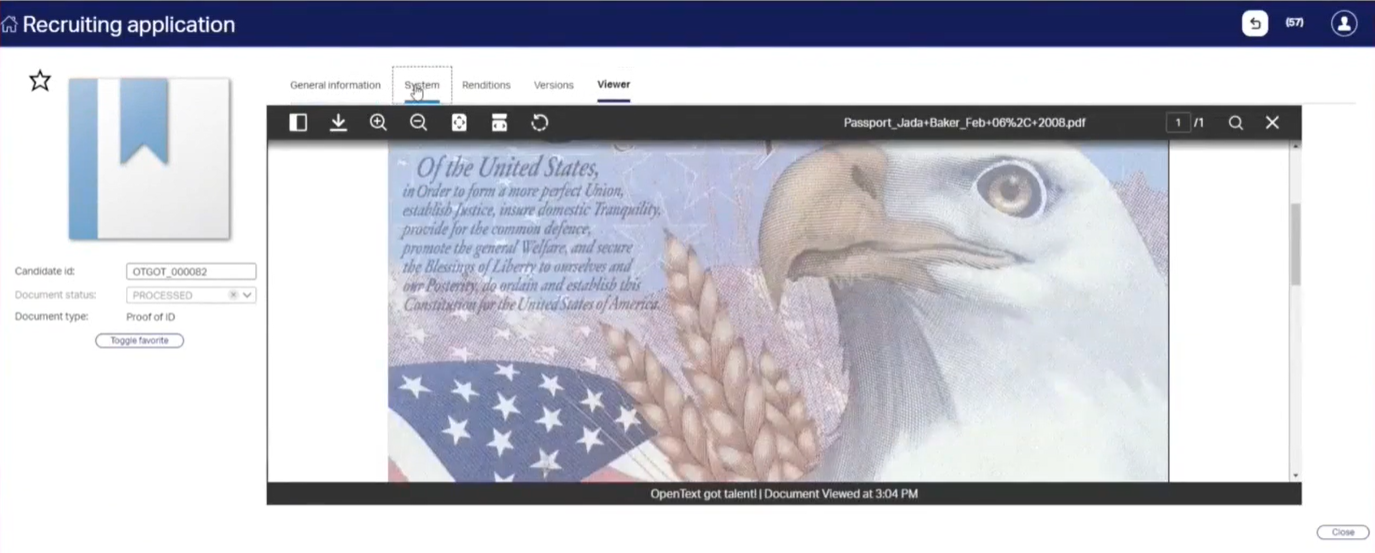 OpenText is doing a fantastic job again on a nice-looking demo application with colors, icons, and demo data!
Tips & Tricks
Think about your architecture
Service Oriented Architecture is here
Do your job more efficient
Make the "Wow"-effect
Plug it all together for a great application
---
Modernize applications when moving into the cloud (by Florian Pesendorfer)
Just a 10-minute break session on moving into the cloud (upgrade and enhance your on-promise solutions). Let's see what Florian has to say…
It all starts with a call from the customer with a use-case from the legal department. The requirements:
We have a global team of 150 lawyers
We're lucky to already have moved our folders into xECM on-premise hosting
There is an additional set of business requirements
Old user interface needs an update
Integration with MS Teams is missing now we're working from home
IT is busy with limited resources and get a cost reduction
Make sure to increase the global system performance
OpenText uses a standard approach to move and modernize into the cloud (by 'Professional Services')…
First 'Assess' and make a 'Plan'.
Get insights on the on-premise system and identify customizations. Overview the current architecture and do a high-level business requirements' analysis. Plan to replace customizations with standard functionality and scope the additional business requirements. Make a new architecture & sizing with a high-level project plan.
Second 'Improve' and 'Move' to the cloud.
Upgrade to the latest CE release where customization is replaced with standard functionality. Add products for integrations and introduce a modern UI with adoption of business scenarios. Now migrate to the cloud where you migrate your database, documents, and container it all. Finish it off with user acceptance tests and enter the stabilization phase.
…
Now the funny part of the session…This customer use-case change is possible in a time window of 6 months (from customer-call till a stabilized cloud migration)! 🤣
I'm clearly not the expert here but let me know if you can share any specific comments on your experience…I'm really curious what happened at this customer and if they are still a happy cloud consumer!?
---
OpenText Product Innovation Keynote (by Muhi S. Majzoub)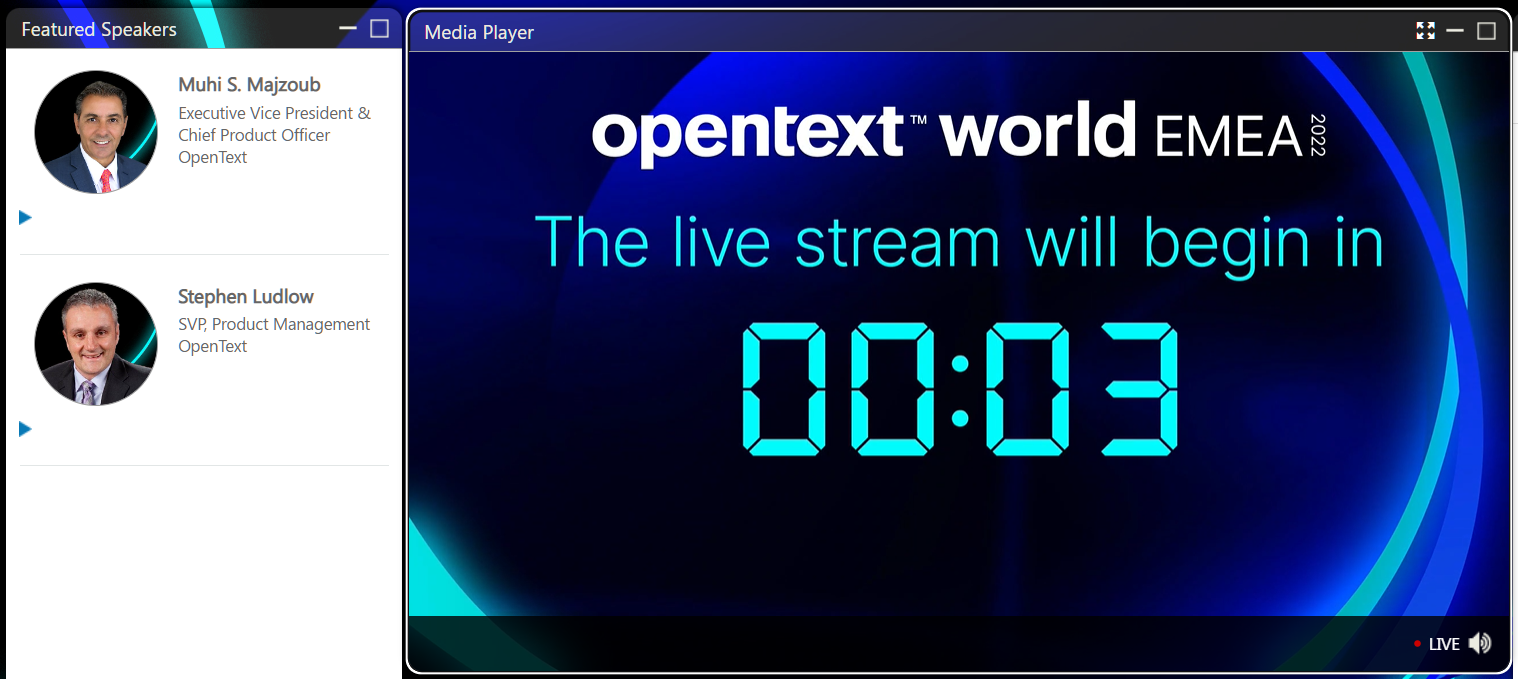 Just in time…lets kick off with a panel to introduce the session. It's all about integrations, improvements, strategies, and planning. Muhi will update us with new innovations for the future. Today we will see more roadmaps and there is always a starting point for your own needs…Wherever you come from. There is a lot to look for…It's Muhi-time!

A lot is happened at OpenText:
Master Modern Work (content cloud) with automation & more collaboration
Digitize the Supply Chain (business network cloud) on visibility & reporting. Even self-service onboarding tools find their way
Personalize Experiences (experience cloud) provide new integration and communication centric experiences
Secure Digital Assets (security cloud) will protect the network and MDR services and encryption
Unleash the Developer (developer cloud) with new APIs and information management with headless services
Quote: Our personal and business lives are constantly impacted by supply chain and security challenges.
The "forces" that accelerate the innovation roadmap:
Security

Cyber-attacks, dark web, digital transformation, core & edge, and data zones
Classification-based controls with malware detection & remediation
GDPR and privacy compliance with Risk Guard API and new recognition algorithms

Integration

Exponential growth of information
End-to-end process and application proliferation
Multi-cloud infrastructure with adapters, APIs, and partner kits

Insight & Foresight

Speed-to-impact and enable key decisions
Intelligent end-to-end processes to empower employees
Analytics and predictive customer segmentation
Partner monitoring and management with condition-based communication

Collaboration

Hybrid work with inclusion & diversity
Ethical Supply Chain and digital transformation
Core content integration with MS Teams and Google Workspace
Portal for all experience apps
Active access partner collaboration and secure access
Direct document editing in related application

Composable API-First

Digital transformation with the rising need for software development
Lack of IT resources
Low-Code & No-Code
Messaging and Notification APIs for multichannel communication
More APIs and more data zones
Extend code, xECM and Documentum with Content APIs
Well, that's an extensive list of forces to steer a ship on…Luckily Muhi is our captain on board to keep us on track! 😅
Final thought: The cloud is no longer evil; embrace it!
---
OpenText Cloud Platform Innovations and Advancements (by Muhi S. Majzoub)
This is the second session from Muhi, but not less in valuable information. Time to inform ourselves about the cloud platform which is the base of the digital transformation. Cloud is more than technology! It creates opportunities to…
Innovate
Scale for growth
Spend smarter and be sustainable
Integrate and connect to everything
The vision of IMaaS: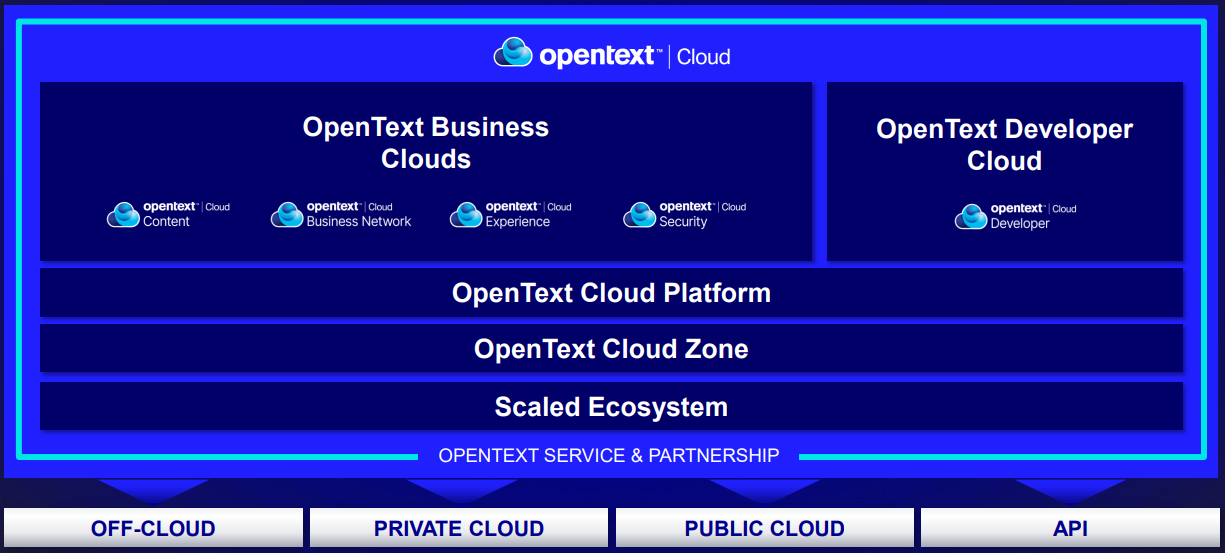 The developer cloud is mentioned as "headless" services. This is again another term on naming OT2 where I also hear 'Developer services', 'APIs', 'IMaaS', or 'Developer cloud'. It looks to me like OpenText is searching for the correct naming for its own public API stack. We can help them…comment me!? This would be my suggestion: "Developers API experience cloud 4 ECM and beyond…" 😍
Make you own cloud choice:
Off-cloud (familiarity): Traditional deployments (containerized) in your own datacenters, common terms, fast to purchase and active users
Private-cloud (flexibility): Customizable solutions, hybrid data, complex apps & compliancy in the OpenText datacenters or other hyperscalers
Public-cloud (simplicity): Solutions with native integration (core SaaS apps) on current cloud systems
API (innovation): Build apps yourself, integrate IM into existing apps, start small; grow big!
…
Pillars for a steady cloud experience:
GEO's; You choose in which area of the world you want to save your data
Certifications; All the big players and standards in the field are supported
Managed services; Cloud operations, proactive and dedicated support, customizations, business solution, management, and flexible cloud options
Security; VM and containerization, private (OT) data centers and other hyperscalers, system monitoring, and central administration for commercial sites
…
Roadmaps
Private cloud:
Flexible and extensible with Kubernetes autoscaling, more on-demand and self-service of app configs.
Assurance and trust with industry certificates, data privacy and full-stack monitoring.
Geo's and regions with support for EU and APAC locations and externalized reporting.
Public cloud:
Easy and extensible with zero-downtime upgrades and data migration tooling for large dataset movements.
Assurance and trust with data privacy and industry standards.
Geo's and regions with 'Core' apps in Canada and APAC and 'Core Archive' now available in lots of regions.
Developer cloud:
Easy and extensible with automated self-provisioning, common (new!) administration, billing, and customer support.
Assurance and trust with BYOK, customer managed secrets and data privacy.
Geo's and regions with availability in the USA and Europe; Canada and Australia will be next on the list.
Off-cloud:
Kubernetes engine support (GCP, Azure, AWS, Cloud Foundry, Red Hat)
Cloud storage support (Google, Azure, Amazon)
Cloud database support (PostgreSQL is supported for all big hyperscaler players)
…
OpenText programs to help the customer:
Advisory services helps customers maximize business value for the move to IM. A team of experts is available for your support!
Customer success services the quarter-back that guides customers through every step of the journey. From on-boarding to user adoption.
Platform assessment services helps customers plan their journey to a modernized IM solution (incl. moving to the cloud).

The future is cloud; Don't miss the train and plan your journey with the help of OpenText!
---
Innovations to master modern work (by Michal Cybala)
Key challenges for innovations are focused on "Transformation", "Attract talent", "Shift to Cloud", "Competitiveness", "Hybrid work", and "Zero trust".
Content is everywhere in your processes. Deal with content is mastering modern work with employee experiences, operational efficiency and information protection.
Master employee experiences
How can content services address this? Well, just control content sprawl, access content in apps, facilitate better collaboration and automate the drudgery:
xECM: Simplify UI
D2 Smart View: in-place viewing, content vs. metadata side-by-side view, review and compare metadata
D2 mobile: edit files offline, electronic signature and similar integrations with xECM and core content
MS-Teams: Structure content, synchronize workspaces in both directions. Core content can function as a file repository.
Master operational efficiency
Content services helps the business on ERP and CRM connection, turn-key scenarios, industry solution and running it anywhere…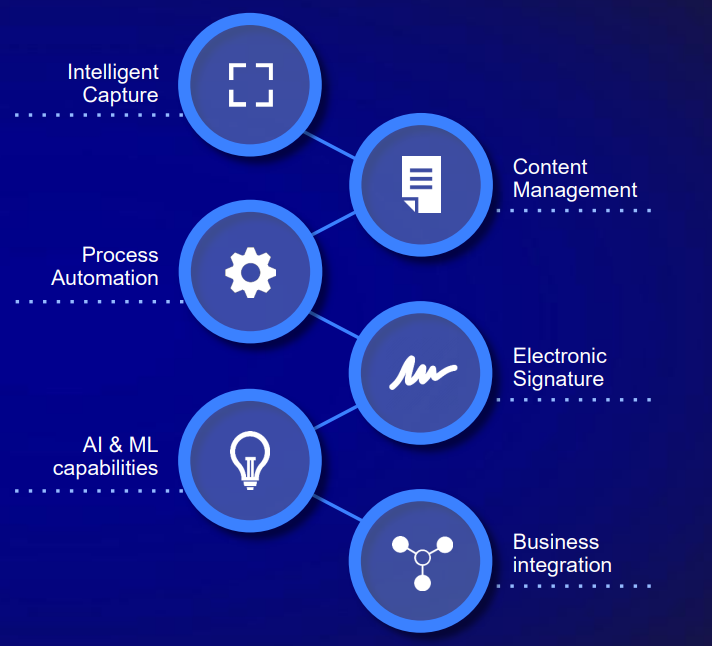 Turnkey solutions with pre-configured solutions, fully configured workspaces for projects. Also, available are core integrations and get up and quickly run solutions with quarterly updates
xECM for government and AppWorks where we bridge content and do processing. We enable case management for the public sector with inbox tasks, workflows, and assignments. Adapt quickly to changing use-cases
Integrations that matter with core capture for salesforce
…
Master information protection
Safe, private, compliant to get beyond the record-management with zero-trust operations and AI powered content analysis.
Content encryption you control via integrated key management cloud providers
Integrate with MS Azure on information protection. Inside and outside the organization with data leakage prevention and disrupting business processes.
Privacy and compliance via core content and the risk guard service. Discover, classify, and report. Leverage AI for proactive risk assessment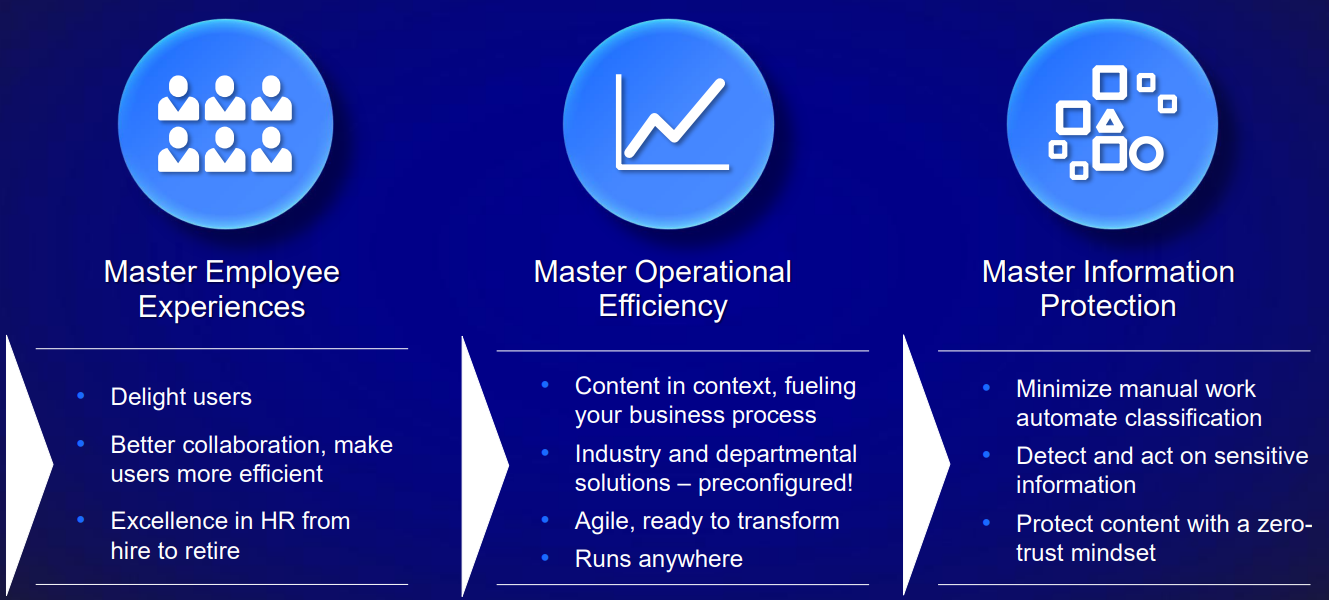 ---
OpenText AppWorks Meet up (by Nick King)
A great free and open chit-chat session with all the AppWorks mates in the field. With some interesting discussions (although my connection failed every time for some strange reason!?). Topics discussed:
Custom UI
AppWorks is king in processing data, but it's still learning the tricks to be a great UI builder. That's also one of the main reasons customers start to implement custom UI applications calling the AppWorks backend for managing the process layer of the platform. This also falls in line with the communicated OT2 platform where we can consume public APIs with supported workflow capabilities. Let's see if AppWorks is not falling behind with its layout building block principles on the entities.
Testing
Key for each project, but most of the time underestimated and moved to the end of a project! Don't do this…Involve your test team directly from the beginning and use a proper tool to create your tests in. Testing is a side-project next to the main project and need to grow as the project grows. Make sure to generate test data with for example test-generation BPMs; Make sure to clean up old data and start with a fresh set. With SoapUI you can also evaluate at service level. A lot of tools are on the market for testing web application…Choose one and start with it!
Security
Upfront vs. afterwards where "upfront" is recommended and where "afterwards" happens in your projects. Also, the power of testing with a regular/simple user to strengthen your security is key in this step. Stop testing only with your developer rolled account.
Packaging
Bringing a CAP file to production…Manually vs. Automagically! Both take time to dive into but take your time to do it automatically. Start small and expand with each deployment. Automation is a hard road to take but will benefit eventually. Dive into the correct tooling to make CI/CD a fact.
Garbage cleaning
After a year of running production data you start to see unpredictable behavior in your solution. It's likely your servers are filled up with data. This data is retrieved from uploaded files, indexing metadata, running BPM instances, keeping track on audit information and log files. Monitor your system as an administrator is a daily job to do. Get your responsibility and make sure garbage is cleaned up (or archived?) so your end-users can benefit of a steady platform. The platform is delivered with tools to make it happen; don't leave it till failure happens!
Funny/Open questions:
The "Workspace Documents" icon in design-time…Is it a 'Task', an 'Artifact', or a 'Tool'!? 🙃
The "Designer" itself…Is it 'The explorer', just 'Design-time', or is it 'Cordys User Start Page'!?
---
Developing With OpenText Notifications APIs (by Pam Bernardino and Mark Stretch)
Just a quicky-session in between talking about a new API about notifications by Email or SMS.
One API for communication channels with one set of documentation
One entry point independent of your calling client (power of API)
Steps for API app creation to consider:

Authentication
Put together your content
Create a request
Check if the request went smoothly
Status reporting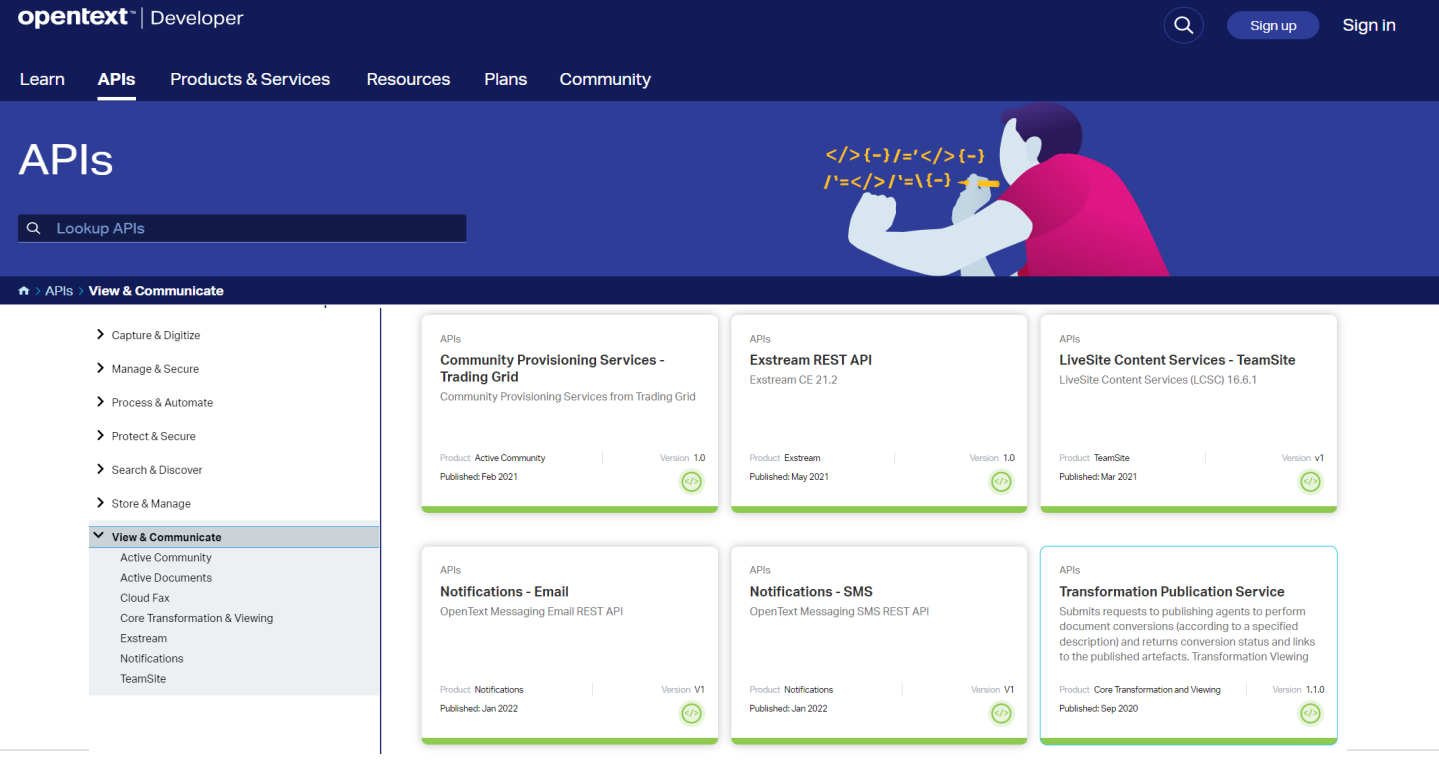 ---
Future-proof your Enterprise and Empower your Workforce with Documentum (by Michal McCollough)
At last, a session with an update on Documentum…Short, but interesting! What changed the current platforms so remote workers can still do their daily job in the new era of working from home. Documentum made it possible…but how? extensions and connectors are key in combination with APIs.
Notes from a customer perspective:
From 19-step process to 3-step process
Improvement from 14 days to 4 hours
Development time from 30 days to 3 days
Storage cost reduction by 30-40 percent (moving from SAP to Documentum)
So, making it simple is key here…A lot of functionality is scraped here, but what was the reason to have a 19-step process in the first place? Was it really necessary at that moment in time…Question, question…
…
Out of the box Documentum connectors (or is it "solutions"!?)
Branch Office Caching Services; I know this one from my giving-training-era in Documentum, but I never heard a customer with a successful implementation.
MS Office integration with DCTM; Check out/check-in directly from your outlook and web applications like D2. Works indeed, but it's also a struggle to make it work from what I hear in the practical field.
xECM Documentum for SAP; Is a business workspace extension to bring Documentum data directly into SAP with a seamless integration. A saw a demo some time ago…it works, but I could also feel the pain at the person implementing it!
xCP Case Management Framework; Is more an xCP accelerator to boost your xCP experience. I start to see accelerators more like an extra abstraction layer for basic needs. Always keep in mind the extensibility which is a harder task to do.
D2 is an extensible client; A great configurable client with a new Smart View look. It has a supported ReST layer and upcoming SDK to extend and integrate even further.
D2 mobile; secure Documentum content access from your smart device with minimal features required for remote workers. I saw it once in a demo, but never saw it at any end-user…Comment me if you're using it on a daily job!?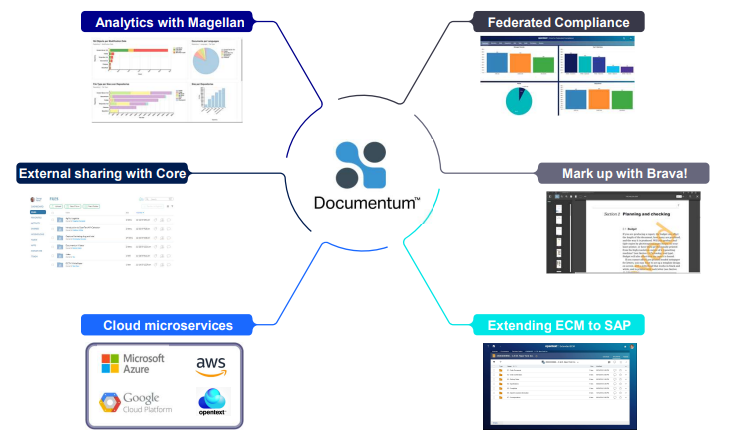 Finally, we have Documentum APIs to continue the workforce (all build on top of the good old DFC code-base):
CMIS; The standard in the field for communicating with a CMS repository
DFS; The Soap, WSDL, and XML way of services

D2FS; The specific DFS layer for calling D2 over Soap

ReST; The HTTP and JSON way of services

Documentum ReST; The main entrance to communicate with a Documentum Repository over HTTP
D2 ReST; The HTTP layer specific for D2
xCP ReST; The HTTP layer specific for xCP
---
What's new & what's next in OpenText AppWorks (by Nick King)
A smooth talker with a great vision on the AppWorks platform. All the new stuff is already shared in this post. This section gives quick recap-overview:
Providing tools and APIs
Deliver an intuitive experience
Allow people with a smooth deployment
Interactive "Reporting view" on a List BB (no replacement for iHub; just for the simple use-cases)
User profile fly-in panel (with OTDS related information)
Email signature support (created and selected from your profile)
Enable 'Web service' BB on the configuration entity (no need to implement the workaround with the WS-AppServer connector!)
Enhanced expression support in list filters on a form
'Dynamic workflow' BB with task types and new layout panels to provide insights; This is a flag-ship feature that brings the flow editor into runtime for the business analyst role to create dynamic/static flows
'Rule' BB event when sharing/un-sharing an entity instance
AppEnhancer viewer ad default viewer (next to Brava! or the new 'Intelligent viewing' product)
Enhanced content storage versioning experience with lock-icons (RED = checkout by others; GREEN checkout by you) and cancel-checkout features
Environment support is just extended to all the latest releases on the OpenText products
Deprecated support for CentOS…We all know why? correct?…comment me otherwise!
Finishing off with the roadmap:

Interesting on this roadmap for my current project:

The support for Git
Generating EIS entities based on ReST
OAuth-support for connectors (email and http?)
Simplify ReST API consumption
---
Documentum D2 Smart View - Overview and Strategy (by Kyle Pettit)
An interesting question is asked in the first slide: Is it time to upgrade? With a complicated answer as it doesn't work the same (technically) like the good old classic view of D2. So, any customization requires a rewrite with the new SDK. Keep also in mind D2 customers come from a long range of client applications which doesn't help in an upgrade mentality.
D2 is a client build on top of Documentum with a personalized experience. The client is highly configurable which eliminates custom code (when you stay within the limits of the product!). Smart View runs on a desktop, tablet, or mobile and makes it a responsive UI to work with. Users get more control on how/when they need to work. This maximizes productivity, improves adoption of the client, and shows relevant information to a current stage with "progressive closure"…Yes, thinking big lets you communicate big! 😁
Webtop is feature complete for years (Yes, customers still collaborate with it…Why remove it when it does the job!). D2 Classic is nearing feature complete, but there is more on the other side of the mountain. D2 Smart View gets the R&D it requires to fill the UI experience gap between other web related products within the OpenText suit. Key is that D2 Smart View needs to do the same tricks that D2 classic does well for many years already!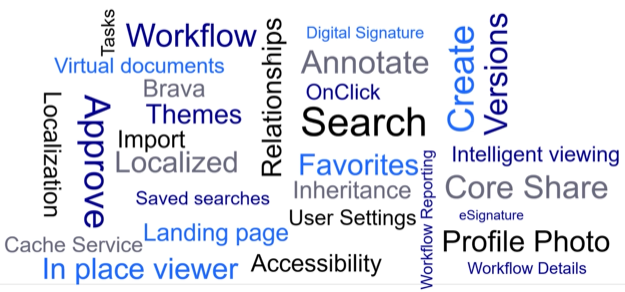 The larger left-over near-term innovation items to make a solid step to Smart View:
Advance search (22.4)
Bulk export (22.4)
Plus-pack features (C2, O2, D2-Bin)
Send mail with attachments
Add/remove widgets
Widget support on delegations, permissions, locations, graphics
Undecided: Admin widgets, advance publishing services
Zip and download (22.4)
Integrations with O365 and signature tools
Intelligent filling
iHub reporting
Collections and baskets
Federated Records Services
During this session Webtop is seen as the big bad customization application we always wanted to get rid of. Replacing it with D2 would only require configuration over customization. May it's me but are we not going back in time (before webtop) with the big developer cloud API platform where we require to create a full customized application from scratch!? Yes, I understand we're 'Loosely Coupled' now and landing safely(?) in the cloud. Does that really bring joy to those customers that stayed within the limitations of the product using the product as it was designed in the first place with simple configurations and building block principles? Sounds to me like the world is turning up-side-down, but that's just me! 🙃
---
Documentum D2 Smart View and InfoArchive - Full end-to-end lifecycle (by Kyle Pettit)
Other session with Kyle, but worth the time to have a listen to! I know D2 for a long time together with Documentum. I also know that archiving data is 'a thing' in Documentum and that's exactly the reason tools like InfoArchive bring solid value to the table. I'm curious how this works technically as InfoArchive has a ReST layer to communicate with…Let's see how Documentum calls this API.
We're talking structured (database tables), unstructured (like documents), and semi-structured content here where InfoArchive has the great task to 'decommission' data from Documentum into IA to maintain it with the correct compliance rules.
In between the lines I already hear it's just a Documentum (scheduled) job which manages the archiving from the repository to InfoArchive…From a D2 perspective it's just a tile (widget?) that has a "view" in the InfoArchive product! I also hear there is a Documentum connector for InfoArchive available!?
The overall steps in D2 look like this:
"D2 Smart View" with the default landing-page containing related widgets

"Begin Archival Flow" with the new start-workflow features of D2 (21.2)

"Archival Task" and approving it with the new task-list tile (20.4) will automatically archive it with the Documentum connector

"Verify Archival in D2" with a new tile (21.2) to double-check the archival process for a successful archival transfer

"Verify Archival transfer" in InfoArchive itself from Documentum

---
Glance at Documentum D2 Mobile - Latest Features (by Rakesh Agarwal)
Well, I picture tells you a thousand words: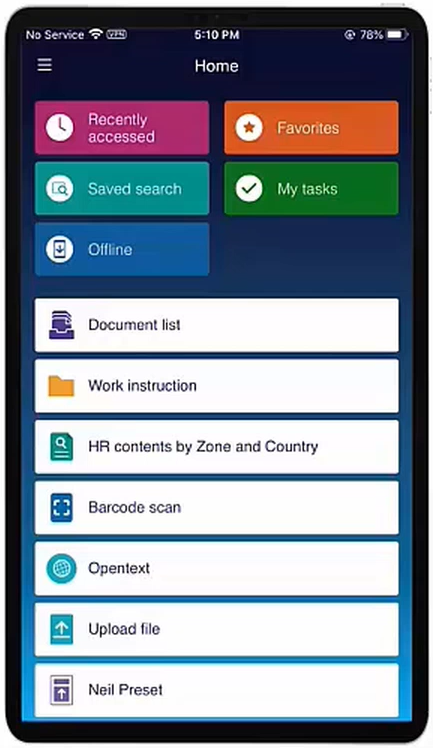 This is a screenshot of the mobile app, but users can also access D2 Mobile UI from a mobile browser!
Features in this app are: browse, access, search, upload, view & edit props, process tasks, manage workflows, lifecycles, relations, scan bar- and QR-codes, had core signature integration and can work offline…anywhere! Well, was it not easier to tell what the app can not do? 🤔
Highlights
Editing files offline requires to first make the document offline available. After the internet connection is lost (when will that ever be in this time of remote work…I think we're glad to go offline now and then to have an excuse to not do a thing!), the document is still available in the offline widget. After going offline and changing a document, you get notified if you like to update the document when getting back online.
Core Signature integration makes it possible to sign a document in a dedicated OpenText Core Signature application. It sends out the document and returned a signed PDF with details.
The rest of the session is a live mobile demo where all the features are tried out…Interesting to see how the app is evolved during the last time I saw it passing by (2-3 years ago)!
Ending up with the roadmap: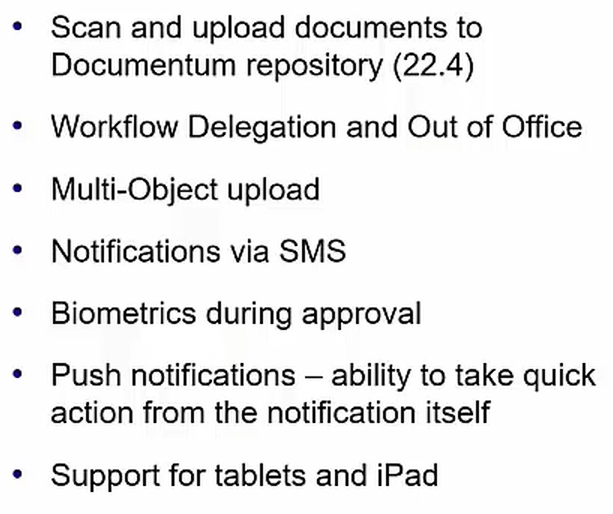 ---
Documentum Reports - System Health Dashboard
Finally…I remember a discussion long, long ago with a colleague to implement such a dashboard for our customers!
Well, have a look:

What does it support?
Activity trends
Quick health checks on common issues
Resource usage for planning and charge back
Accessible from the Documentum administrator client
That's all folks…Some sessions are not that hard to follow! 😅
---
Introduction to xCP Process Only (by Matt White)
This session also falls in the category of a long-ago discussion and starts to fall into place now. There are customers in the field with a D2 and Documentum implementation heavily leaning on the process-power of xCP based on the related process engine! Remember those good old times? I do for sure…There was always a discussion how the support around this construction was arranged and how the license model should interact with it. Hopefully this session provides a breakthrough…
Aha…Looks like it's a product on its own now! Specific for Documentum customers to process-enable their own apps that do not utilize the xCP UI…Well, that's what I just described in the introduction in my own words…
Don't confuse this session with the new 'Documentum Workflow Designer' as web application (delivered since Documentum 21.2). The process engine behind this xCP product is enriched with orchestration and applying business rules more interactively. It's also combined with the popular 'process integrator' delivering default activity templates for a SOA driven implementation.
The xCP product is delivered with a 'Process Building' tool which is no longer supported since 16.4 and that was reason for panic. A hybrid situation started which now evolved to this new xCP Process only product. Nice, but in the sheets I can see that eventually this product will also be removed and integrates with the new 'Documentum Workflow Designer'. Well, if I see how long this first step took…By the time we are there, I'm retired! 😍
This screenshot is telling me the "license pain" is still in place:

Looks like we're end up now with four workflow options to choose from; in perspective of Documentum:
DCTM Workflow Manager; old and retired
DCTM Workflow Designer; new since 21.1, but in progress with support for Webtop and D2
DCTM xCP; heavy for advanced workflow capabilities,but has UI composition for new apps
xCP Process Only Designer; advanced workflow capabilities supported for D2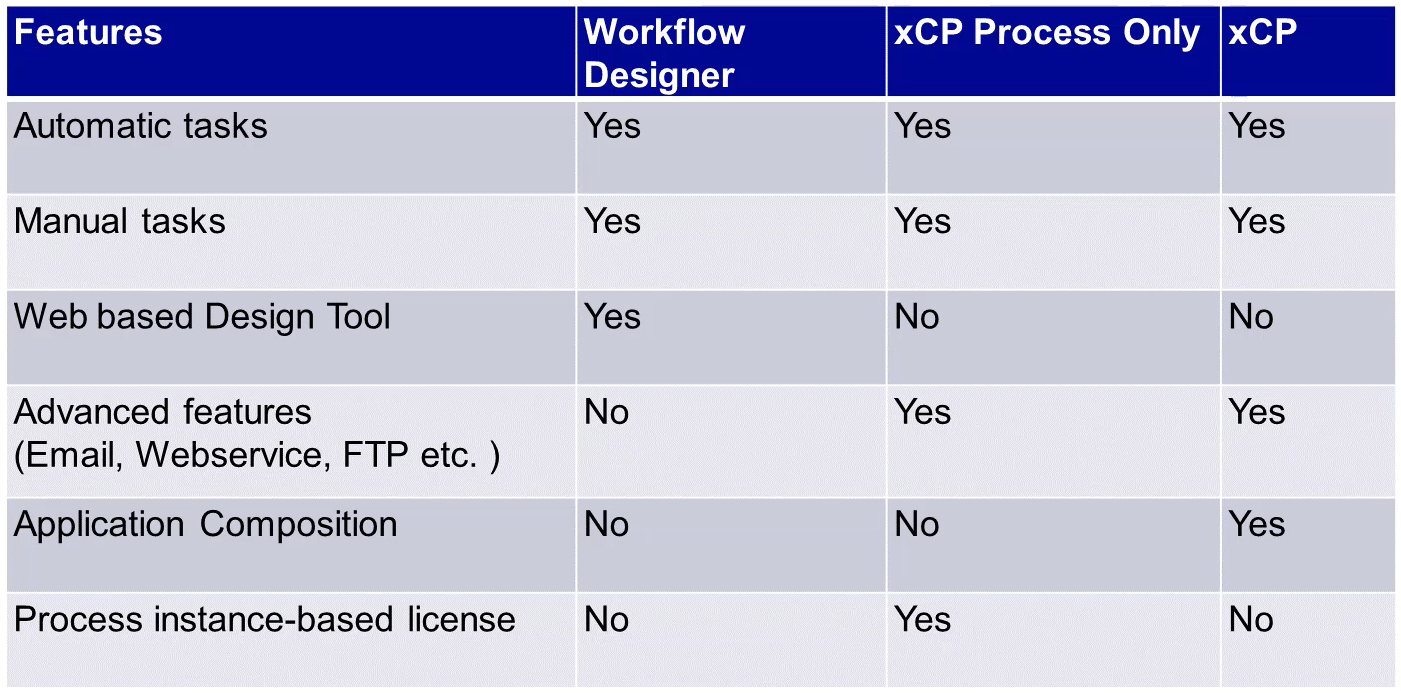 Finally, the path forward…Roadmap: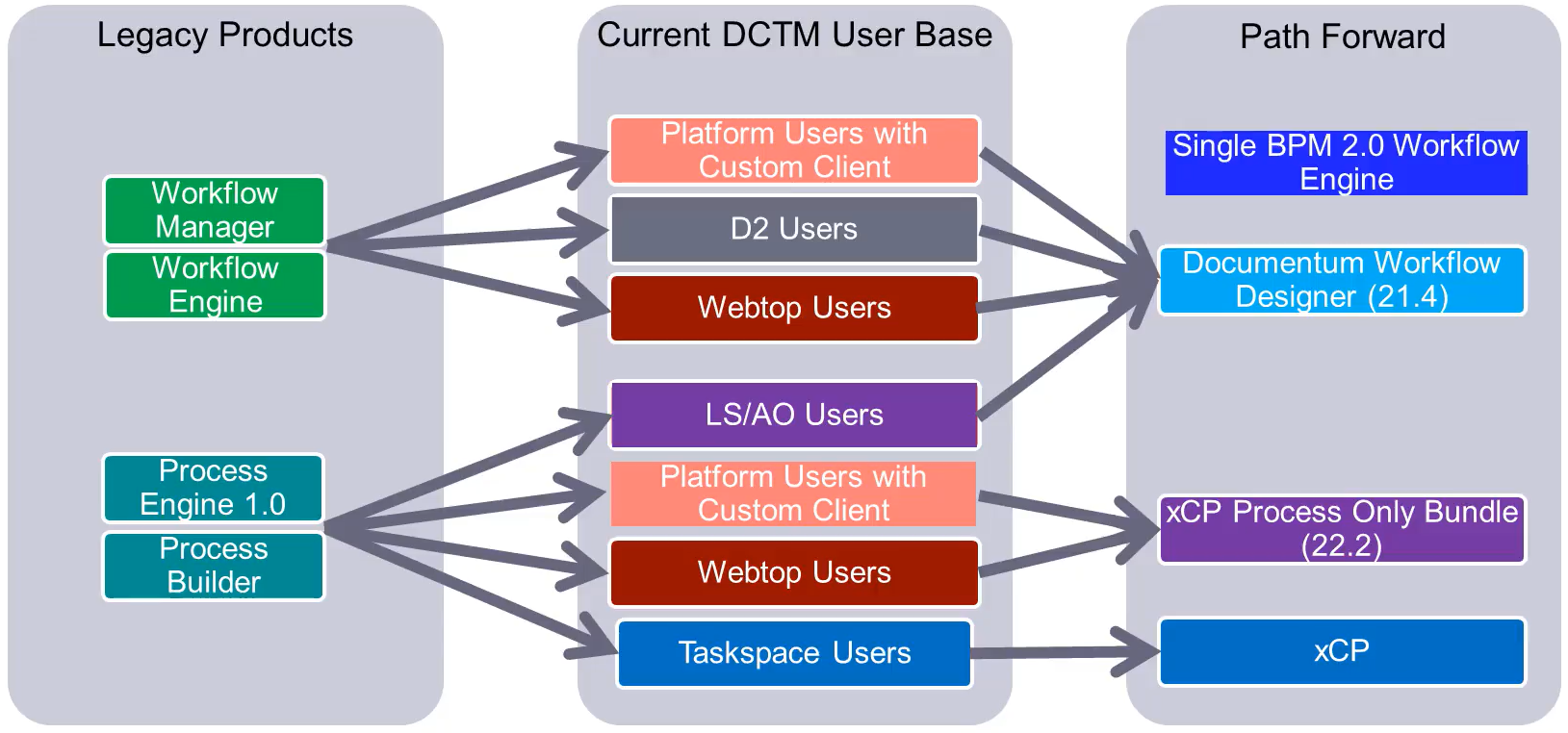 ---
What's New and What's Next for InfoArchive (by Andreas Kalogeropoulos)
An underestimated product (in my opinion). I remember the introduction a couple of years ago about running it on a RaspberryPi and I also wonder why there is no supported DocumentStore connector for this product from an AppWorks point of view? After all the processing on the AWP you eventually want to archive you data (and process data) into a compliance product which InfoArchive is. We'll find out in this session…
Starting off with themes quote for 22.2: Provide a simple to use, simple to configure, compliance and cloud-ready archiving solution for managing business static data to reduce costs & risks…Well, nothing to add here!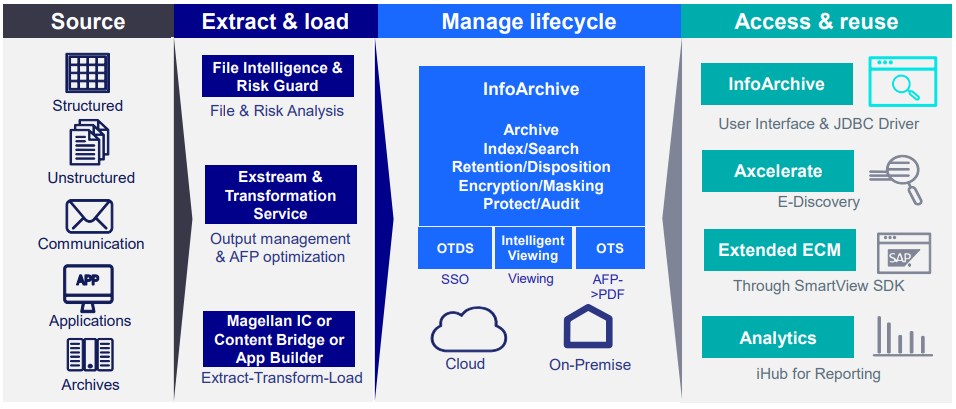 New features:
Replacing the XML Database with a new Lucene/PostgreSQL architecture. Interesting choice as I always thought XDB was "da bomb"; Looks like innovations don't always stand the test of time with an unlimited lifespan.
Timeline view for search results. Brings a better way to filter, zoom-in, zoom-out, and navigate through data-driven business data.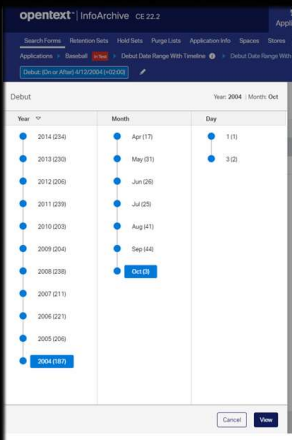 In other OpenText products I also start to see these 'Timeline' kind of views. Especially when workflows are involved to get an overview of the current status.
The session finishes with a roadmap…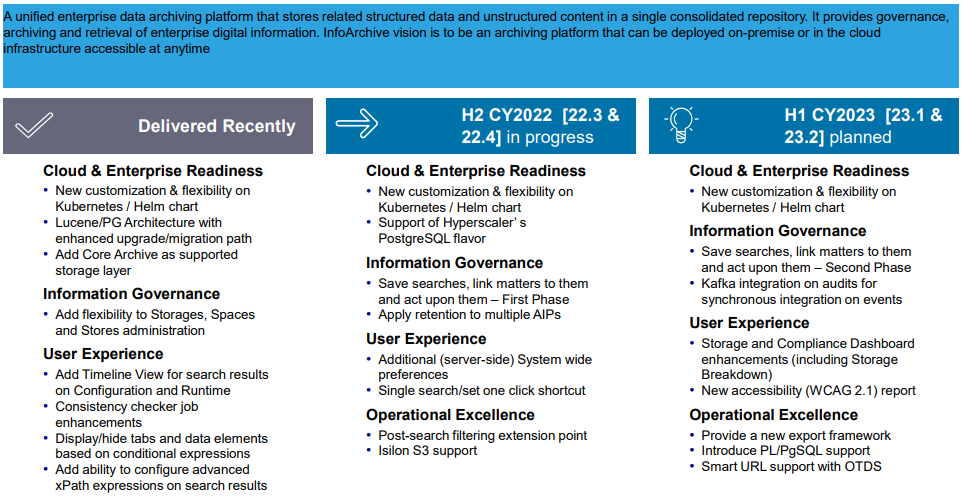 ---
What's New and What's Next in Documentum D2 (by Vishal Gupta)
Before we dive into the update on Documentum itself; first an update on D2 and what is steering the roadmap. This was also communicated last year, but a quick recap list:
User Experience
Digital Business & Digital Workplace
Intelligent Automation
Information Governance
Cloud
An interesting sheet is passing by where D2 is mixed into the 'Core family' or apps. Smells good but sounds awkward!? What is a monolithic application doing in the 'Core' microservices family…Make your own judgement!?
The 'Core' D2 Family:
Classic; full support, minimal innovations and no planned EOL currently!
Smart View; full support, new UI in line with other products. Use on tablet and SDK to support customizations.
Mobile; Based on Smart View API; Support for native app on Android and iOS as well as the mobile browser.
ReST; Integrate solutions that leverage D2 configurations. Custom D2 clients. Baseline for the Mobile app.
D2-Config; Client for configuring the D2 runtime for end-users. It's based on context lanes on a configuration matrix.
New in 22.1/22.2
Core signature integrates into Smart View for D2. Integrated with D2 workflow configuration, send for signature, returns a signed PDF with reporting
Workflow migration to move from the older 'Workflow Manager' to the new 'Workflow Designer'.
Embedded viewer on properties page. It's a side-by-side property/content view (more a preview content feature)
Bulk lifecycle update on documents where business rules are consistently apply automatically.
New in 22.4
Zip and download larger set of documents (a collection).
D2 Smart View SDK which makes it possible to extend the D2 Smart View with your own functionality.
These SDKs are a wonderful thing to have, but I always recommend to limit customizations and try to bend the requirement, so it fits into the configuration limitations of the tool. Why? because I see a lot of problems at customers leaving this important principle and running into problems in the future.
…
A view into the future on the roadmap: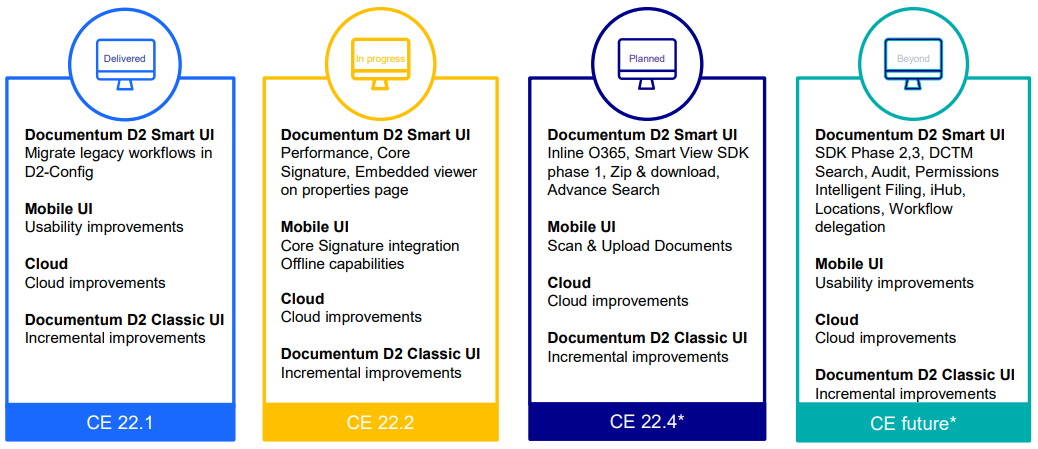 ---
What's New and What's Next in Documentum (by Dianne Jolly & Micah Byrd)
Do you remember the DCTM update session from last event…Yes, the one where Dianne (from marketing) made some interesting statements about a "product advisory council", "network building", "exposure", "share information", and "get recognized"! That was a refreshment call, but does it still stand…Is Documentum a "family" now where we bring it all together? Well, an honest answer? I didn't hear anything, but my priority 1 is AppWorks, then Documentum. Also, within Acolad (partner from OpenText), I didn't receive any notifications!? Let's see if this session makes me enthusiast again…
Right…Dianne takes the intro, Micah the real update, and Dianna finishes off with promising words…Starts to look like the 'Dianne && Micah' show as we previously also had the 'Nick && Nick' show back in Q4 2020 in the AppWorks update! 🤗
Documentum 22.2
Looks like we can skip the D2 update slides as they are equal to the earlier D2 update session!? The new workflow designer is our next session; Let's skip that too for now; A slide about xCP tile dashboard; Also seen before in the xCP update session…hmmmm, so what is left? The Documentum platform AEK-key rotation? Interesting!? If it works, it works! I guess this has a close relation with the new BYOK communications I saw in some other sessions.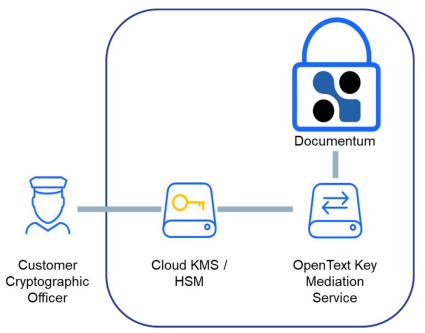 The future directions of Documentum?
Cloud & Enterprise readiness
Intelligent Automation
User Experience
Digital Business and Digital Workspace
In the middle of all this "directions party" is…YOU!!
…
How can you engage? This is Dianne time with a schedule for the 'OpenText Documentum User Group':
May 11, 2022 - Chevron's Journey to the Cloud
September 2022 - Extending Documentum with SAP/Salesforce
October 2022 - OpenText World
January 2023 - Integration with Microsoft - Leverage Collaboration
---
What's new with Documentum Workflow Designer (by Prakash Kumar)
A very structured session:
Introduction and designer
Introduction

Modern and web-based with common workflow engine and designer
Easier creation and management with support for Java methods
Single and state-of-the-art capabilities for all DCTM customers

Designer's space

Sleek and modern approach with smart use of canvas
Floating toolbars and Smart menu bars…Sure! 🤣

Design tools

Save/validate, Install/uninstall, Cut/Copy/Paste
Redo/Undo, Zoom/Alignments

Error details

Validation errors
Description of the error
Location of the error
Process management and configuration
Process search

Alphabetical order of processes
Easy search with typeahead

Managing

Creation, copying and deleting processes

Configuration

Support default alias sets
Process details and instructions
Packages with visibility and mandatory options

Activity configuration

Auto/manual activities
Task details with performers
Trigger, transitions, notifications, and display configs
Performers…Who is a performer? Someone who performs a task! 🤓…It's clearly getting too late for me now! 🍺
Features

Simple and intuitive addition of performers
Delegation options and sign-off enablement
Sequencing option the order of work

Types of performers (for implementing complex business scenarios in workflow design)

Workflow supervisor and repository owner
Performer from last activity
Previous activity performer
Specific group
Group or user from alias set
Last thoughts: Import/Export options available on the workflow template; Migration from workflow manager to workflow designer; Works seamless with D2 Smart View.
Notes on the session:

It looks like I'm describing the good old 'Workflow Manager' from DCTM…Those good old days; Principles are here to stay!
To not mix things up, this session is not about the new 'xCP Process Only' product from an earlier session. They might blend into each other in the future, but not at the current moment in time!
Have also a look at the end of my own post for more information and an installation guide!
---
Updates to OpenText Intelligent Viewing (by Kiley Hyatt)
A session from Arizona (the "Grand Canyon" state)! I see it's not only about viewing, but also about transformation. Starting off with a first question:
What's the purpose of viewing? See content in context; Interact with content by zooming and panning; Transform content to something uniform; Integrate experiences from our daily job.
What is Intelligent Viewing? Modern viewing solution which does more than just document viewing. Being able to do bulk automations for publishing and transformation action at folder/workspace level. It brings value to customers with the advanced integration in xECM. The solution is able to scale to grow and flex to the customers' needs.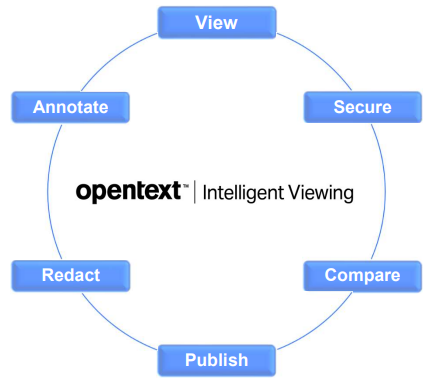 What's new?
No additional costs/charge for all users (xECM, D2) to use this new "complimentary" viewer.
Conversion of annotations created in Brava!. This includes permission restrictions.
Note: there is a distinction being made on "complimentary" features (which is FREE) and "premium" features (not free!). Costs are not mentioned…Make sure to contact your sales representative at OT on this one.
What's next?
Automatic rendition; Configure automatic rendition rules at folder level with the option to apply banners/watermarks
Secure banners/watermarking; Automatically apply security on view, publish, print, or download actions within the viewer
Ending up with a features overview: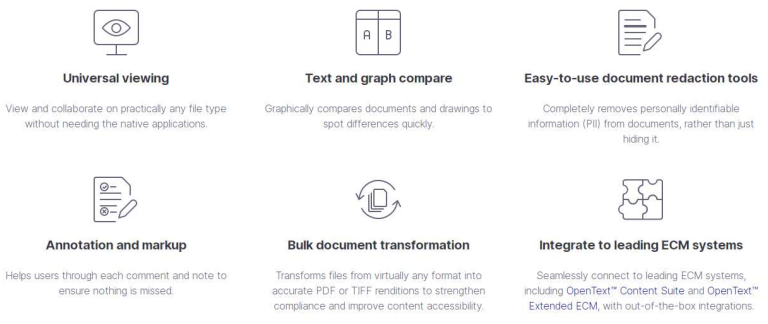 ---
OpenText Extended ECM for Developers (by Remita Saha)
The agenda looks great…I can write it all down, but when we start to talk about a complete 'spectrum' I can only provide you with a screenshot: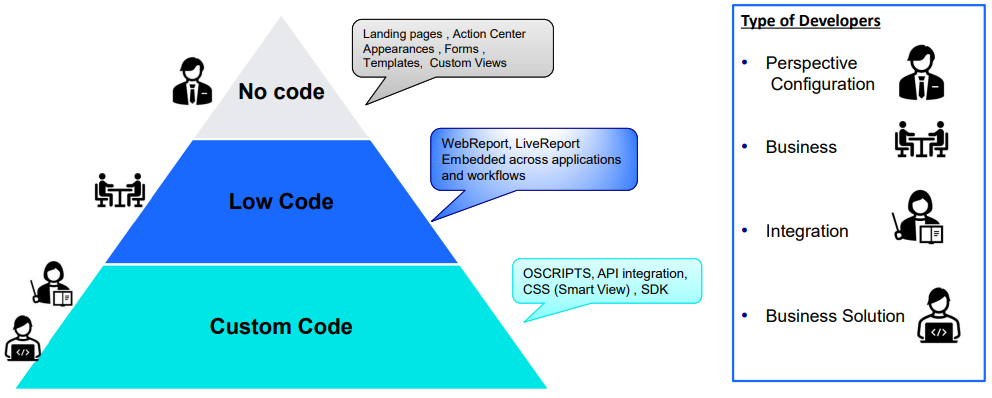 What I miss here is the 'Pro-code' layer!?
…
No-code flexibility options (landing pages, action center appearances, forms, templates, custom views)
We get xECM Smart View features with a refreshed look and feel on pages customization. New landing page layouts to share information between departments. Business admins can manage templates and act on relevant information. Widgets are available to get you up and running quickly.
…
Low-code flexibility options (built-in-tools on: workflow, forms, live report, web-reports)
WebReports is a powerful reporting and processing tool. It is fed with LiveReport data or any other external system. They trigger schedules/action and have report views. The widget tiles on WebReports allow you to aggregate, visualize and interact with data.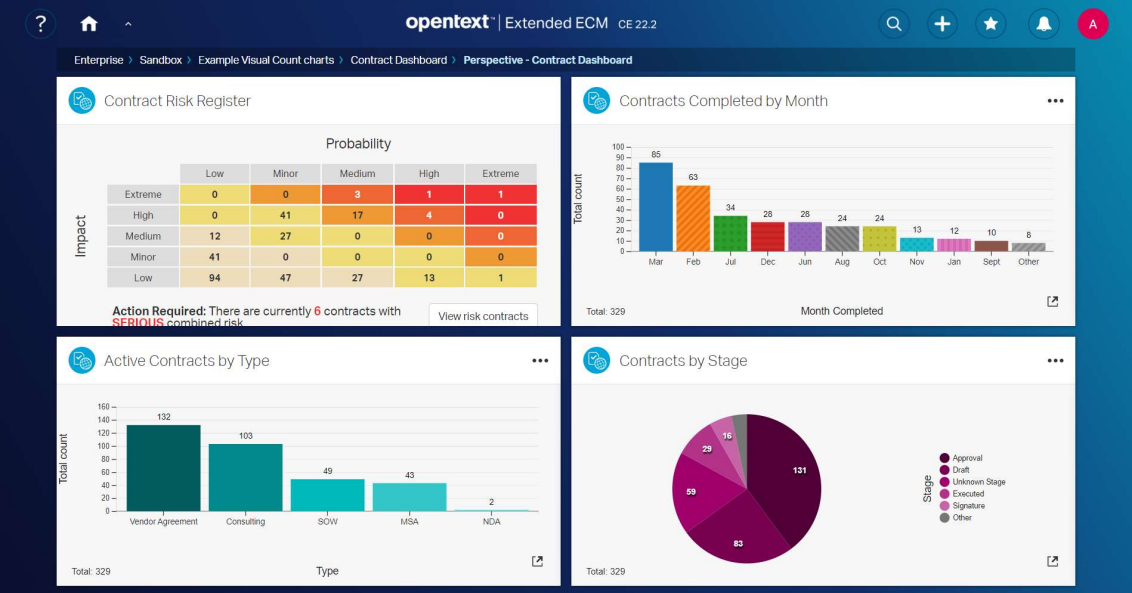 …
Custom-code flexibility options (integrating and customizing xECM)
xECM offers integration with any lead application from a content services perspective. It integrates via ReST API and widget SDK for connected workspaces. Developers can use the official ReST API and widget library to enrich their scenarios with special functionalities.
With the Smart View SDK you can develop your own widgets, extend the xECM UI, and build integration into other UI environments. Easily make branding changes via CSS, JS, ReST and JSON
The Content Server SDK is required when all the other options don't fill your needs. It's a plug-in for Eclipse (CSIDE) and lets you extend content server itself. This is done via the OScript language via modules/patches.
…
Customizing cloud solution (Kubernetes)
Is it possible? For sure! Via 'Solution extension', or via 'Integration Workbench'
'Solution extension'
Start with lightweight "Init Containers" that only contain language packs or a specific solution extension (so, no content server, no full OS)
Inject modules on first deployment; Extended ECM (image) + Language Packs (init) + SolEx Partner Solution (init) + PS Solution Extension (init) + your module (init)
Advantages are clearing ownership for every image and enables configurable solution extensions
'Integration Workbench'
Customize using xECM APIs and build a bridge between xECM and the lead application
The workbench is a base container (on Tomcat) supporting API based solutions
---
What's new on Developer Services (by Claire Denton & Gino Vicari)
One of the interesting sessions where we'll learn more about what's happening to speed up the time it takes developers to build, deploy, and manage apps the leverage IMaaS…Time to speed up "time to market". Nice sales quote…"We" as developers know better, but I get the point! 🤣
We start off with some orientation…Just a recap when you live under a 'Stone'! Most information is already communicated broadly:

All to be found on developer.opentext.com
The developer site is enhanced with a much better layout with interesting sections to explore yourself. The documentation is interactive (the "Swagger"-way) with try-out options to play with.
Another notable feature is the new cloud administrator experience! Great news, but I saw it already passing by at the 'Nick Carter' show…So, let's continue…
…
Gino time…Which is always valuable!! From a developer perspective we get smooth working dev-tools as extension in Visual Studio Code (our most popular IDE…Next to IntelliJ!) Have also a look at the 'Developer labs' section on this page for other related information on this extension pack.
After downloading and installing it all, it's recommended to follow the extended tutorial delivered with the pack. This helps you to build your first app using the IMaaS APIs. Reserve yourself 1 day to follow this tutorial…Just a recommendation!
With the IMaaS tools you can start building models in several categories:
'Namespaces'; Groups your models into one space in context of your application after deploying it on your tenant in the cloud.
'Types'; Where we define attributes within our object (like we do with entity modeling in AppWorks).
'Traits'; Smells like a 'type'. #RTFM tells is it's more of an "aspect" you can temporarily attach to your type enriching it with extra functionality. You group attributes into one complex multi-attribute property.
'Workflows'; Is the BPM power of the tool with an enriched activity set to choose from! Highly configurable from what I saw passing by during my developer lab…Fantastic job!
The tooling also connects directly to your tenant in the cloud for deployment of your crafted models. So, make sure to sign-up for the 90-day trial plan to start off…
Question to OpenText: You try to make it as easy as possible for developers to join…Why this 90-days limitation? I don't get it. For me, it's the third time to contact the service desk to open up my space again before I can play in the IMaaS garden again. Not very developer-friendly!?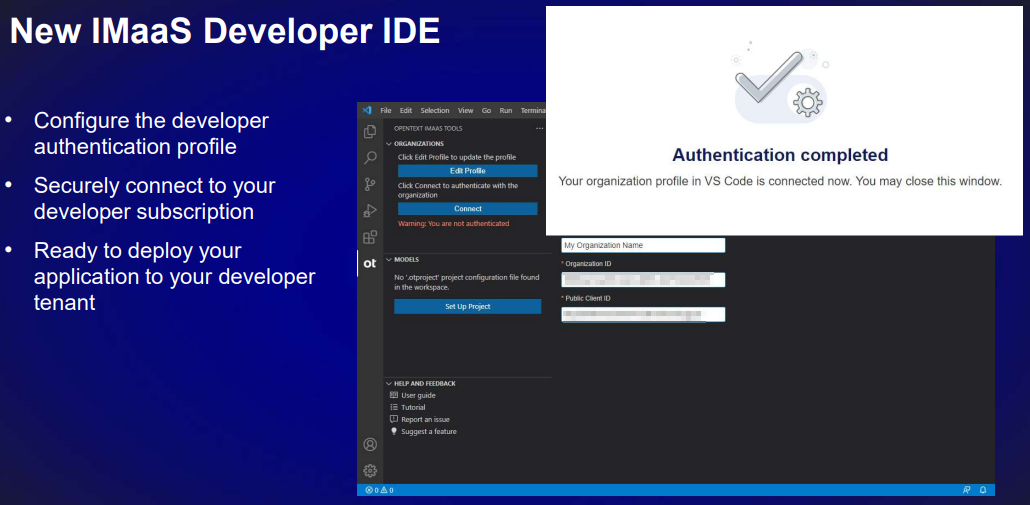 …
Join the beta program focus group by sending a mail to otdeveloper@opentext.com
…
---
Developer labs
Between all the sessions, I followed this developer lab…Because I'm eager to learn the latest new stuff.
I missed two other interesting dev-sessions:

*"Customize your AppWorks solution"*; This session dives into the new JavaScript client API and the UI extension points. After double-checking with Nick King he recommends me to skip it and follow other dev-sessions instead…So, I did, although I like to be involved into these sessions!…Choices to be made!
*"Modern Tools for the Developer Cloud"*; This should be my main entrance on starting with the communicated VS-Code extension pack, but because of the AppWorks meetup and other interesting sessions I skipped it. Not a bad choice as the 'Developer Cloud Workflow Service' provided me sufficient information to start this lab on my own (incl. much more details…Continue reading!)
Using the Developer Cloud Workflow Service
This is the session I've been waiting for a long time. It will explain in more details how to work with the VS-Code extension pack. I missed the first part of the combined session with "Modern Tools for the Developer Cloud", so I tried to start early which brought me valuable information on how to start creating my own models which is required before starting any flow. A model is just a descriptive template (metadata) you can deploy into the OT2 cloud for your own tenant. An instance of the model is a representation of your metadata type. From an AppWorks perspective this is just an entity with properties. From a Documentum perspective this would be a dm_type object with properties. So, it smells all the same…Can't be that hard; from a VS-Code perspective this looks like this: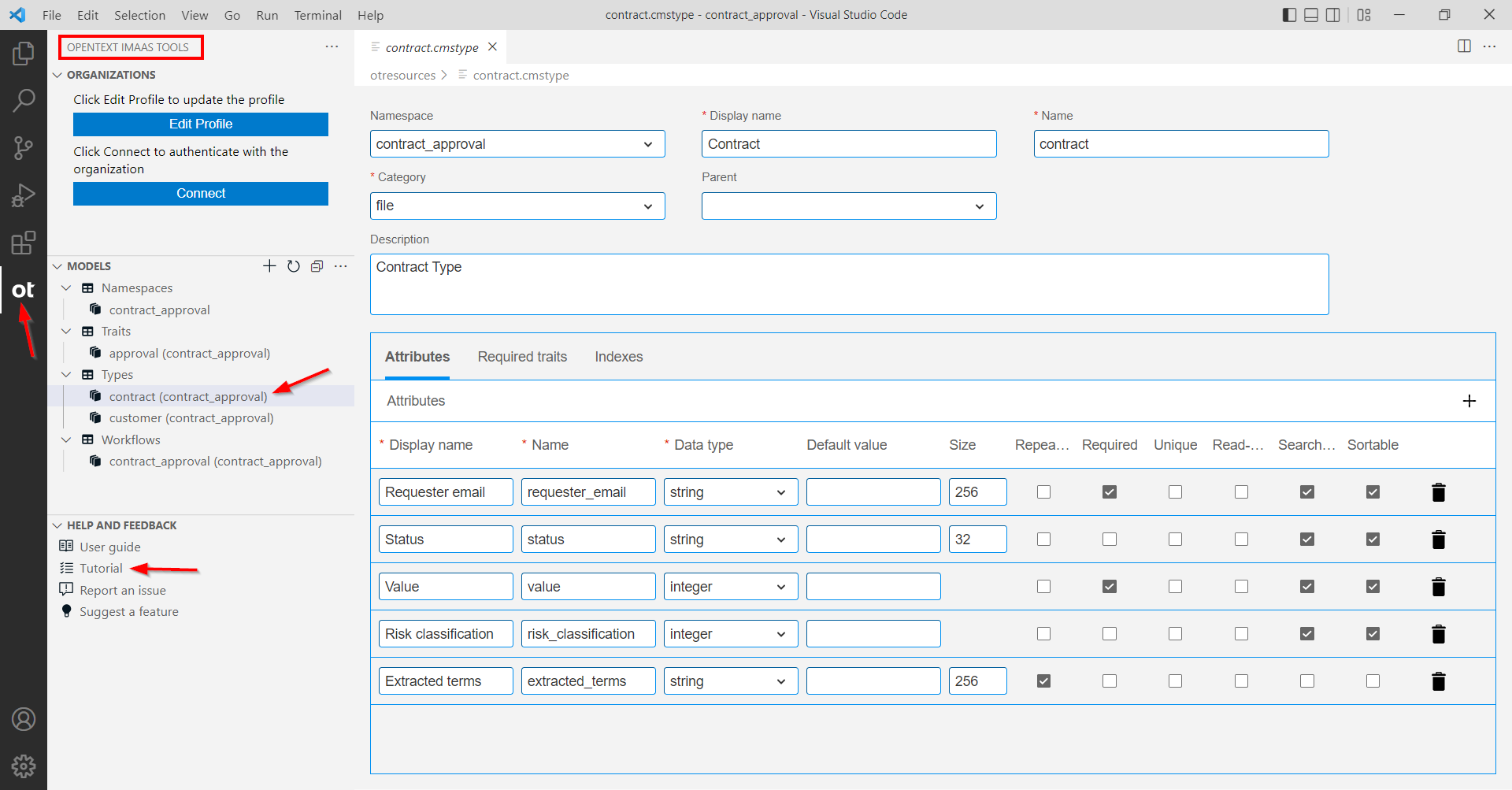 Definitely have a look at the 'Tutorial' which provides you with an 8 hours tour to give you a start!
In quick steps the session where we played with the workflow modeler. Because of the skipped session I was provided with a ZIP file where my types where already predefined. These are used as input for the workflow modeler. We started to create a new workflow which in the end looked like this: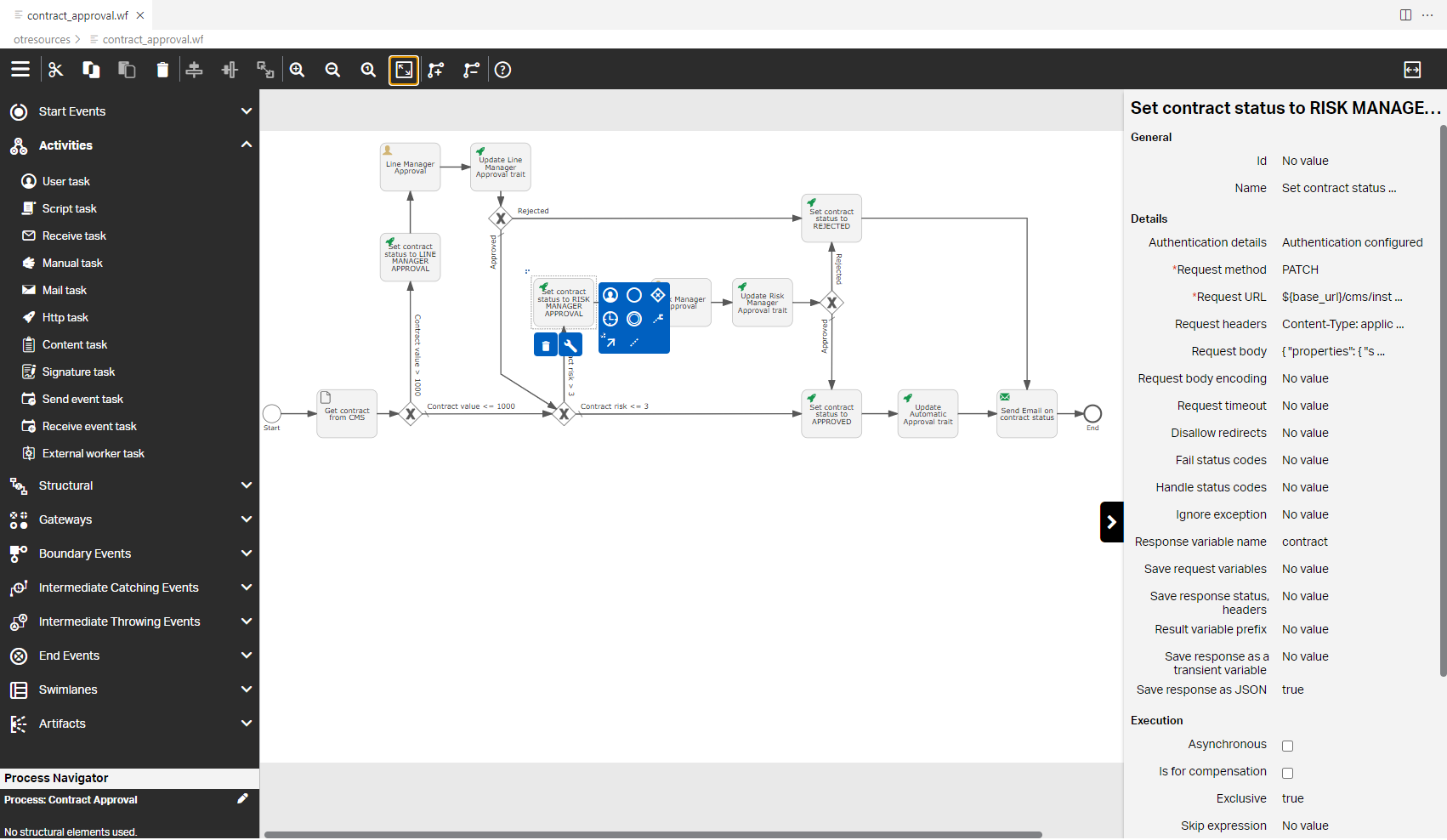 I will not explain everything; for that we have the tutorial, but I can tell you that it works smoothly (incl. the validation checks on saving it). I've seen a lot of BPM modeling tools, but this one almost meets the AppWorks BPM modeler which works already nice. From what I see passing by, there are more activities available I also saw in my xCP-era and beyond it. Looks to me they've chosen the best of two worlds and combined it together into one tool. Especially the "HTTP task" activity brings power on the table for calling external systems. Following the lab was a smooth experience with lots of new insights on this new product…Excellent job! Looks like my vacation is already planned with an interesting deep dive on this tool. My eyes are open now for a 'Developer' experience on the OT2 platform.
After this session I got an invited brainstorm session with Gino (Product Manager OT2) about where/how we can move to the next step in OT2-land. It's the only session I could do in my own Dutch native language…Some highlights:

The developer is key; This requires perfectly working development tools to work with as easy as possible!
Create a smooth experience with lots of start-up guides to play around with.
Do we require a UI builder and how should it interact with the developer? How extensible and integrated should it be? It all depends!
How do we move customers to the developer cloud? Smaller customers are easy, but large customers require a migration plan.
…
Thank you Gina for the invite and the opportunity!
---
Innovation labs
Not much to say here as I committed to that one statement: I confirm that I have read the Consent and NDA forms in full and agree to the conditions.…In other words…"You are not allowed to share any content about what is presented or discussed".
To make you a bit curious…I followed indeed some interesting sessions on these topics, but I can't tell any more details.
Core Case Management: Dashboards & Reports
Core Content Mobile
Core Content Workflows
OpenText Developer Self-service
Yes, put your money on the 'Core' apps for the next year! 🤑 In the meantime I sit and wait for my $10 Starbucks gift card for me and my wife for attending the interesting sessions and my valuable feedback.
---
Other resources:
NOTE: I couldn't find a session about OpenText Content Server/Suite (OTCS) on what's new on the roadmap!? It's the flagship of the company, but it all falls under the category of 'xECM'! What is going on here!? Do I miss a 'Stranger Thing' here; Is the product that stable? Are we moving to Documentum? Is OTCS behind OT2? Questions, questions…Who knows!?
And that, my AppWorks friends, was an "Exponential" and a digital experience with (again) a high-valuable "DONE". All kudos go the OpenText for bringing all the information forward during this event. It brought new insights on what the cloud can do for us, and it will be next level…Just embrace it! Time for some rest now and picking up the regular things in life again…CU in the next post! 👊
Don't forget to subscribe to get updates on the activities happening on this site. Have you noticed the quiz where you find out if you are also "The AppWorks guy"?