Hi there AppWorks fans,
Welcome to a new installment of AppWorks tips.
This post will give you a "limited" wrap-up of the 'Enterprise World (Las Vegas) V-pass 2023 Q4' event from last week (October 11-12, 2023)! A two-day event physically happening in Las Vegas with (hopefully?) lots of sharing sessions to join. I did not join the party in the United States (yet!) but signed myself in for a virtual pass. The V-pass is free and gives a view on the static available content! Let's see what value we'll find these days.
My focus points these 2 days (as technical consultant) to keep you updated with AppWorks related information: 'AppWorks', 'Documentum', 'D2', 'OTDS', 'OCP' (OpenText Cloud Platform), 'Intelligent Viewing', OTCS', 'xECM', 'AI', and more 'Cloud'
---
Let get right into it…
We start with a first screenshot of the portal for the virtual pass: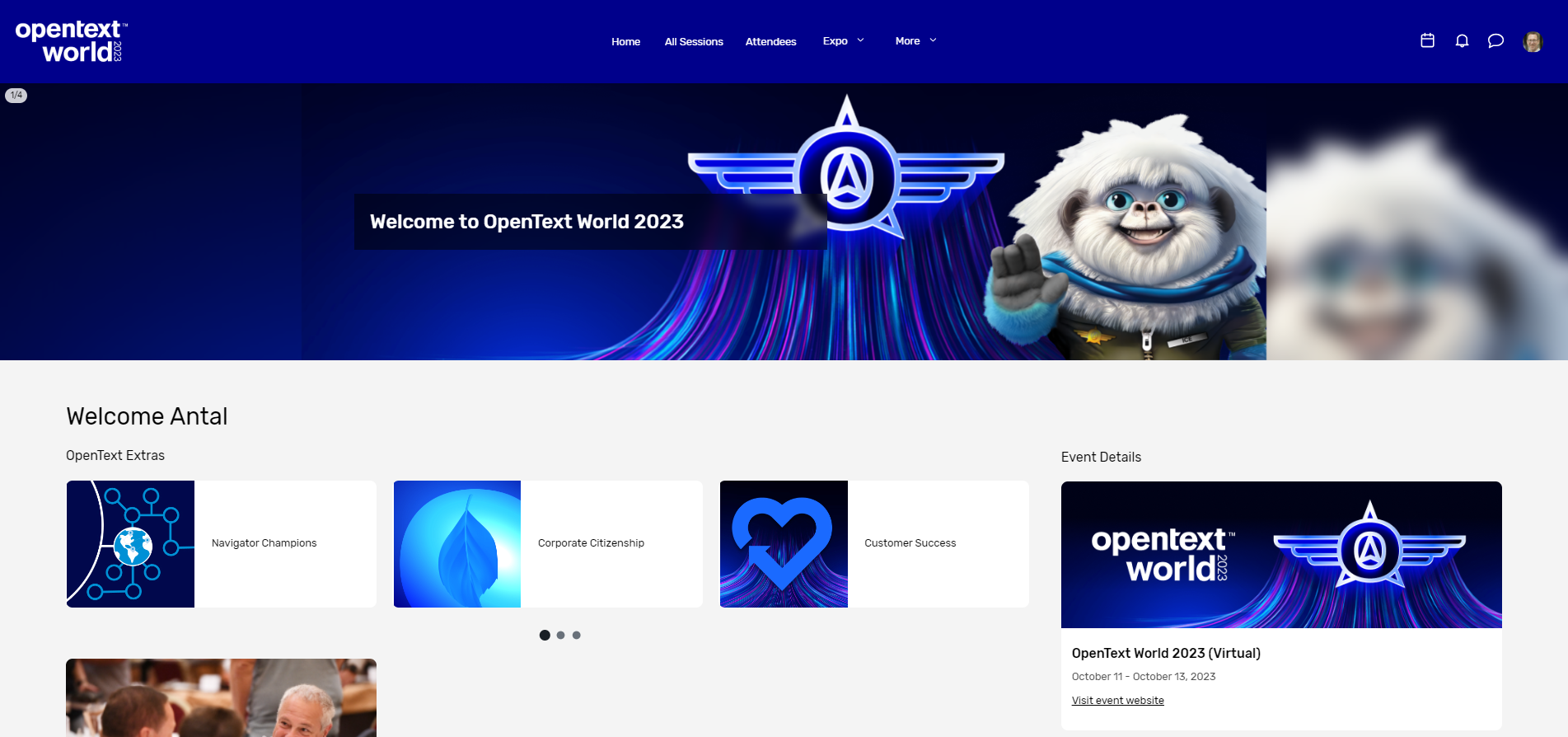 What can we do in this portal:
'All Sessions'; My virtual-pass only has subset of sessions available; Most of them have a "Sales / Promotion / Happy-customer / Connect-it-all" smell; The keynotes are on my agenda…Let's see! Last year a lot of sessions (or all of them?) became open all of a sudden after the circus was DONE…So, let's see again; Once there, I'll create a separate blog out of it.
'Attendees'; Connect and chat with other people (if you like), but it was more of a "quite place" to be (from my eXperience)
'Expo'; With a sponsor list (See also a table overview at the end of this post) and a showcase area for OpenText solutions to promote support, successes, partnership, customer engagement, professional services, etc. So, A lot of sales-pitch-PDF reading…(not for me…sorry! 😑)
'More…'; Here you can book sessions with OT people and provide feedback…AND here we also find the 'Products labs' and 'Innovation labs'; I signed up for this last one; Let's see if they "ping" me back for an interesting UI/UX session.
…
Time to consume the content that is available for us with the first session for this event…The keynote from Mark J. Barrenechea…Good luck Mark (and the team)!
---
CEO Keynote: AI & Its Forces of Change (by Mark J. Barrenechea)
Live from "The Venetian Resort Las Vegas"; It's 17.30 CEST, but it looks like we're later…I'm just in time…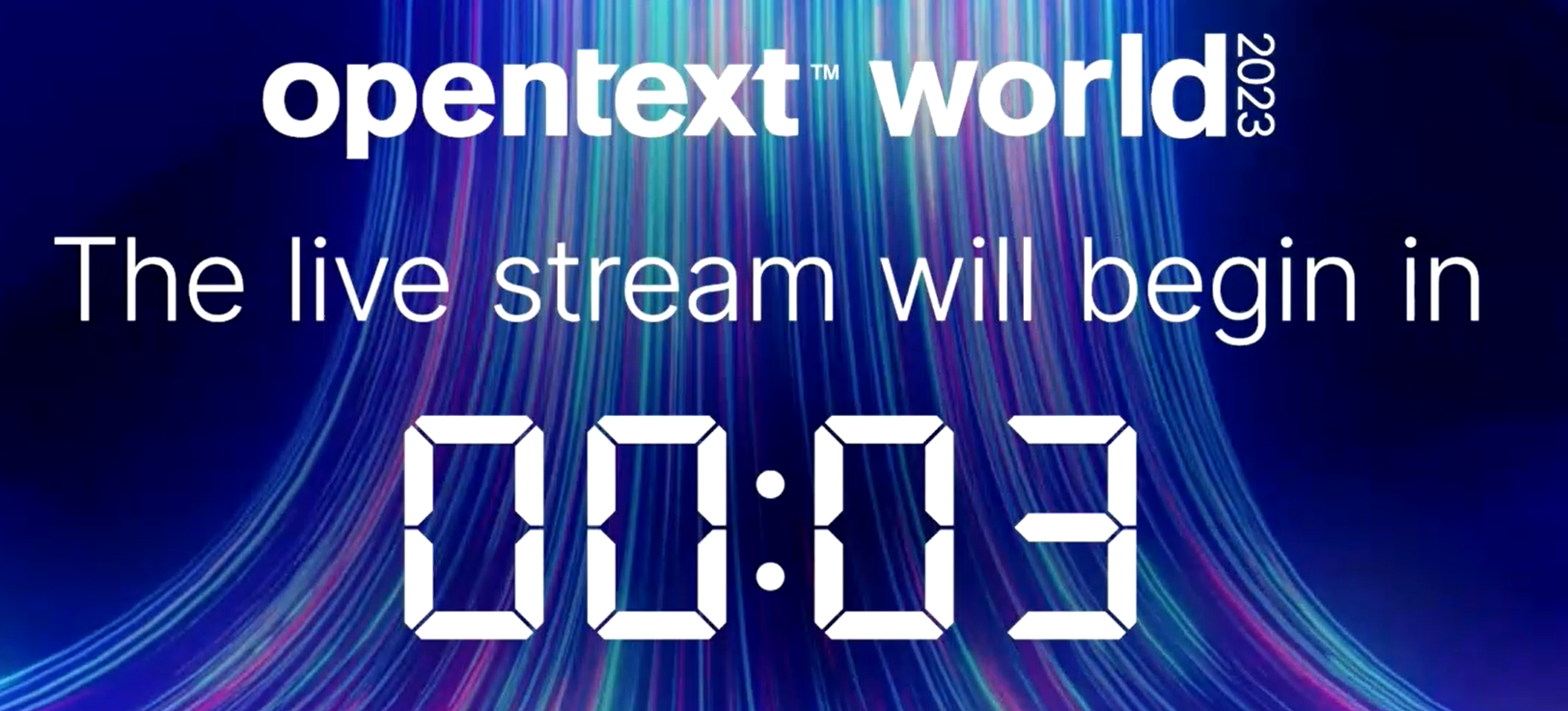 OpenText Aviator AI does its magic tricks in the meantime…With typical "Las Vegas" led-light images and finally a lift-off of the upcoming speakers…
Intro by "RaviDrums", "Red-light-sticks-show-girls and men…COOL! Even Elvis has entered to building (is he still alive?); That's only in "Viva, Las Vegas!"
After this, the "Aviator"-mascot (Ice; the OT-navigator!) does its dance moves slowly, but steady.
…
With this great introduction we're kicking off with CEO & CTO OpenText 'Mark J. Barrenechea'…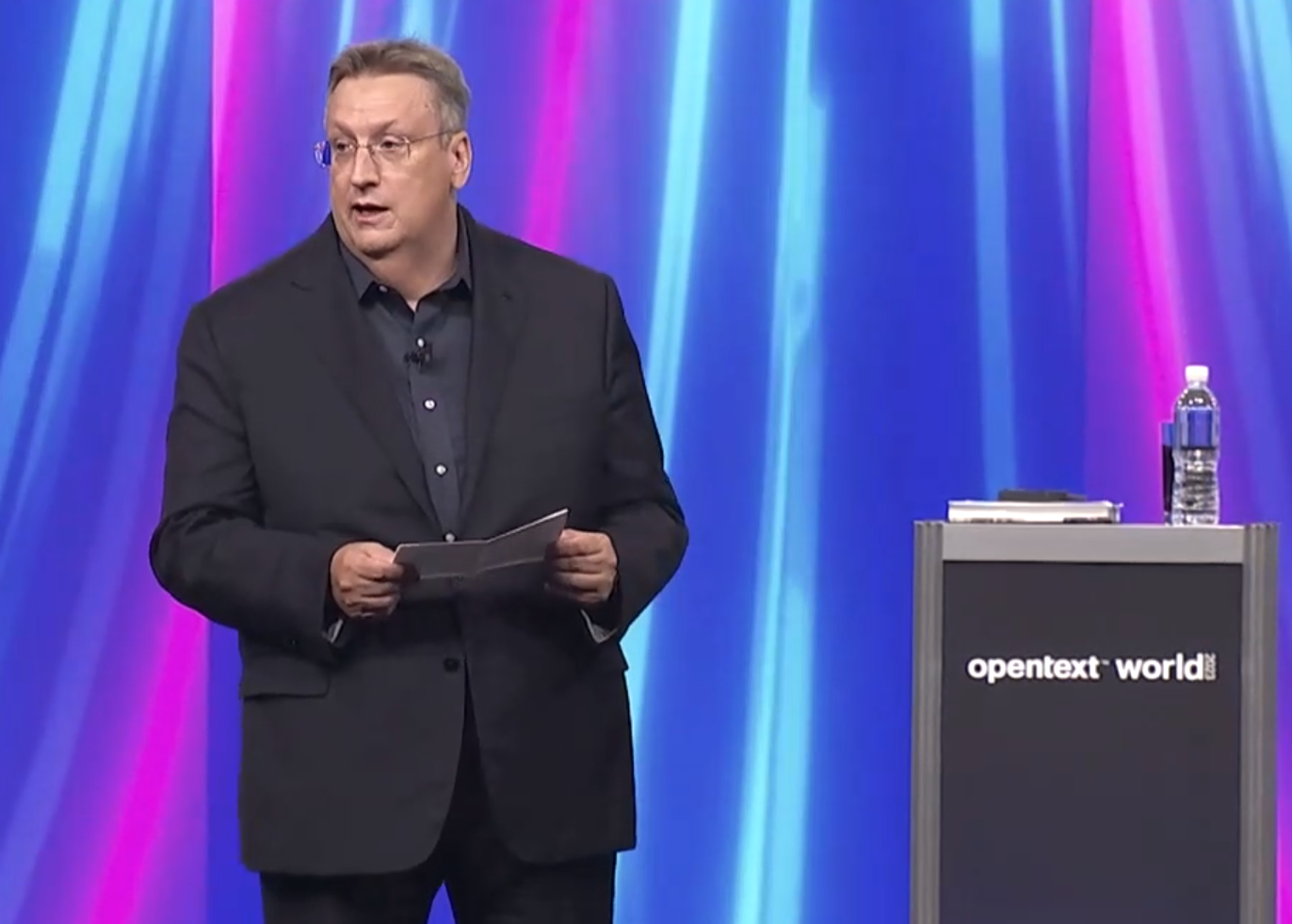 "Welcome to the AI revolution…A new ontology for creativity, data and trust. Everything and everyone will change; Nobody will be spared!"
…
Expanding the Information Management mission: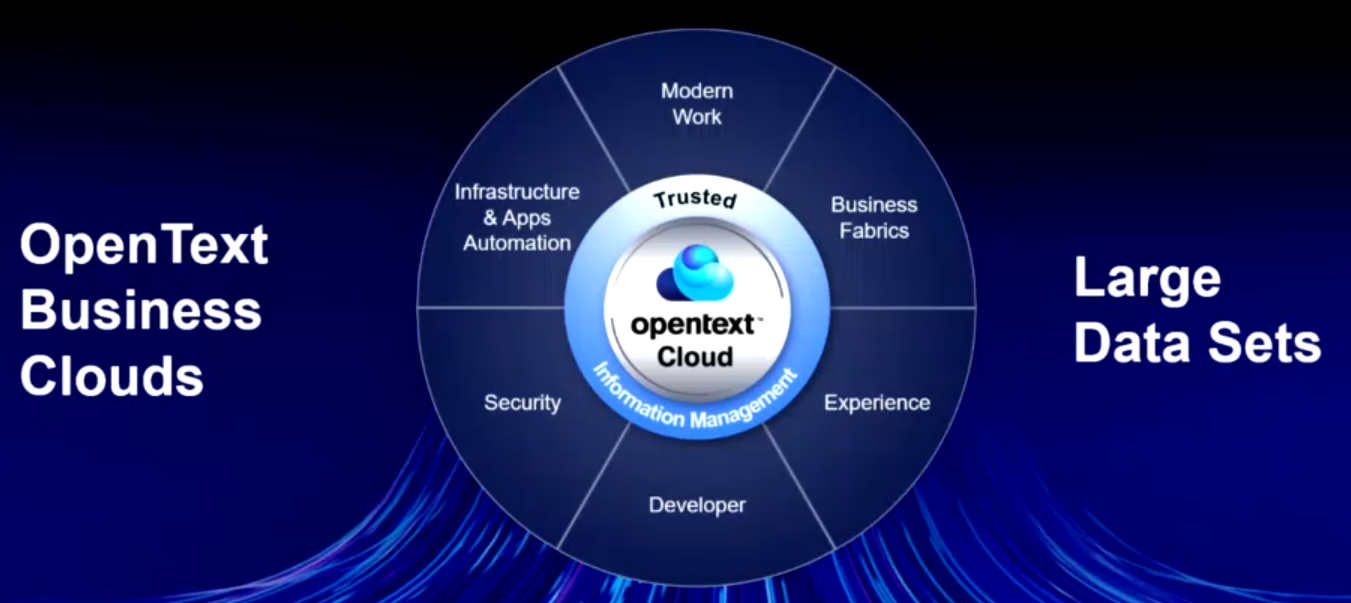 This is bringing IM into the cloud for further automation.
It's a big year of innovations:
Core SaaS
Google Workspace
No-code testing for developers (with the no-code developer!?)
Move customers off from the mainframe and move into the cloud
OT Cloud == IM Cloud; We ingest all data types (docs, records, assets, cases, contracts, etc.) and manage large data sets (Vertica, content, legalTech, BrightCloud)!
Expanding strategic capabilities for large data sets:
New algorithms and models
OT business cloud apps
Build custom apps
API services
Security
Workflow & decision support
Risk / Privacy
The rise of models…ChatGPT 3.5; Huge neural network with multi-billion parameter LLM, trained on language to generate answers to questions. We get a breakthrough moment; Combining a huge neural network, large data sets and LLM with large scale compute. The thousand models bloom is waiting for us…
IM is essential for AI disruption: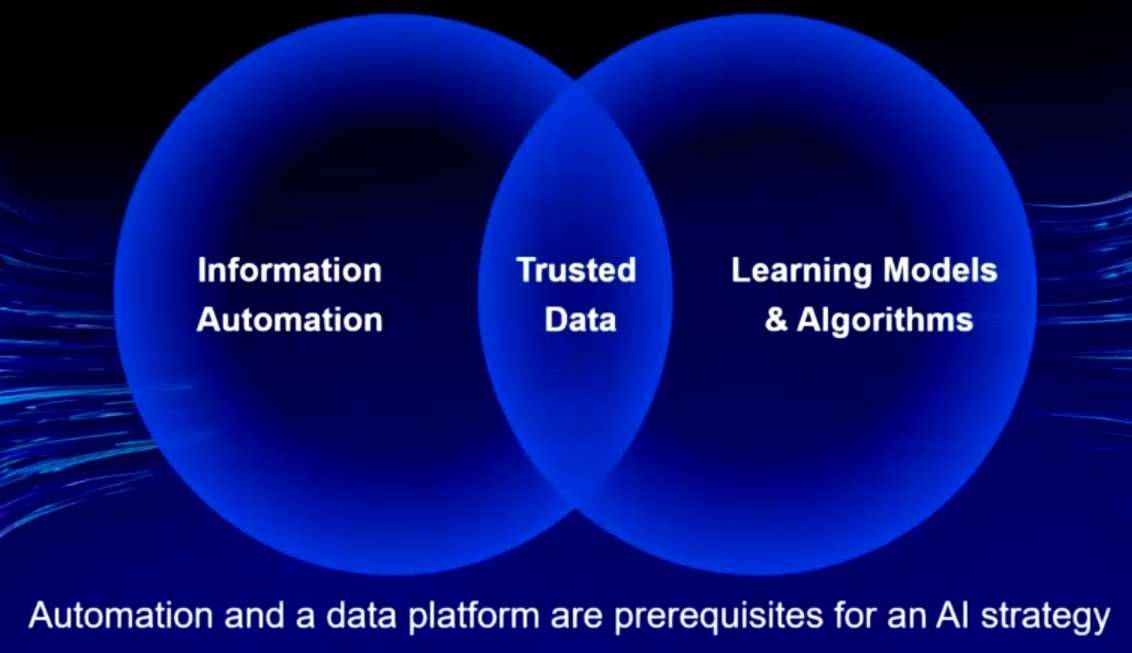 The AI shift is massive (where OpenText is the AI company)
| Automation | AI |
| --- | --- |
| Internet | AI |
| Data | Learning models |
| Coding | Prompt |
| Clicks | Conversations |
Aviators have a decade of AI innovations at OpenText.ai; Customers are already put on the track of AI. OpenText has a target of "Artificial General Intelligence" with IoT & robotics, LLM, data trust & security, predictive, autonomous & agents, metadata & vectors.
The road to AI is long and takes years: Calculation -> Decisions support -> Decision Automation -> Choice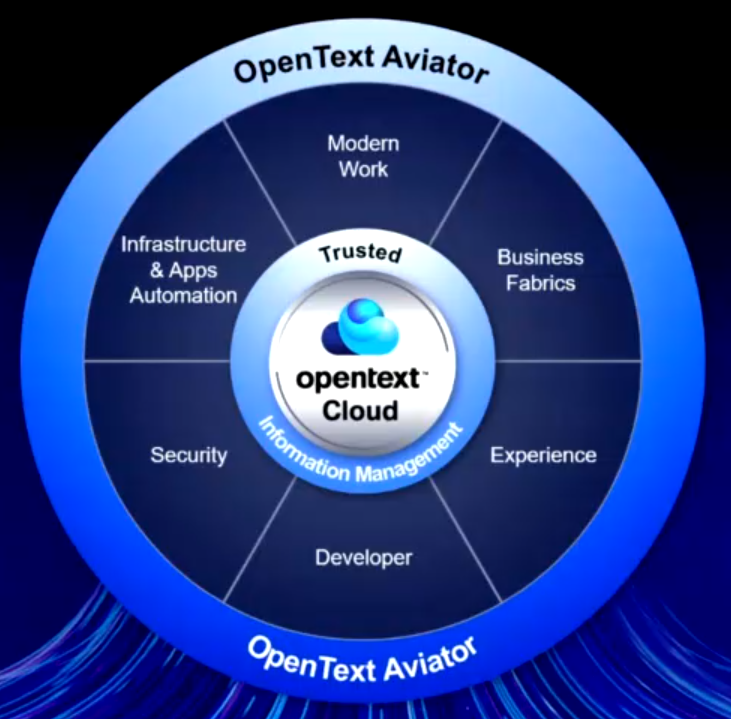 !!Great AI starts with great Information Management!!
I fully agree…Crap in, is crap out; So, indeed…Start at the input!
This will be the AI-stack of OpenText: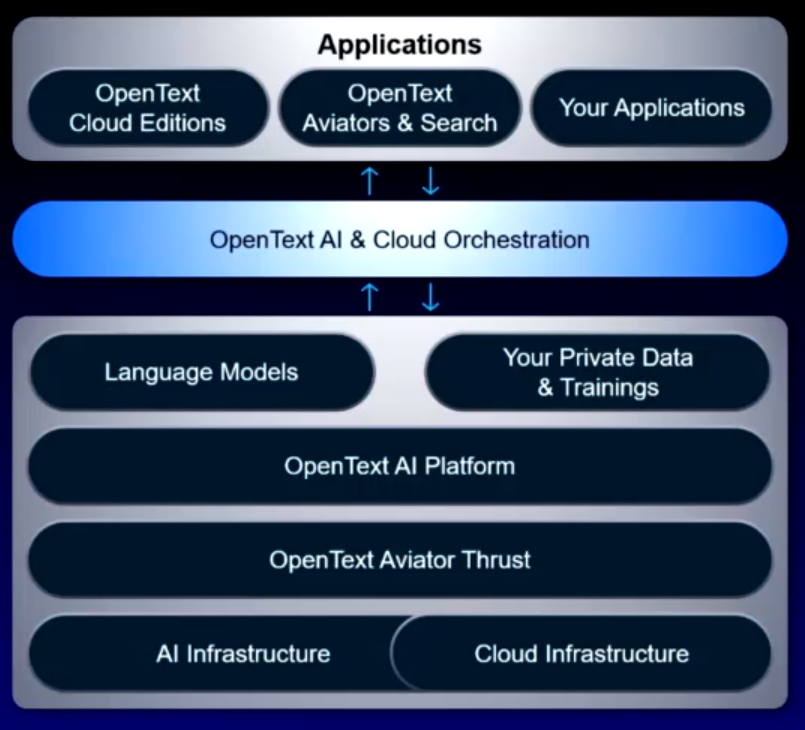 Aviator platform; information digitization, massive transactions, deep learning, information visualization & AI waypoints
Aviator Thrust; A comprehensive portfolio of services, working together, spanning data governance, information protection & security, risk management and compliance solutions.
Aviator Search; The Idle, OpenText search with experience data and operational data…We now add learning data for models.
Aviator IoT; Build on all trust services; Digital growth, messaging to cognitive engines with interfacing to build apps.
Aviator Information Orchestration; AI orchestration: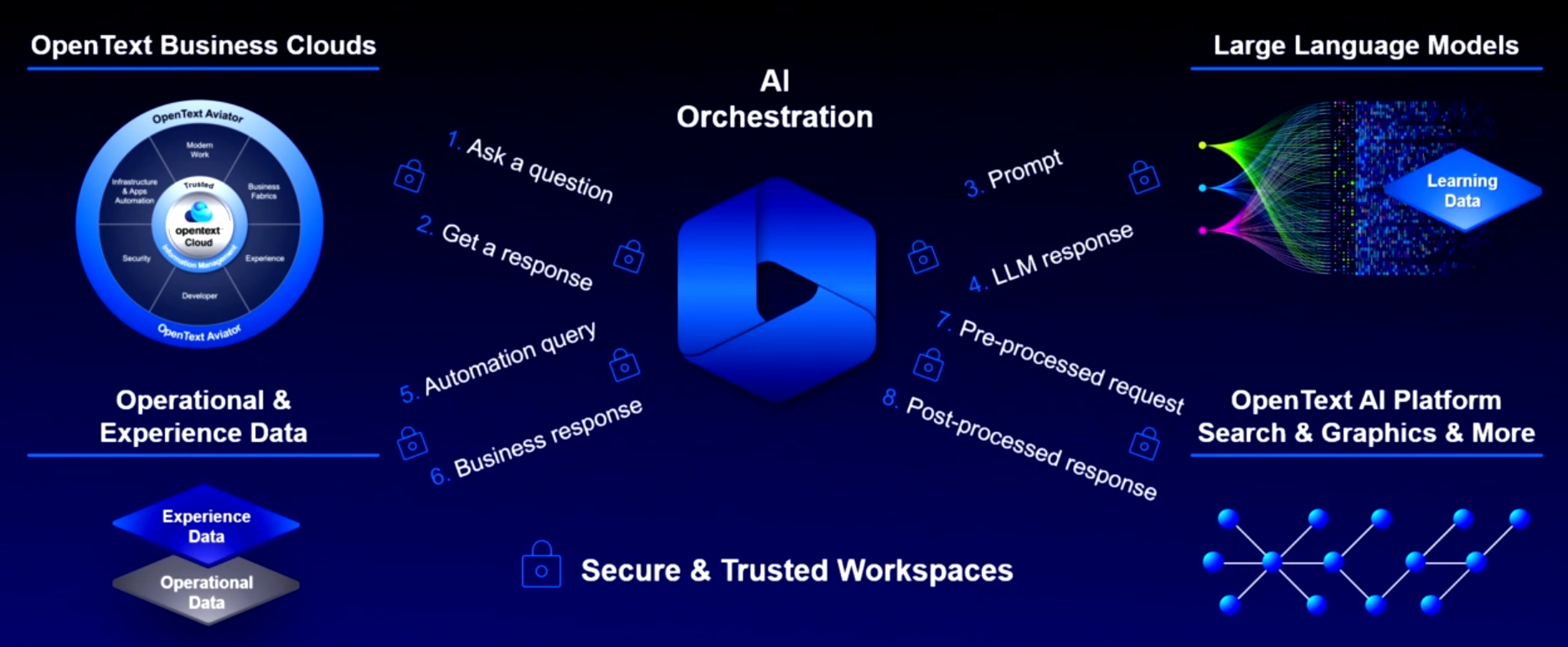 Aviator business clouds; Content, business network, experience, ITOM, etc…
…It's now demo time to show how great it all fluidly flows together in all the products of OpenText; Where chat-bots rule the world, decisions are made for you, APIs manage it all, connectors bring the content to you, and the data flow reduces from weeks to only hours…Even minutes (as always!). From an AppWorks 23.4 perspective we have this orchestration-part as well on the RPA integration in BPMs…The AppWorks platform uses "Operations Orchestration" (from MicroFocus) where Aviator uses "Information Orchestration" (by OpenText)…They "smell" the same, but they are NOT the same (which I hear from an insider! 😉)
…
Start your AI journey with the OT Aviator "Flight School" with 1M documents, LLM ready…In 2 weeks! Earn your wings…contact your OT representative for the URL to sign-up! After this flight school this will be the price-list: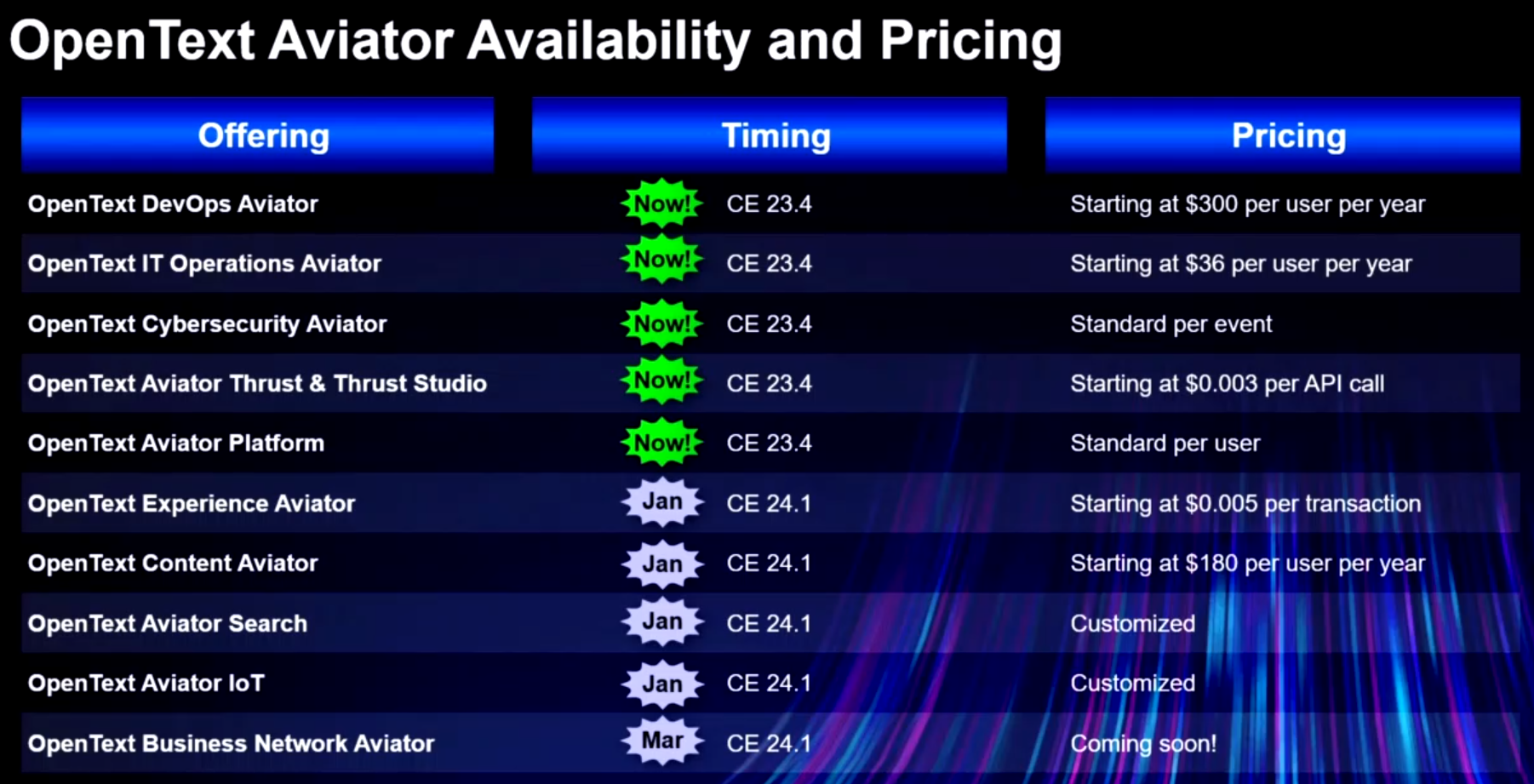 …
Any tech has a dual use; It's how you design it and how you use it…Humanity is grown over the decennials to a 2023 algorithmic AI justice.
The AI bill of obligations:
Transparency builds trust
AI and ethical AI are the same
Software design start with value-based design
Data is not our product
Respect intellectual property
Security is essential
Verifiable AI results
Promote the common good

Quote from C.S. Lewis: It is not like teaching a horse to jump better and better but like turning a horse into a winged creature.
…
After a 10 min. 🥤 break we continue with 15 min. guest speakers…AI will Re-Imagine Work, Think, Commit, and Do…
…
AI and the future (by Vivek Wadhwa)
Cars that drive themselves, Cars that fly, Drones, and we'll get AI doctors, gene edited plants/humans with Bionic Body parts…Even more like virtual worlds and holo-decks, 3D-printed houses, green revolution, etc.
"AI inside" is the great key!
The exponential tech of history, it's not just computing…AI, robotics, nano-tech, genomes, etc.; It's all exponential growth over the last years.
Next are…"Epidermal electronics" that are always on to update data in the cloud. We have massive amounts of data and AI will exceed the capabilities of our doctors (interesting!).
Robots are already shown in science fiction (for us to dream about), but reality is getting closer and closer. Also, "Boston Dynamics" builds roads…Just things to watch; Robots are coming with AI algorithms!
It will hit any market, but it's not (yet!) perfect: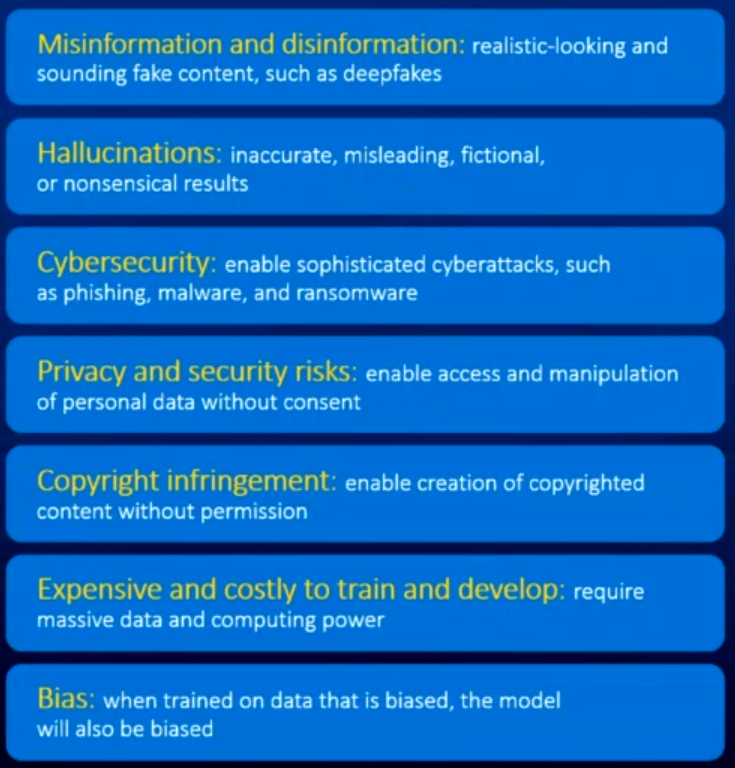 One to watch…Vionix biosciences; When you are in stocks!
…
Next gen of t(h)rust (by Rollie Flynn)
What is intelligence? It's special kind of information; Timely, secret, making decisions, strategic planning, missing big things, and security. "Pearl Harbor" initialized "Centralized intelligence service" with the central intelligence agency. Technology closes the gap of scarcity during the cold war 1.0 and 2.0; With all the data it starts to be difficult to find the needle in the haystack.
Today there is a lot of corruption and stealing organization data to put it into the bad daylight…The world is changed!
Classic motivation to spy: Money, Ideology, Coercion, Ego (MICE).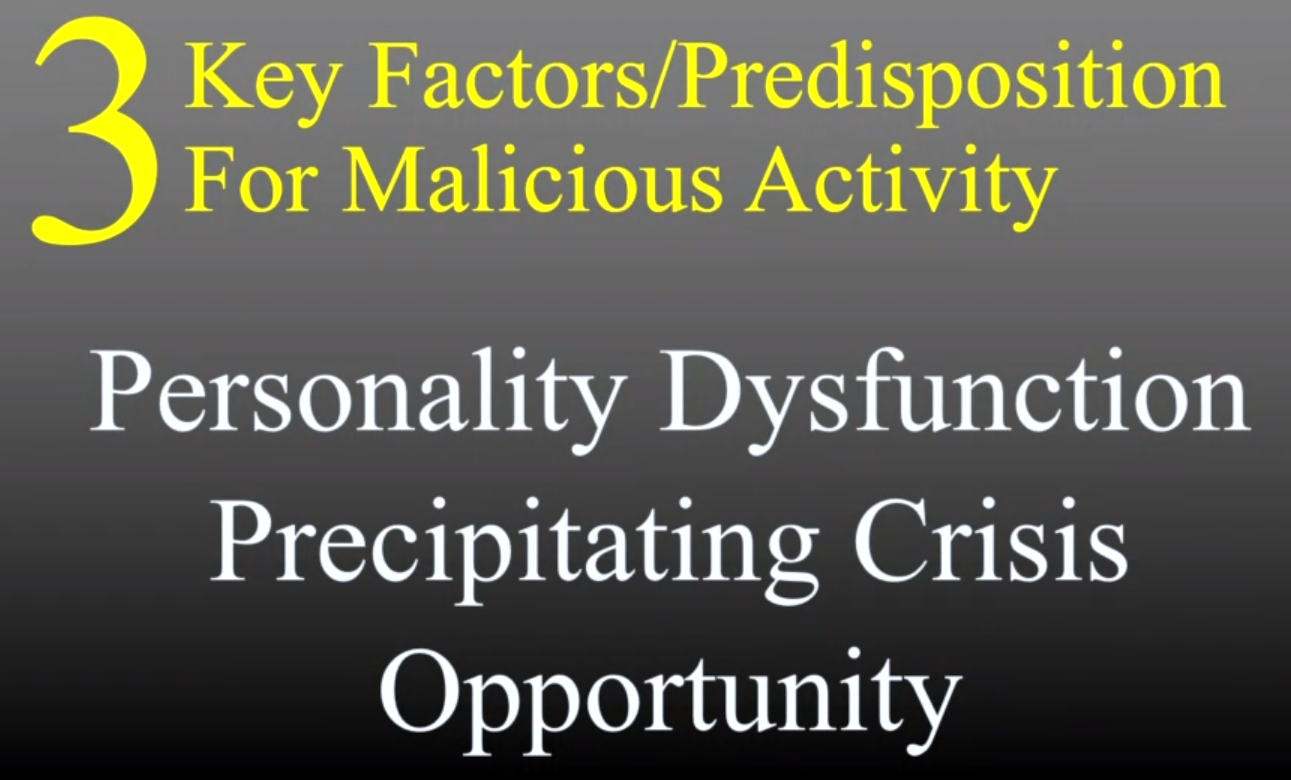 …
Future of climate (by David Wallace Wells)
AI and climate change; Generative AI with chat-bots brings fear and public debates on how we can live with it. It's complicated to answer where we currently are…It's a bad-news/good-news situation; Everyone has its own opinion about going into all kinds of directions around the world.
We do great progressions on the climate future with a peak in electronic emissions and adding zero-footprints at companies. New goals are set for global warming and decrease carbon emissions for a better world and future planet.
…
Sustainable development in climate (by Elliott Harris)
Interlinked dimensions to move into better directions in the social sphere and economic sphere.
Sustainability makes us think in using tech to generate a better outcome for a better world.
It requires investment (hard money; dollars, $$$), but that's an issue on itself. Use smart investments that have a small impact.
Societies move from agriculture to manufacturing, to service-sector…That also introduces gaps between people for competence on the market for opportunities.
Education is important to move with it…Invest in AI!
---
Product & Innovation Keynote: The Future of Information Management (by Muhi S. Majzoub)
A brand-new second day; And day 2 is (as always) "Muhi-time", so feet in the air and have yourself an update on some AI-tech! There he is…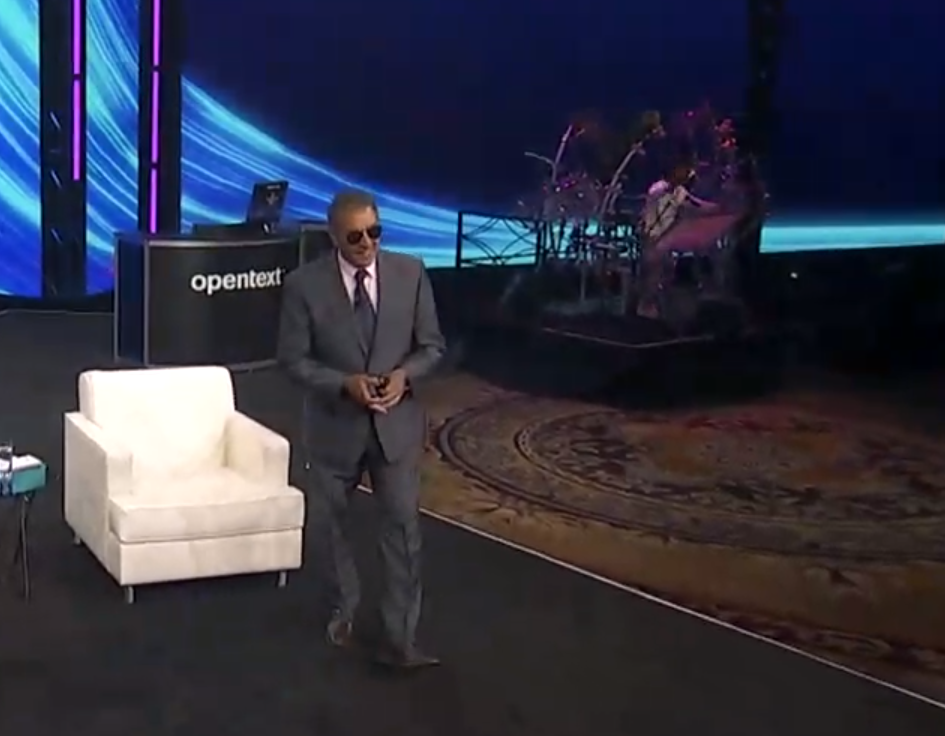 OpenText will guide you into the AI future. AI was already there 25 years ago, but not as powerful as today. Now AI is trained on big data to finally bring value into any business process and analyze data to make decisions to help you in the future.
Review the year:
Titanium is completed
The cloud coverage into new geographies
Micro Focus integration into the portfolio with integrations in the products
New security compliance standards
Advanced the AI strategy and application of LLM with 5 new products (and 5-8 more to come next years)
…
Titanium X Innovations:
Cloud; Public, private, OT cloud, or hyper-scaler of choice; API services are the journey for the past 3 years to extend solutions
Integration; We expand to all products
AI; Aviator is key here support from OpenText
Security; This is the stop of mind to innovate for detection, protection, and many other fields…
Public cloud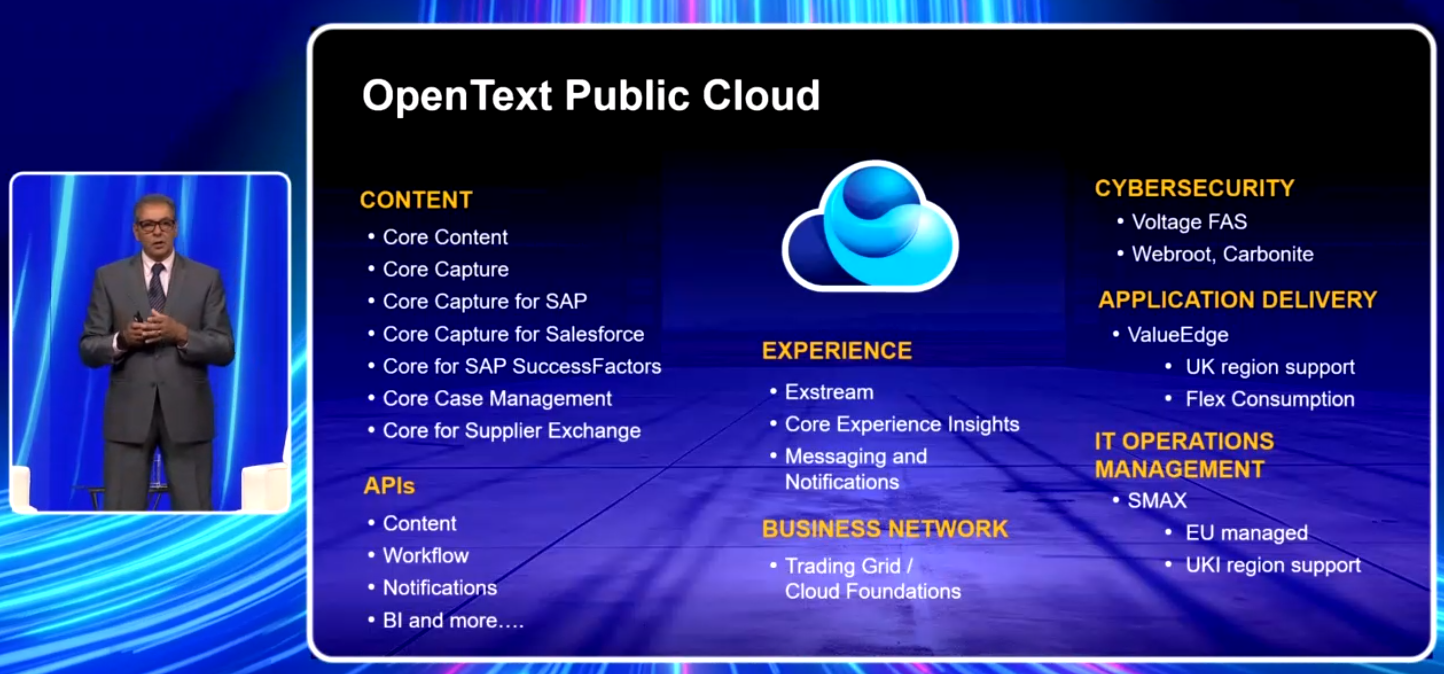 OpenText Public cloud Geo and Certification roadmap:

…
Private cloud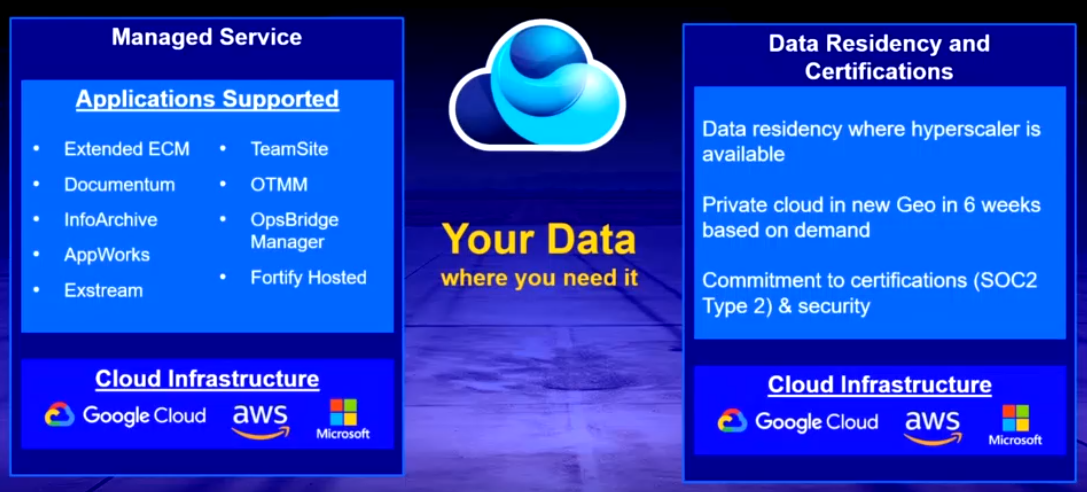 This is the private cloud roadmap:

…
OpenText integrations

Information + Automation + Trust + AI
…
Notes during interesting demo's:
xECM for Documentum is coming…!
Do we see MS Teams with a Documentum integration as Business Workspace ("Native workspaces" for insiders!)…At least it looks like it!? Comment me…
Isn't this xECM SmartView (SV) for Documentum? #WTF!…Is this a replacement for D2…Questions, questions!? 🙃

Digital Asset Managment on "Core Content"…The public Cloud DAM (in CE 24.2)
…
AI (the OpenText success for AI)
Just that you know…OpenText committed to innovate into Documentum and also commits this on the MicroFocus products!
Here is the roadmap for Aviator: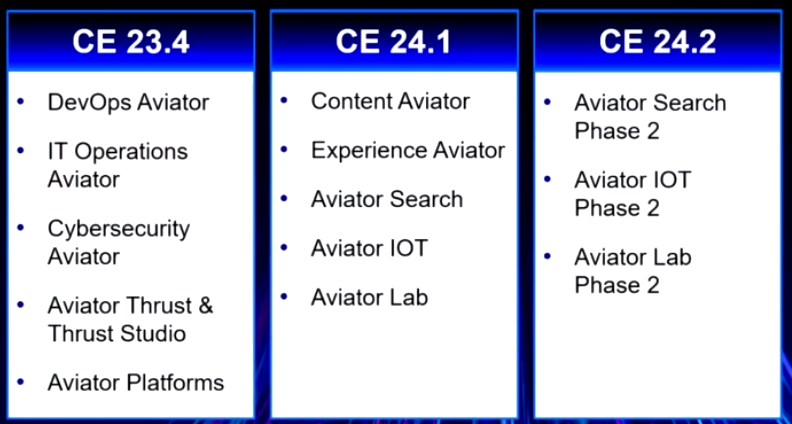 It's going to make our lives easier by generating content. It's not just Aviator; It's "eXperience Aviator"! It can generate (content-aware) text out of a prompt input. "Smells" like One/Few-Shot prompting…Yes, I'm also playing with this AI stuff myself with LangChain4J! 🤓
Security
Security is important in LLM with thread intelligence to detect and protect before they get larger. Organizations can identify threads with "ArcSight Intelligence". It's all about risk management and getting insight to see "behavior" in the organization…That's POWER!
OpenText ValueEdge; It is the software delivery platform for your developers. Information is important here to give insight on delivering with reports on widgets/dashboards. Here also, AI is injected to make a prompt and to generate graphs over the context-aware data. It can even suggest test recommendations in context for a specific role. A qualified engineer is NOT needed anymore!? Sure, who is going to create the content behind this all…That's still the qualified engineer (only on a different level)…right? Crap in, is crap out…remember!
Remember: Your data is NOT the product of OpenText; OpenText is a trustable partner on securing content (also over AI!)
The final Muhi-slide: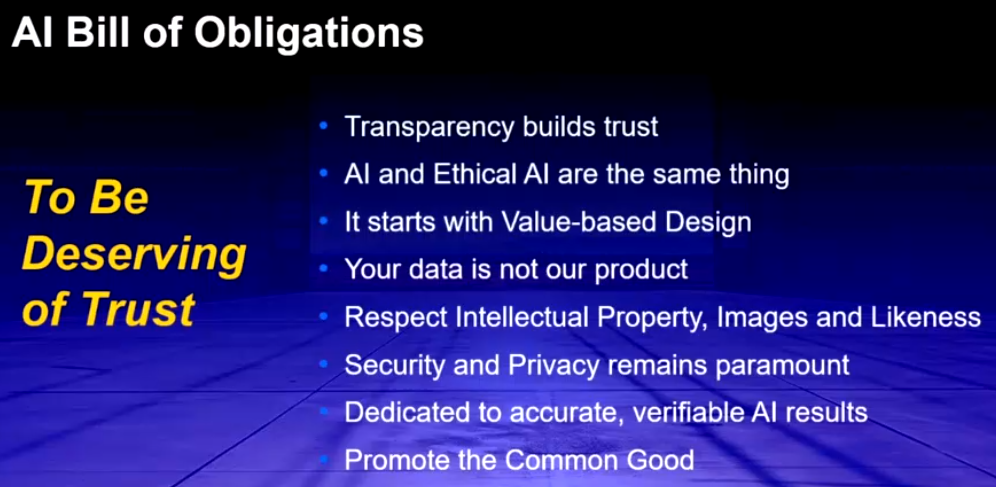 …
NO break, we get directly to the guest speakers…
…
Making it up for AI (by Ray Wang)
Sever critical moments in AI - The three laws of robotics, imitation age, "AI" term is coined, Rise of expert systems, deep blue beats Kasparov, etc… Generative AI gives you the state of the state… Computer vision is real…"They" see your everywhere!
Start with analytics…What are the questions you want to ask to build a dynamic feedback loops and signal intelligence. This is decision velocity! Faster, quicker, accurate decision-making. The "Business graph" is where you start learning to get smarter; Build AI.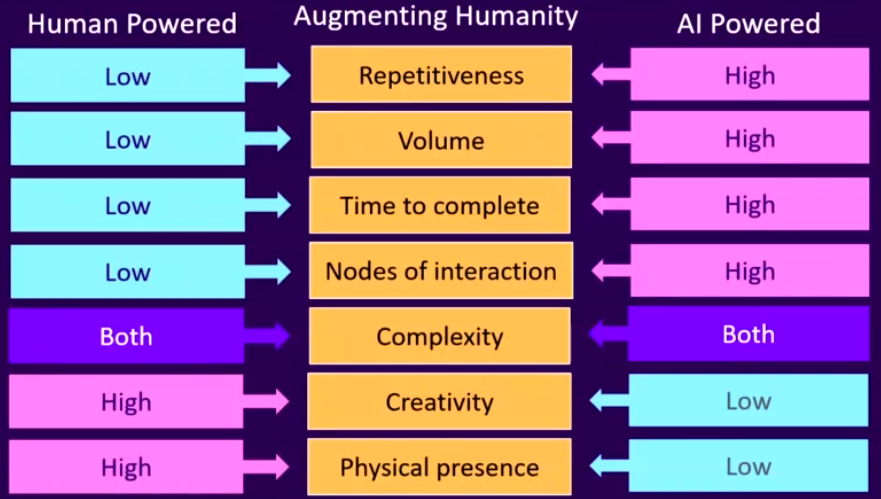 Amplify AI: Perception, Notification, Suggestion, Automation, Prediction, Prevention, Situational awareness.
Do you go to an AI doctor covering 80% in context of data? When is the human jumping in? When is enough, enough…99%? Well, have you even tried those chat-bots on websites? What value and trustworthiness does this bring you (as the customer!) 🤔
The rules for AI ethics: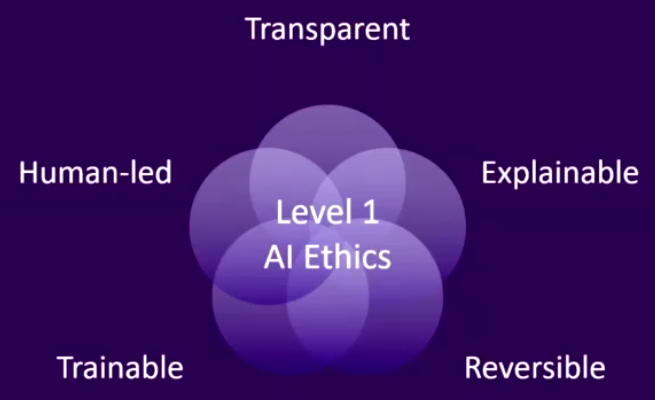 …
Next generation of supply chain (by Simon Ellis)
Extending visibility and collaboration with multi-enterprise networks and modern cloud apps. 75% of data is still in legacy systems; You're not just digitize the paper; you need to index it and enrich it with more data.
Supply chains are prioritizing efficiencies (cost), responsiveness, etc.; Visibility and collaboration continue to be top areas. Why continue to do the same things over-and-over again expecting a different result?
Automating workflows, enabling exception management, and improving response times (see agility as third top benefit) will continue to put focus on AI/ML.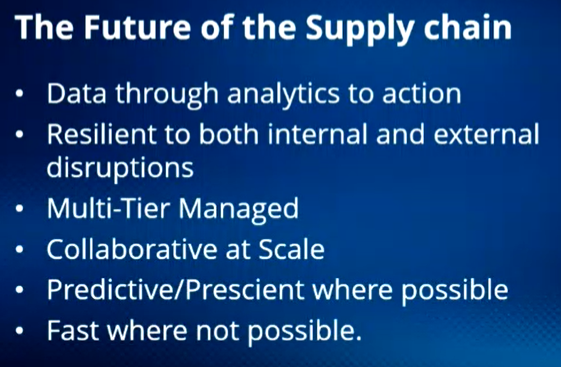 …
The future of talent (by Lindsey Pollak)
Multi-generational employees. The current workforce is 5 generations big; How can they work together?
Traditionalists > Boomers > Gen-X > Millennials > Gen-Z > Gen-Alpha (the children of your children!)
Generational diversity is not a problem to solve. It is an opportunity to optimize! Organization embracing this mindset will WIN.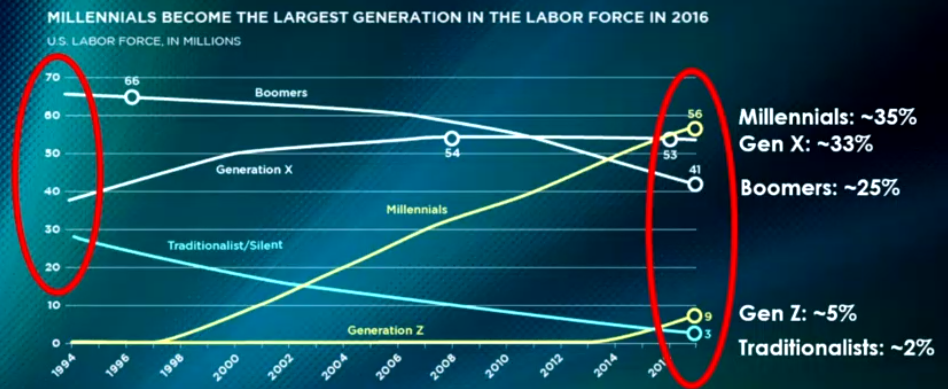 Age is not the goal; Generations can help us understand people's shared experiences and likely expectations! (we are more alike than different…The change in expectations matter).
!!Common sense is not so common!!
Be a perennial; Know/share history; keep up with the time…So, we're on a good track on our blog site! 💪
Be a remixer; Combine the best of each generations' practices to create a more successful and inclusive workplace for all.
Have more transparent "Stay conversations" instead of "Exit interviews"!! AHA-moment for me…Engage in reverse mentoring! Exactly, teach the young and learn from their new ideas! Define your terms so all generations can succeed.
In short…Have a purpose; Have a goal; Have a passion! AND…have a chat with a different generation!
…
Illuminate on AI (by Dr. Joy Buolamwini)
>> Ain't I a woman <<
AI is not always right…Always validate the outcome on truth!…So, we still need the engineer for the final validation; What's than the true value of AI…Well, that's an interesting input to start with!
Don't depend on the outcome on AI; It can be a "false positive". A "match" can still be false, although it look like it's correct. We need to build a movement towards equitable an accountable AI…
What is the "normal"? What is your "score"? How are you "classified"? Watch Coded Bias or read Unmasking AI
Data is destiny; Does your data match with the world on how accurate you are? What I said before…Crap in, is crap out! 😏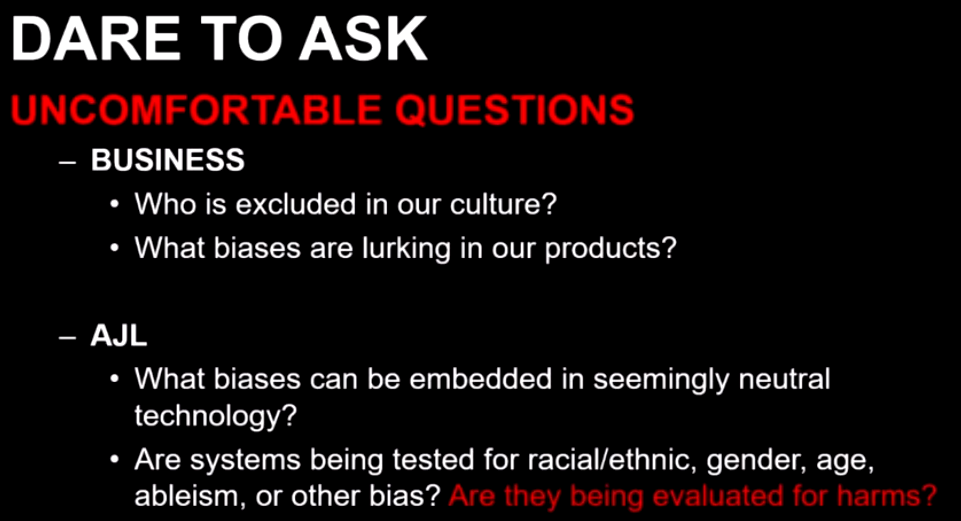 But also…"DARE TO LISTEN"!
---
Extra session for consumption on the V-pass eXperience
It's all AI that strikes the bell…Just some extra sessions to consume; with opentext.ai as support. Let's see what value these extra sessions will bring…
I try to skip the happy-customer, happy-sales, happy-all topics, but they made it hard this time! 🙄
…
Opentext.ai & Mainframe Workload Modernization - Accelerate your move to the OpenText Cloud
How to enable the Aviator with your AI story? Continuous (you never complete and keep enhancing!) modernization benefits:
AI and ML
Increased Agility and innovation
Enable digital business strategy
Cost control and savings
IT modernization
Data security, access and analytics
Improved efficiency and productivity
A data platform is a prerequisite for an AI strategy…You need access to the trusted data and the transactions with it.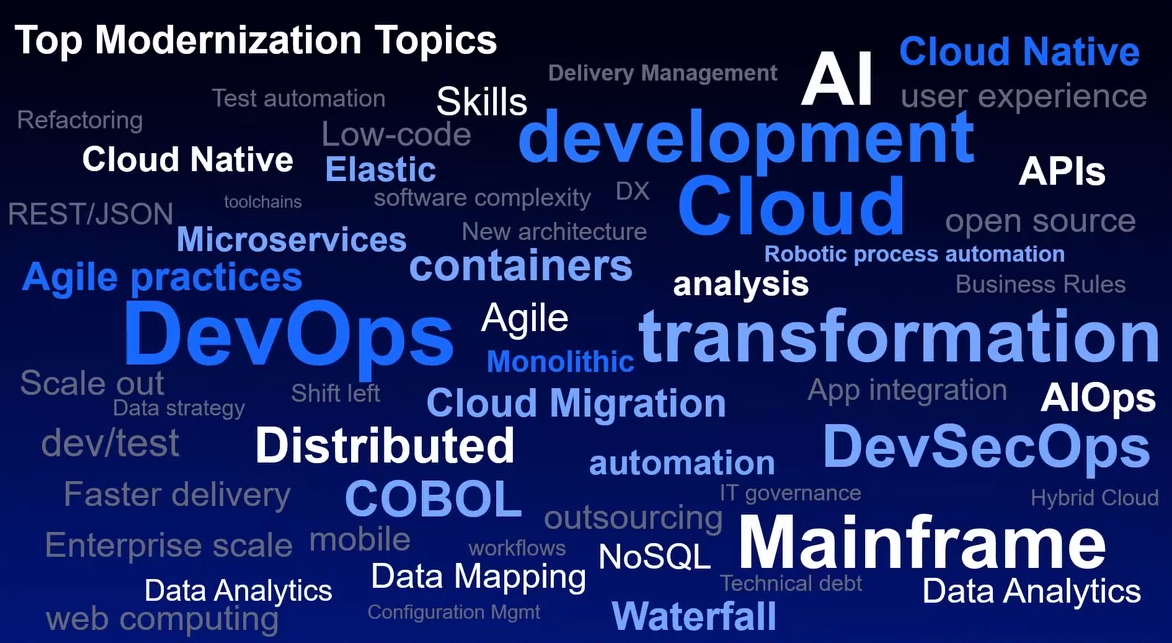 Every customer is unique in the information path; It's not always about technology, but more about the skills of the people and the process supporting them…dûh!
The mainframe is still centralized at most customers. Layers are built around it which increases complexity where simplicity would have been a better choice (where did I write this down before?)
The key fundamentals are uniform in cost-savings and the agility as well; What is the solution and the way forward…It's not a one-size fits all. This asks for a pragmatic approach:

More and more customers want value as quickly as possible…We do this with standard processes to reduce costs, risks, and improve speed.
Quotes:

Those "Starting for scratch" has a success/failure ratio of 26% against 20%.
"Modernizing" businesses enjoyed a 71% success rate versus a failure rate of just 1%
The scale of workload is shifted to a larger level. This shift is not simple, it's risky, needs modernization and can move into the cloud to execute mainstream applications at scale.

…The rest of this session is all more of the same with how great the cloud is and all customers are moving to it with buzzwords like: smarter, power, value, public, largest, worldwide, consistent, future, moving, shifting, trust, platform, cloud, evolution, journey, innovation, modernization, scale, volume, great, relationships, benefits, assessment, strategic, automate, rapid, etc… 😴
…
Opentext.ai and Aviator Foundations Begin your AI journey today with OpenText AI foundations
AI is an exciting journey and is just awesome…With AI everything will change (roles, organization, and industry)
$300B is spend globally in AI by 2026!; It will have a bigger impact then electricity.
Customer AI examples (where data harvesting is key):
Zero unplanned downtime; This takes data, monitoring the data, and proactive act on detections.
IDOL, the unstructured data search tool. This will accelerate media production
Improving wine through voice of customer data over social media users
Smart sustainable agriculture with IoT data points on farms watching it on a daily basis (using Vertica)
AI needs powerful engines; Engines already changed our world (incl. space); This time OpenText is ahead of the competition with the AI products: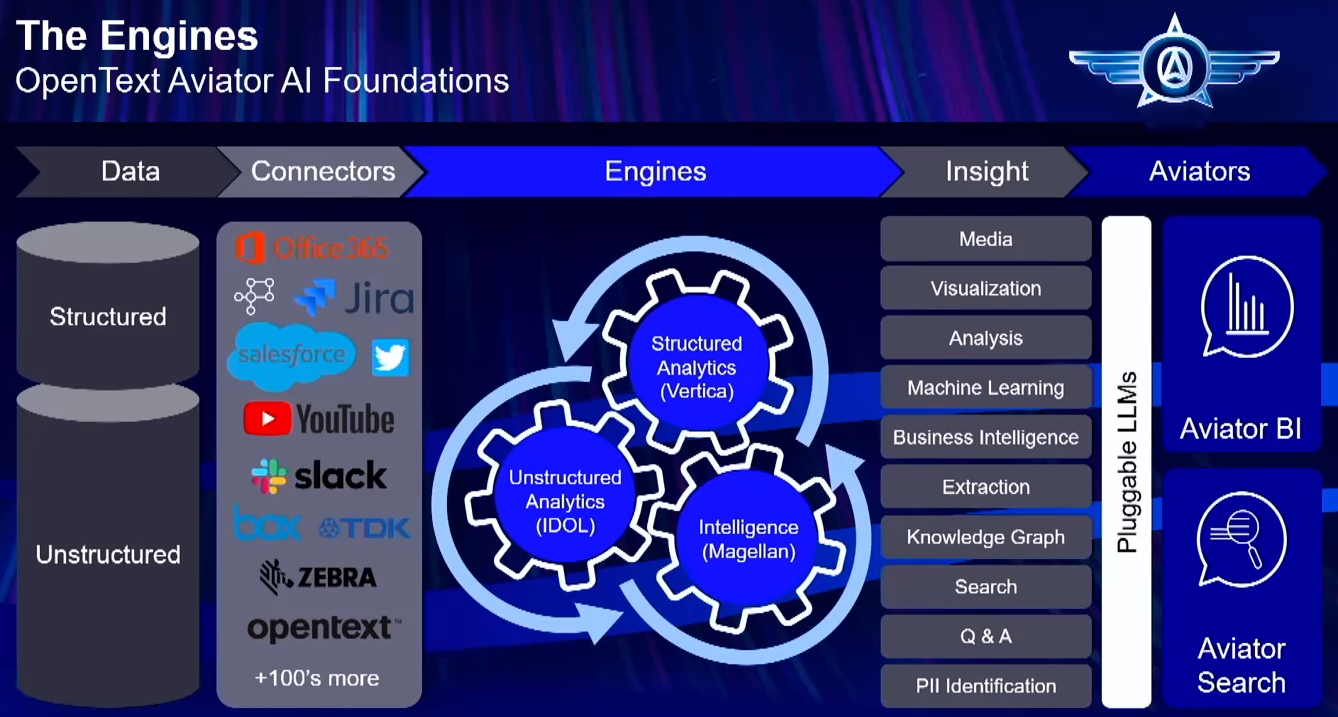 Dark data; Data you can't access! Good for you that OpenText has the engines to shine a light on this data as well…
Connectors bring the data to the AI, but you keep in control on your secure island of trust. OpenText is the differentiator with three powerful engines:
IDOL, Unstructured data with connectors
Vertica, for structured data
Magellan, business analytics and intelligence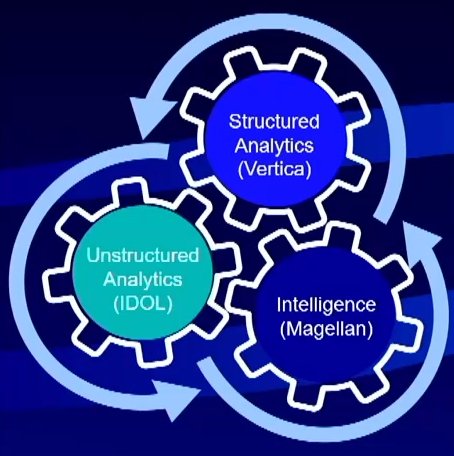 All for identifying and solving the problems for not been able to find back your data; And the beauty…You don't need to be a data scientist to make it happen! Just plug in the LLM and off you go…So, crap in, is quality out!?!? 🙄
The Aviator search:
Find content in any format
Get visuals and analytics
Stay secure and compliant
The Aviator BI:
Get insights quickly and easily
Accelerate time to insight
Get data visualization
… The products overview movement: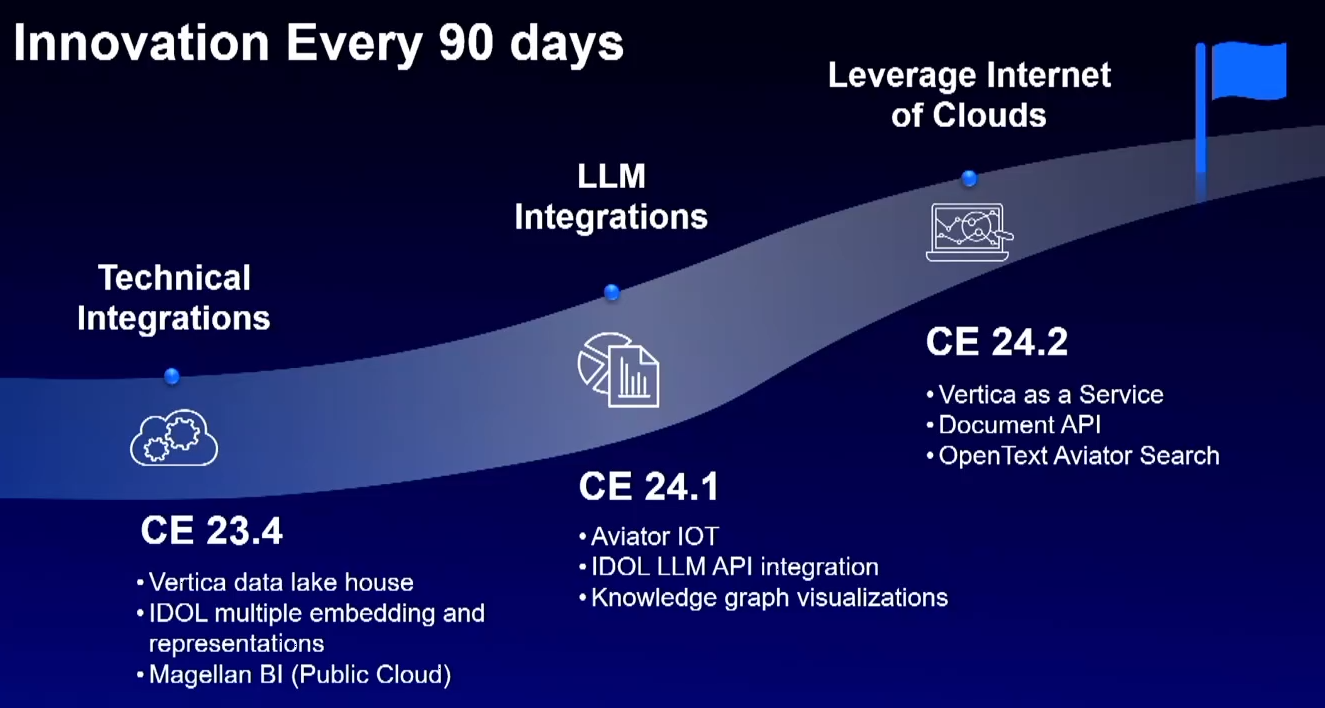 … With the AI cloud roadmap:

…
Opentext.ai & the Developer Apply AI to Accelerate DevOps and Quality with OpenText Developer Cloud
"DevOps Cloud" helps 30M programmers (and also engineers) save time and release better quality software products…
What is it (As always! 🤔):
Maximize Business Value…
Faster time to market…
Increase productivity…
Early risk identification…
The dilemma in new business and industry demands: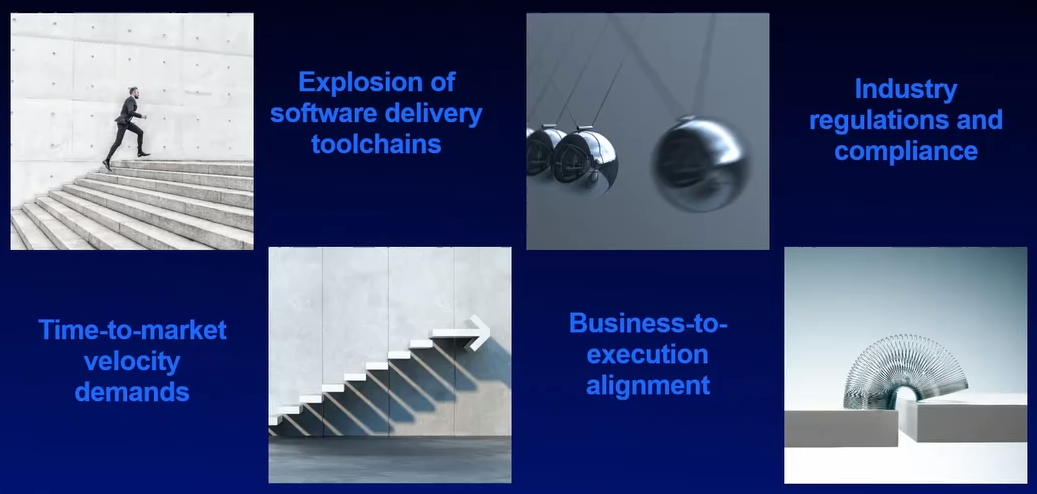 We have silos of data, but don't have any insight in it!? We also have piles of tiles to try to get insights, but we can solve this…With off-course; The Aviator (DevOps)…At least, I guess!? Let's see.
Emerging technology trends in DevOps:

DevOps plays a critical role in the transformation, but the different cloud solutions (private, public, hybrid) currently saved data everywhere (and nowhere); together with the AI/LLM hype we move into a new era of data interpretation.
…
"ValueEdge" unified DevOps Platform: ReThink software delivery; accelerate business value from demand to delivery, elevate software quality and gain smarter insights, and increase collaboration and velocity on delivery.
"DevOps Aviator" (I told you! 😂): This is AI powered software delivery; accelerate value and delivery on time with prediction, reduce risk, improve efficiency removing manual steps with AI tests.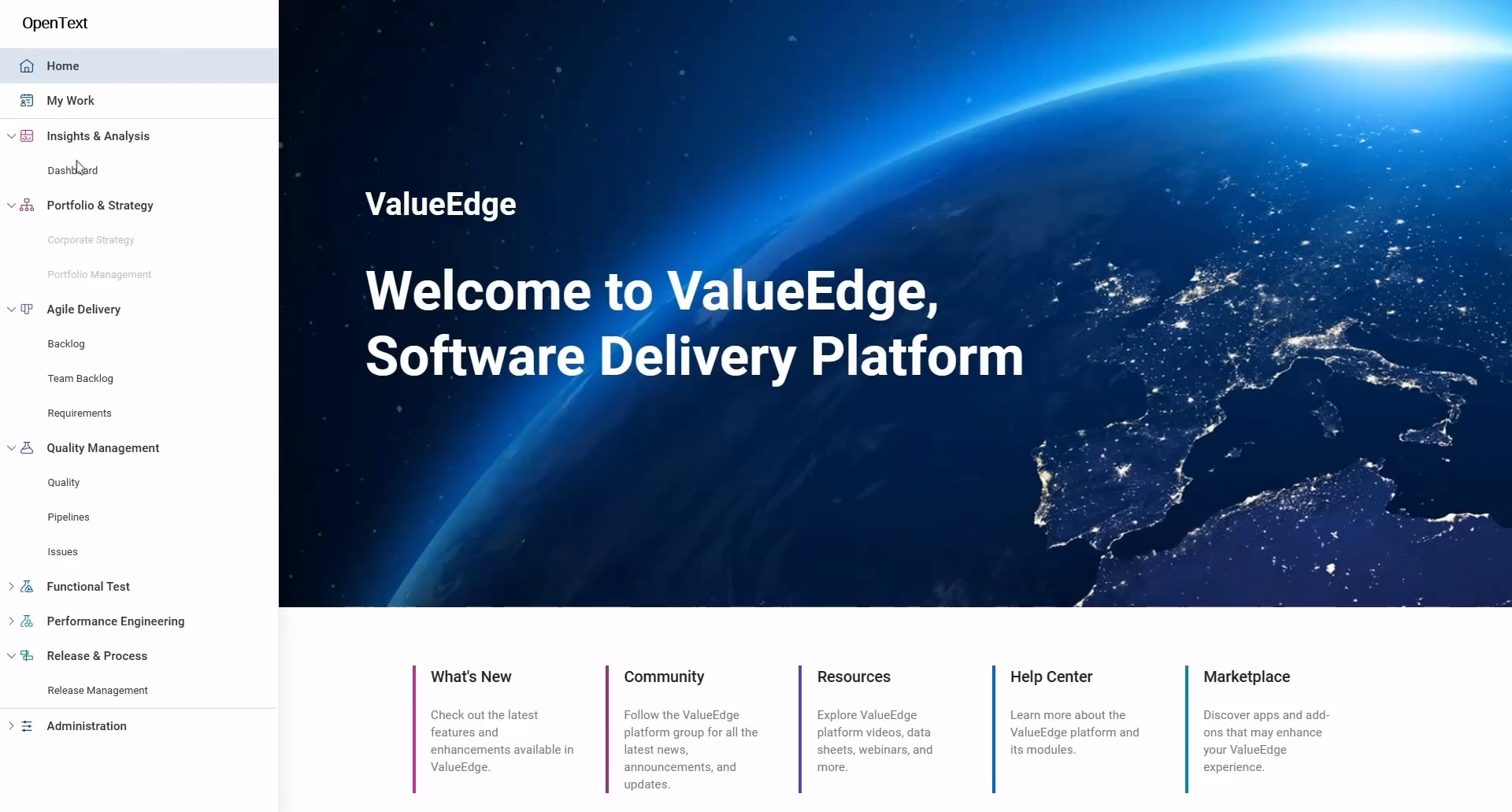 1




2




3




4




"Hey Aviator"




    ...what's the status of my case?




    ...what are the risks for the current release?




    ...please write me the test-cases for the latest features delivered.



Increase visibility; Q&A virtual assistant to get insights into bottlenecks
Improve Quality; Root cause analysis identifies testing gaps and do recommendations
Reduce risk; Automated codeless test generation for more coverage
After all the repetition about greatness and value, we finally come to the roadmap: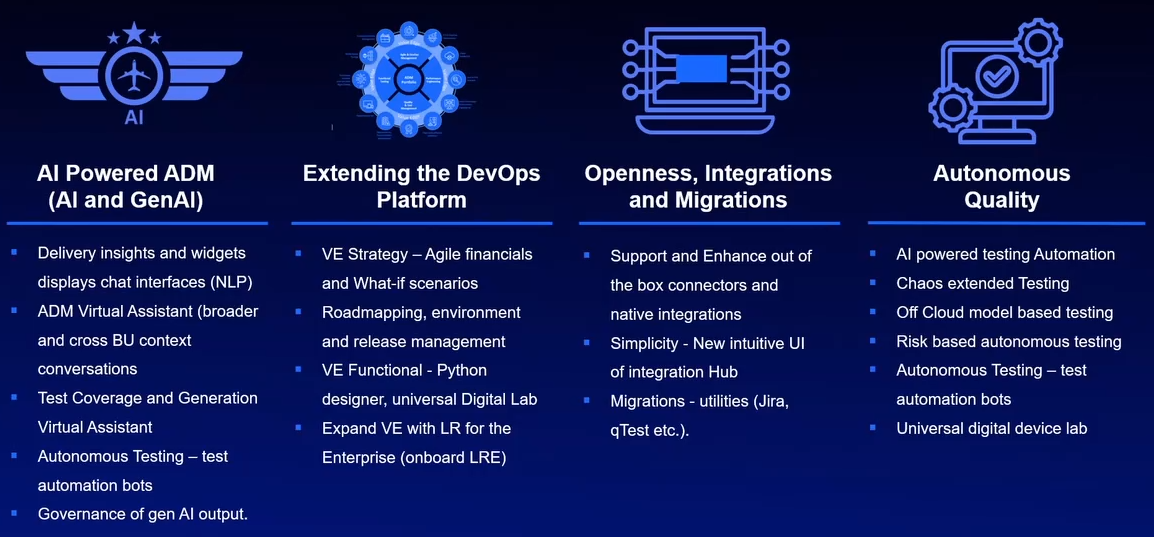 …it all flows to a higher level for next year 2024: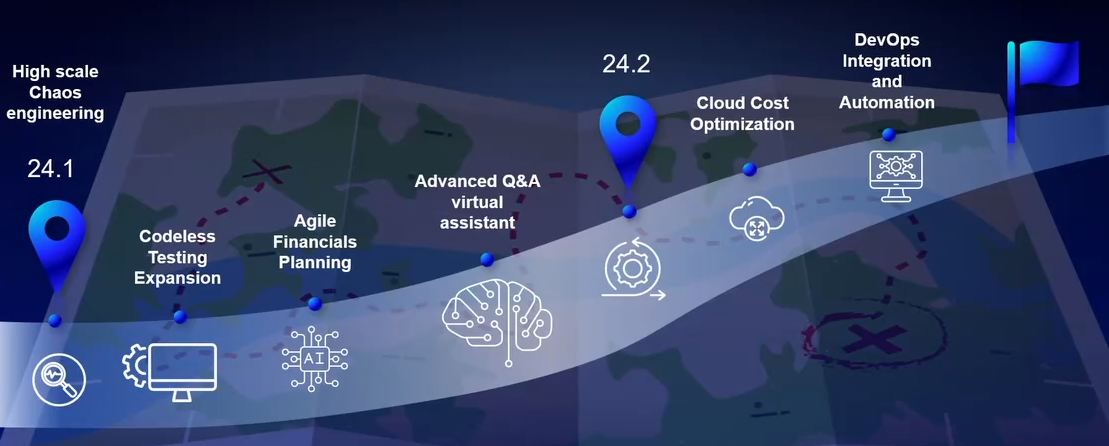 ---
That's all my friends, this was the OpenText World update on the content virtually exposed on the digital portal. We missed some interaction (as expected), but we could still get a grip on some nice-valuable content parts. So, a "DONE" for what it is for now; hopefully, I can join physically next time when it's all arranged closer at home. Have a nice weekend and till the next one…next week.
Don't forget to subscribe to get updates on the activities happening on this site. Have you noticed the quiz where you find out if you are also "The AppWorks guy"?
…
Finally, the promised sponsorship table for the event; Interesting here is the missing company I always worked for; This opens opportunities as well!
| Name | Type | Slogan |
| --- | --- | --- |
| Deloitte | Innovator | Making an impact that matters, together. |
| Google Cloud | Innovator | Smarter Better Together |
| Tata Consultancy Services (TCS) | Innovator | Building on Belief |
| Hewlett Packard Enterprise (HPE) | Leader | Technology innovations foster business growth and transformation |
| MFGS, Inc. | Leader | Plan. Build. Deliver. Run. |
| SAP | Leader | The Best Run SAP |
| Adlib Software | Expert | Because accuracy matters |
| Alitek | Expert | IM consulting company specialized in digital transformations |
| AnswerModules | Expert | The ultimate digital transformation enabler and accelerator |
| AppTier | Expert | ECM consulting firm specialized in Content Server Managed Services |
| Cassia Content Management | Expert | OpenText Solution Extension (SolEx) Partner since 2011 |
| Computer Integrated Services (CIS) | Expert | It's All About the Client |
| Concensus Technologies | Expert | Business, Security and IT Solutions |
| COSI Consulting | Expert | Simplifying Enterprise Content Management |
| Counterpoint Consulting | Expert | Intelligent automation solutions |
| Ernst & Young (EY) | Expert | Building a better working world |
| Fastman | Expert | Safe, simple, secure |
| Foxit Software | Expert | Reliable source for fast, affordable, & secure PDF software |
| Global Cents | Expert | Solutions for Controlled Content Suite |
| Greenlight Group | Expert | Best renewable energy solutions |
| QualityPark | Expert | A strategic success is the intelligent application of IT |
| Reveille | Expert | Monitor. Analyze. Connect. |
| Sedin Technologies | Expert | Balance of strategy, technology, analytics, and knowhow |
| Shinydocs | Expert | Take Control of Your File Shares |
| Sigma Business Solutions | Expert | Supporting your growth and innovation |
| Syntergy | Expert | Enhance the use, performance & security of your OT ECM Software |
| Visionary Integration Professionals | Expert | Agility. Delivery. Together At Scale. |
| Whitlock | Expert | ID, Plan, and Deliver Next-Gen IT Ops |
| Accenture | Specialist | Deliver on the promise of technology and human ingenuity |
| Advantage Technologies | Specialist | Specialized, Secure,and Supported IT |
| Aerow | Specialist | Smart contents |
| Blue Streak | Specialist | Building advanced software & solutions |
| Booz Allen Hamilton | Specialist | Empower People to Change the World |
| BPS Technologies | Specialist | Transformative Business Automation Solutions |
| Cad-Capture | Specialist | Engineering solutions across industry and around the globe |
| Carahsoft | Specialist | The Trusted Government IT Solutions Provider |
| Climb Channel Solutions | Specialist | A different breed of distributor |
| Contesto | Specialist | Consulting within intelligent information management |
| CyanGate | Specialist | Experts in Media Management |
| Datamatics | Specialist | Deep in Digital |
| Delaware | Specialist | We commit. We deliver. |
| Doctra | Specialist | ECM Consulting |
| Entelgy | Specialist | Accelerating the change. Fast. |
| fme | Specialist | Your Partner for Digital Transformation |
| Forefront Technologies | Specialist | Create. Manage. Organize. Archive. |
| Foulk Consulting | Specialist | Solve business needs |
| immixGroup, Inc. | Specialist | IT Products for the Public Sector |
| Infospire | Specialist | Purpose-driven consulting |
| iXenso | Specialist | More than digitalization |
| Locus | Specialist | Providing high-quality consulting services related to IM |
| Mediawide | Specialist | Adapt, localize and personalize your marketing campaigns |
| Melillo Consulting | Specialist | Envision your IT |
| Merito | Specialist | Data Analytics, Testing and Security. |
| migration-center | Specialist | First in migration technology |
| Nokavision | Specialist | Innovate. Communicate. Transform. |
| Novacoast | Specialist | Bringing Business & Security Together. |
| One Fox | Specialist | Specialist in IM |
| Oracle | Specialist | See data in new ways, discover insights, unlock endless possibilities |
| ProcellaRX | Specialist | Prescription for software quality |
| Ravenblack Technical Services | Specialist | Technical services |
| RealIT Management | Specialist | Optimize your IT Operations |
| Reva Solutions | Specialist | Leader in providing innovative business solutions |
| Ricoh Document Scanners | Specialist | Imagine. Change. |
| Scheer | Specialist | The process experts |
| SQALogic | Specialist | Software quality assurance |
| Stratesys | Specialist | Digital, Innovation, technology, Operations |
| Swedwise | Specialist | Make time for the good |
| Synapps-solutions | Specialist | Experts in content management and process automation |
| Technoval | Specialist | Helping you deliver the future you imagine |
| Turnpikes | Specialist | We make life easier for knowledge professionals |
| ValueMomentum | Specialist | The largest standalone provider of IT Services & Solutions to Insurers |
| vdR Group | Specialist | Enterprise Data Management Solutions for Engineering and Manufacturing |
| VILT | Specialist | Every business is an information business |
| Wisteria | Specialist | Content Suite business consulting |