Hi there AppWorks fans,
Welcome to a new installment of AppWorks tips.
This post will give you a wrap-up of the 'Enterprise World Europe Digital 2021 Q2' event from this week (April 14-15, 2021)! Again a great digital event with lots of events and knowledge sharing sessions to join.
Table of content for you to jump around on this blog page:
---
Because these events can be very time-consuming I made some focus points for myself to keep it all within the timeframe for this post. Focus points for me as a technical consultant are:
"AppWorks"…The main topic on this site
"Documentum with some D2" as I gain experience with it for the last 15+ years
"Grow with OpenText" as that's where it's all about this time!
"OTDS" as authentication spider, but I think we wouldn't that much of it these 2 days
"AI and Analytics with Magellan"; AppWorks uses Magellan iHub for reporting & dashboarding, and it's just smart to know a little of it.
The great "OT2", "Information Management Services" and "IoT" platforms; it's still the new stuff to explore!
I also hear a lot about these topics and get curious by the day:

The new next generation CMS (will it be a UI wrapper around OT2!?)
The new intelligent viewer (a Brava! replacement)
Extended ECM Platform (still a black-box to me)
Let get right into it…
Let's get into the portal from the welcome mail where we can log in with our registered credentials…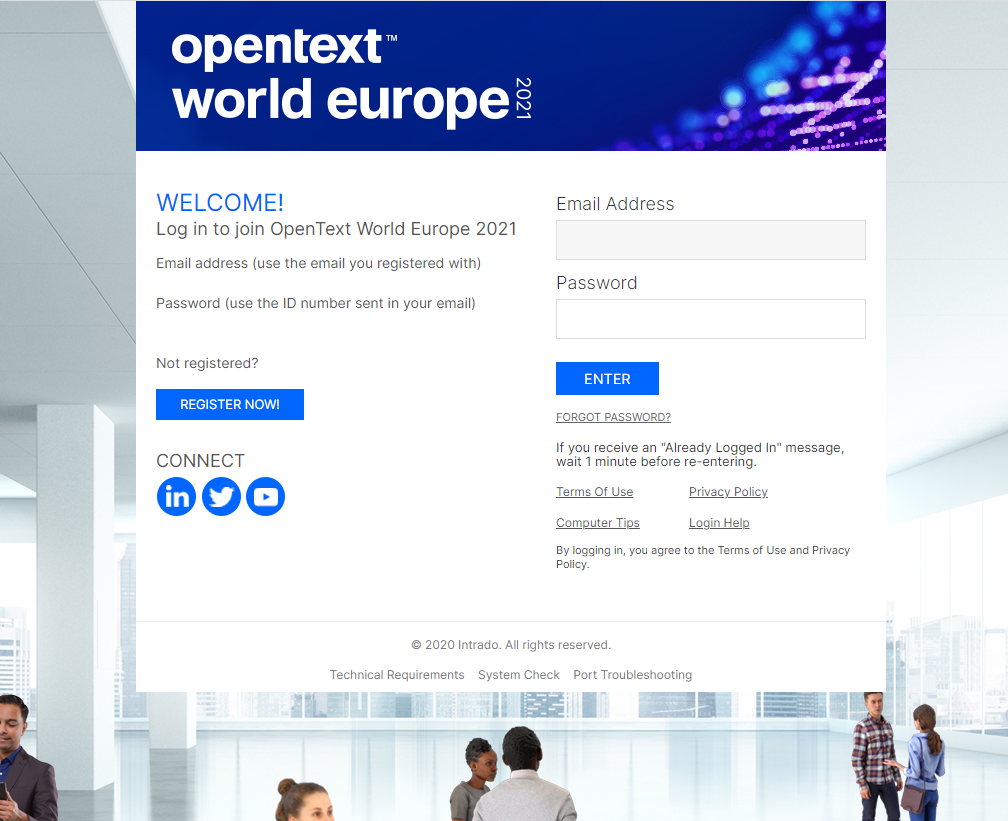 You can still register from here!
After login, we directly start off with a nice welcome video with a short explanation how this portal is working…As always our Emma gives it a nice looking first shot on the start page…Thank you 'Emma' for that update!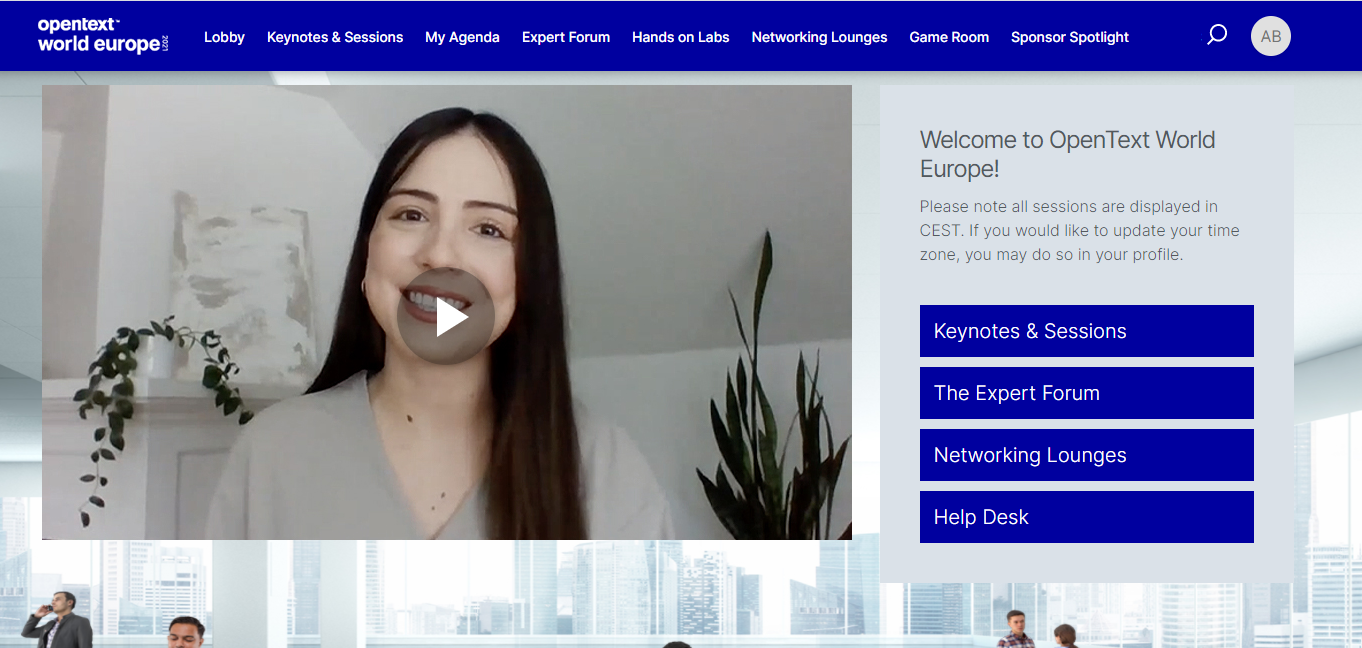 It all starts with The digital zone with all kinds of lobbies to choose from…
Interesting returning and new things during this event
A much-appreciated agenda builder (incl. briefcase)

Game Room where points can be earned on activities that let you win prizes

Expert Forum where you can have a chat with your favorite OT person. And boy do I see some interesting people standing on the list of AppWorks!

Keynotes & Sessions (for me) the most interesting and valuable source of information.

Labs to follow like:

I do miss the "Developer labs", but as it's only a 2-day event it would take too much of the time.
It's almost time for the welcome keynote…Let's jump right into it!
---
Grow with OpenText: The Information Management Journey (by Mark J. Barrenechea)
Delphine Theolier starts with a short intro on what to expect and what we all can do in 'The digital zone'.
We have 2.000 attendees from all over the world and lots of experts to answer all your questions.
What else?
2 exiting days
Lots of keynotes you don't want to miss
What are we all looking for?…Well, "growth" off-course!
We will get more intelligent, secure, and collaborative
Learning services gets promoted by a video
…
THE FUTURE IS MODERN WORK!!
…
Mark (CEO & CTO) is very excited again…Always sitting in a nice office with the American/Canadian flag in the background. He gives a big thank you to all the sponsors, attendees, and speakers.
OpenText in 30 years of leadership this year…Hooray!!

We get a boost of 1 Billion US Dollars in R&D
The great rethink and a shared journey where we also see 9 observations:
Digital is the future
Flex work is here to stay…
Talent is everywhere
You need proximity to innovate
High productivity is masking exhausted employees
Generation-Z is at risk and needs to be re-engaged. Generation-X works longer.
Keep it authentic, honest, and crisp
Equity, diversity, and inclusion needs to be part of your culture
Supply chains will be regionalized
From OpenText we believe in these keywords: TRUST; EMPATHY; RESILIENT; INNOVATION; GRATITUDE
The priorities on the OT agenda are:
Modern work

Modern Experience

Supply chains

Cybersecurity
An interesting formula: Traditional Process Apps + Modern Information Apps = Upper Quartile Outcomes
Quartile?…Each of four equal groups into which a population can be divided according to the distribution of values of a particular variable
Information Management at scale: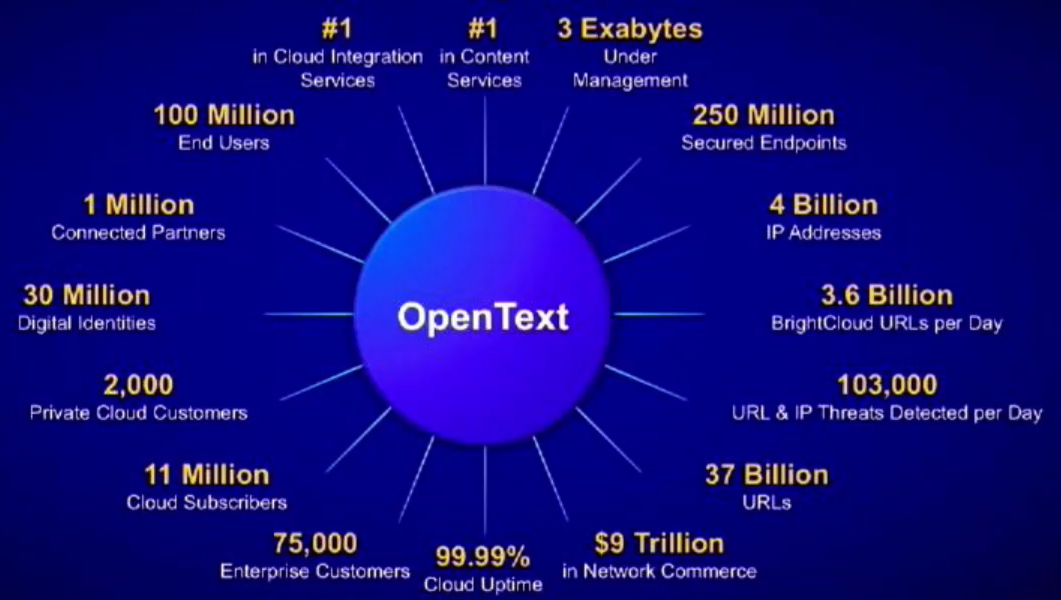 …
Interview highlights with Abdulla Amiri during the welcome keynote:
The cloud: we're not alone and everybody brings a helping hand
Services are brought much faster to the consumer
Bring fragmented, decentralized, and non-structured data back to a standard solution
We now have a great foundation to continue to build on
Words of wisdom:

OT is the one-stop-shop to information management
EIM is the key in enabling the information driven digital business
The ecosystem gets beyond 'go-live'
…
Grow with OT
It's all about "The Ultimate Cloud" with the cloud edition of the software. The information management journey!
How does a modern cloud look like? It's 1 piece of software that can run anywhere:
5 cloud editions

Content cloud; The single source of truth where we will find records management, workflow, signature, share, analytics, collaboration, content management etc…This sounds like developer.opentext.com, but it's more about CMS running in the cloud (like Documentum and Content Suite)
Business network cloud; Rapid connect partners…Connect once. Reach Anything…This sounds like xECM, but it's nothing about that when you look at the list of products for this cloud
Experience cloud; Enable social commerce; assuring the same content in all the channels (= omnichannel). Again that 'single source of truth'…With AI and analytics it's brought to a next level
Security & protection cloud; It's all about end-point security of your valuable data. Back-up and restore are key here, and you want to keep the bad-guys away and want to pass the
Developer cloud; IT HAS ARRIVED!! with 32 API services in 8 capability groups (capture, storage, analyze, process, search, integrate, view, protection)…This is developer.opentext.com
Read more about CE here

Rapid innovation cycles
Easier to consume new capabilities
Redefining customer choice
New routes to market with APIs
Removing friction: scale through AI & Automation

…
Interview highlights with Bart Reijs:
How does tech help you? We apply it anywhere and do automation everywhere, but we still have a long way to go…
Any other process automation focus? After a drug is on the market there is a lot of aftercare to automate
Big data and how to use it better? We have the best-in-class systems but need to interact more together with a better data-driven approach.
Culture innovation during the modern times? Innovation is bottom up with lots of freedom from development perspective
Any final thoughts? Sharing data and better data interoperability for the future where patients and hospitals will bring the data to us
…
Cloud editions: Every 12 weeks!!!
CE 21.2 (Apr '21) -> Next Generation Cloud Offering
CE 21.3 (Jul '21) -> Next Generation API Services
CE 21.4 (Oct '21) -> Next Generation Content Cloud Platform
CE 22.1 (Jan '22) -> Next Generation Information Management Applications
CE 22.2 (Apr '22) -> Next Generation Experience Cloud Platform
NOW IS THE TIME TO UPGRADE…WE'VE UPGRADED…TIME TO RETHINK BUSINESS
–> GROW WITH OPENTEXT <–
---
Content Services Roadmap and Strategy (by Michael Cybala & Dr. Marc Diefenbruch)
Let's see what strategies can be found in this session.
Today's challenges:
Information sprawl; more data from more resources
The rise of collaboration; the 'new normal' pushed online
Manual tasks in a digital world; every manual step slows down business and decreases efficiency
Accelerated innovation; rapidly implementation
Connect Content to Digital Business with collaboration and processing. 'Single source of truth' with automation and capturing. The content cloud offers customers choice and flexibility. It's all about integrate content with processes, automate the complex and solve new needs quickly.
Front and center in our product strategy:
Modernization; with SmartView, intelligent viewing/filing and event action center (with a short xECM and intelligent viewer demo)
Embrace new ways to work; Integrate and access enterprise content from within O365 (like a Teams channel tab that can integrate a CS business workspace)
Content is key, context is king; Business Process Integration with salesforce (the offer), SAP (the sales order) and Microsoft (the after sales). Automate what users will not do and make business content findable, useable, and compliant.
Rapid innovation, rapid adoption; CE - Cloud-native with core applications and developer services
…
Announcement: OpenText Core Content. It's the next generation SaaS content services platform that has rapid provisioning & self-service business scenario configuration. It's just another content management system with a personal landing page, search capabilities, approval flows, viewing & streaming and records management. It is built on top of OT2, so APIs…Interesting!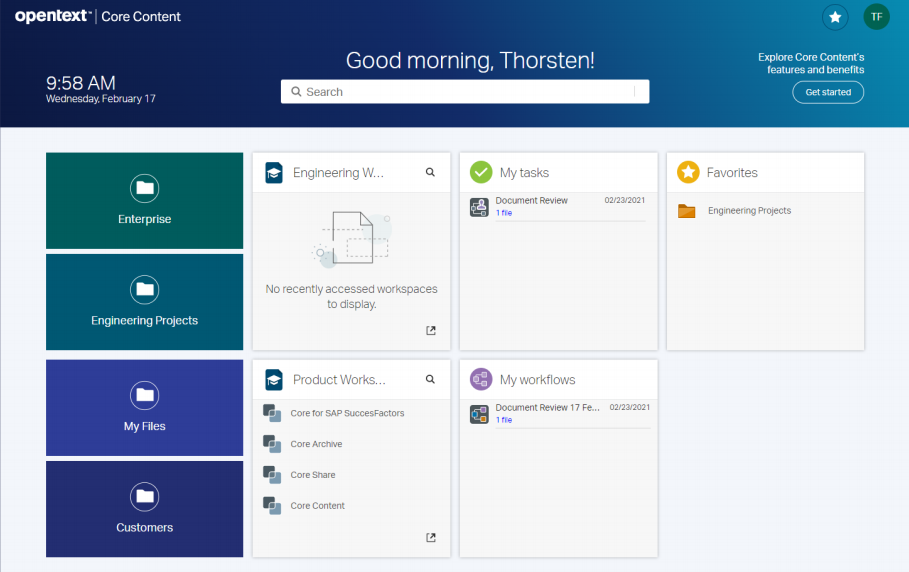 …
Opportunities for Content Suite customers:
xECM in the cloud
Intelligent viewing, core capture and AppWorks
Core Share & Core Signature & Core for Federated Compliance
Business & industry Solutions on top of xECM
Opportunities for Documentum customers:
DCTM D2 & xCP in the cloud
InfoArchive & Capture & Intelligent viewing
Core Share & Core Signature & Core for Federated Compliance
Business & Industry Solutions, xECM on top of Documentum
Opportunities for SAP customers:
VIM beyond Finance
SAP S/4HANA Cloud
SAP SuccessFactors
Core Archive for SAP and Core Capture for SAP
---
The OpenText Cloud (by Muhi S. Majzoub)
A great start quote: It's the digital transformation at scale
The future of business is in the cloud because of agility, innovation, cost savings and resilience! It's never been a better time to upgrade to "THE ULTIMATE CLOUD" where we build information management and do a faster time to reach the digital transformation. It doesn't matter what entry point to the cloud your choose as Kubernetes and docker make the next step in the faster deployment, so you can spend more time on innovations.
What is the ultimate cloud? It's global, secure, always on (99,99%). It's compliant (GDPR), modern (with APIs and services) and it can run anywhere (off-cloud, private/public)
The basics of the cloud fall into some categories like GEO's, certification, cloud managed services and security, but moving business critical workloads to the cloud is hard…why? We need to face integrations, customizations, process changes, volume, security and if it ain't broke…
…
Flexibility options:
Integration; productized integrations, API that don't break through upgrades
Customization; Readiness assessments and expand apps with low-code, APIs, and SDKs
Process change; SaaS for standardization and flexible managed services for customized apps
Volume; Content assessment, enrichment, and migration
Security; Application deployment architectures with secure the availability and the performance
Strategy-4-cloud:
Cloud-native where flexible & scalable containerized architecture is created. Deploy on-prem or in the cloud of your choice.
Core applications where we find multitenant content services
Developer cloud where we can create new solutions based on commercialized API-based services
Cloud Managed Services can manage the full OT solution stack. From 'Applications' to the 'Platform', from 'Infrastructure' to the 'Business solutions'…All under a single SLA!

Moving business critical workloads to the cloud is hard, but the pay-off can be huge! (digital transformation, always up-to-date, happy users)
Final words of this session: We are committed to your success, and I would love to hear from you…
---
Grow with OpenText: Product Innovations (by Muhi S. Majzoub)
Delphine Theolier gives a head start again for day 2 with a warm welcome…What to look for today? Innovation and more cloud to get an "ultimate" growth!
A year in review:
5 Cloud editions that can run everywhere
Extend with public cloud with fast and focused solutions with core solutions
Cloud API Services with lots of reusable components
Managed services by OpenText
It's never been a better time to upgrade to 'The ultimate cloud'…Ultimate? faster time to reach digital transformation, no matter the entry point and faster deployment with more time for innovation!
The ultimate cloud is secure, compliant, modern and can run anywhere!
…
Content cloud - delivering modern work
It's the single source of truth with integrations all over the place. It comes with collaboration & viewing with offline annotation, eSignature…All under the flag of 'Core' solutions like 'Core Content' (we already saw a screenshot passing!), but also 'Core Case Management'. It all brings content into context with ease of use and rapid provisioning and simplified business configuration. The outcome: Connecting people, information, and processes to make an informed decision.
Business network cloud - Connect once; reach anything
Trading grid with connectors with a community management dashboards. It's all about IoT to get insight in trading grid transactions.
Experience cloud - Modernize operations for marketing and customer services
Exstream for communication orchestration with multilingual support
RightFax with capture that has new support for developers with APIs and SDKs
Security & Protection cloud - cyber resilience delivered; protecting the modern workforce
Data protection is key with thread intelligence and security.
Developer cloud - easily build, integrate, and extend applications
Public APIs on capture & digitize, store & manage, analyze & report, process & automate, search & discover, integrate & access, etc…
https://developer.opentext.com
…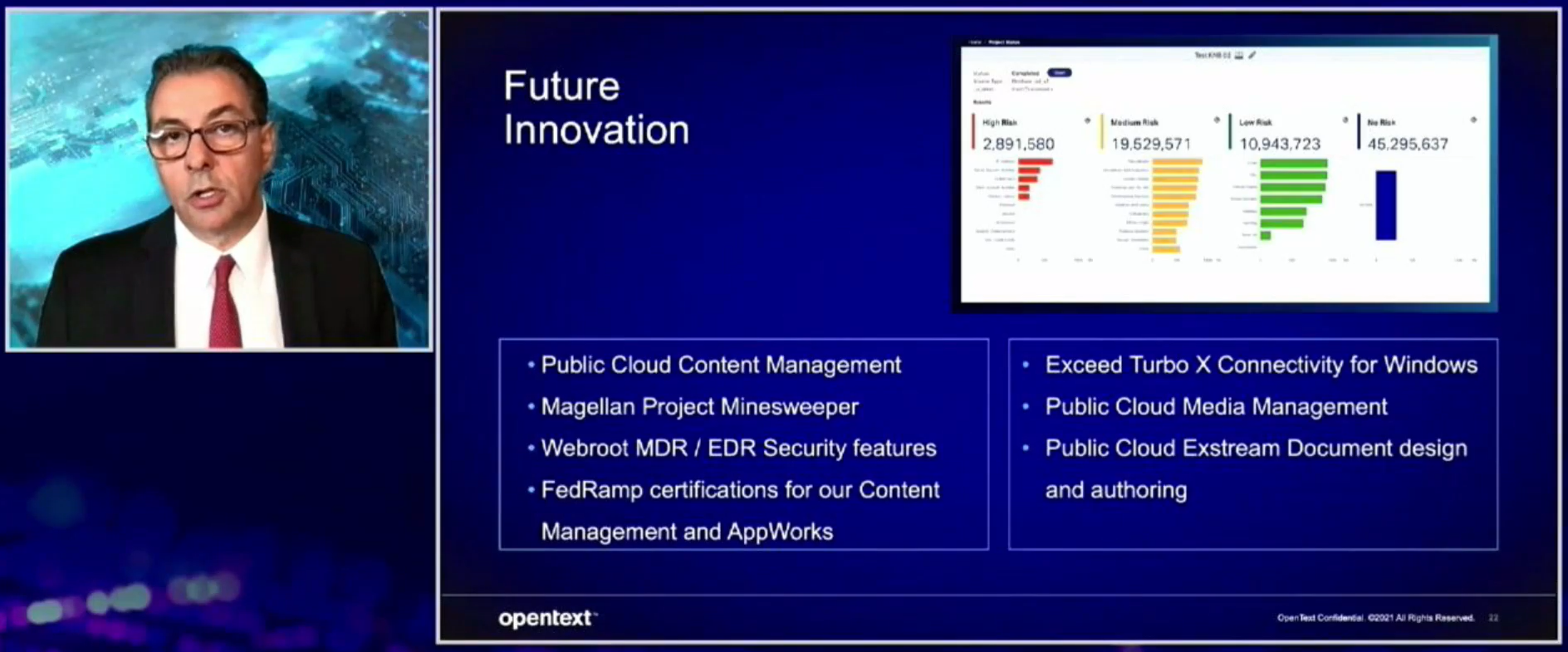 ---
Grow your business with OpenText Developer Cloud (by Stephen Ludlow)
Great start with a quote: Every company is a software company and software is eating the world
A second quote: Services are eating software
Mobile apps are growing by calling all kinds of services for billing, mapping, notifications and 2-Factor-Authentication. It's an accelerated innovation where…
YOU focus on rapid innovation in YOUR core value
THEY focus on rapid innovation in THEIR core value
The OT developer experience - easily build, integrate, and extend applications. All services can be found on developer.opentext.com (there it is again!) 😉 and it's all about orchestrating services.
3 key features to address:
Developer; Education, security and getting started as quickly as possible with documentation, code snippets, walk-thru tutorials, and a community.
Business; Trial and test, billing, and innovation where we create new APIs and where we understand the API consumption needs.
Ecosystem; Head and headless with an addressable market where 'Core Content' is key with a Digital eXperience with an interesting install-base.
The strategy screenshot: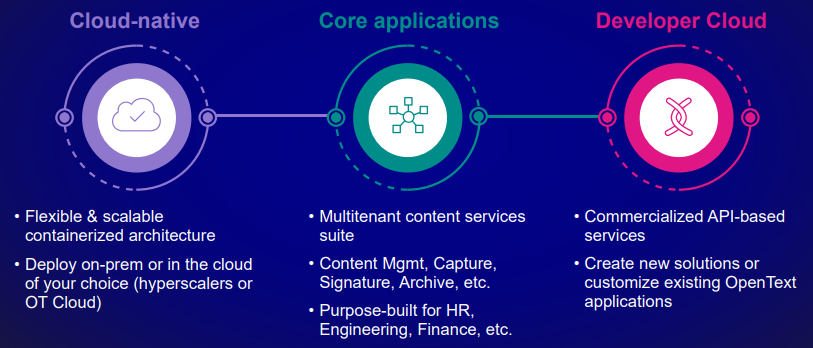 …
Multitenant SaaS content services platform…That's OpenText Core Content. Integration with business apps like SAP, Microsoft, but also Capture, Signature and Doc Gen. It comes with a no-code business config with a foundation for next generation of LoB and industry solutions.
…
The development experience - demo
We learn about the services and using the developer console. Ask yourself these type of questions:
You can get a 90-day free trial on developer.opentext.com!
TIP: Use Postman to play along with the service calls
…
MAKE OR BUY?
Will cloud API services innovate a faster pace than you can? Can the service be swapped out with another supplier (differentiation)? Will the service provide a neutral to incremental experience improvement?
What makes great software? Focusing on your core competencies when it comes to capabilities makes it easier to focus on your end-customer experience.
---
What's new and what's next for OpenText Documentum (by George Harot & Micah Byrd)
Let's start off with an OT content services update with a great slide we see also in other product presentations: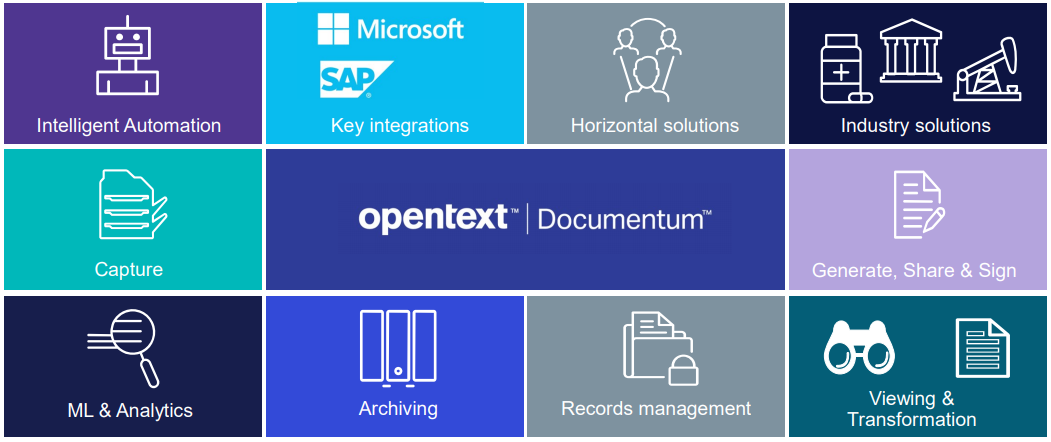 So, also Documentum gets surrounded with all kinds of enhanced features…nice! There is still a lot of innovation, integration and extending capabilities going on like:
Analytics with Magellan
Federated compliance
Mark up with Brava!
xECM to SAP
Cloud microservices
External sharing with Core
Quote: Information makes Agility more responsive
…
Product update on 21.2

What steers the roadmap?
User experience

We have an APxCelerator for mobile invoice approval. It works seamlessly with our work from home paradigm. The AppWorks gateway is required together with OTDS for authorization. The ReST services support coding requirements.

On-the-go experience with D2 Mobile 4 Documentum. Process D2 workflow tasks directly from your mobile. Ability to edit files and create new versions.

Documentum D2 comes with a new workflow management solution where we can start and manage workflows from D2 Smart View.

D2 gets the new "Intelligent Viewing" for evaluation only. We already saw a lot about this viewer in other sessions!

Digital business & workplace

Connectors are key…Documentum gets Microsoft integration with O365 from D2 as well as xCP via the "Content Connect" solution where we will see tailored repository views.

Makes it possible to save content to Documentum directly from outlook, but also working with Documentum folders directly from within Teams and SharePoint. It performs a process-based collaboration on DCTM content

Intelligent automation

A new workflow designer enables easier creation and management of workflows. Comes out of the box and works with D2. It's a modern and web-based BPM 2.0 process engine (supported by Documentum itself as well as D2.)

xCP (as 'case management') gets a new modern smart view like UI for the 'case view widget'

Information governance

InfoArchive is the business-complete data solution. It's supports a cross application search with package level metadata and ongoing improvements for CE.

Content Transformation Services can generate renditions with dynamic revision tracking. This is extra information embedded into a PDF formatted rendition. CTS can now also add textual watermarks in video material.

Cloud

Any cloud provider is supported like we see also for all the other products. We see Documentum is getting a split into several container image libraries like DA, D2, Docbroker, JMS and ReST containers.

The 'ContentBridge' will take care of any migration add-ins to extract, transform and validate data. Also have a look at this video for more information.
…
The future?
Run anywhere - multiple platform support

New Documentum search with modern indexing and search services

Reduce latency
Natural language experience
Cloud scaled
Regulatory compliance and data residency
Straight-forward migration from xPlore

Cloud KMS & HSM for encryption key protection

Insights for system security and health

Microsoft integration

D2 (Smart View)

Mass update on properties
Lifecycles (with all the business rules applied in various states)
Core Signature (directly integrated into a workflow step)

On-the-go experience with D2 mobile

Expanded Case Management feature set in xCP Case Management

Common workflow engine and designer across the Documentum portfolio. Not yet GA!
…
Documentum workflow designer - demo

After this creation we jump into D2-Config where we can further configure the process specific for D2. This still makes it a dm_process object type with dm_workflow object instances. D2 SmartView makes it possible to handle the process tasks in runtime! Does this also work with Webtop?…Let's try that out in the future!
---
Intelligent Viewing for Content Suite, Documentum (D2) & Extended ECM (by Kiley Hyatt)
The new features or intelligent viewing and how it fits into all the mentioned platforms…Give it away Kiley…I'm very curious on this one!
What is viewing? It's more than just document viewing. It's an advanced integration into all the OT products that adds significant value for customers. It must be a scale to grow and flexible to meet the changing needs for customers. This all needs to happen securely with capabilities of annotating and redacting information.

What's in the newest edition? The challenges are still the same which we also face today…It's all about user access, security & compliance, and deployment & integration.
Brava! and Blazon fill the needs today, but the future will be the new 'Intelligent viewing'…It's the next generation and is built around a set of features like transformation, comparison, but also annotation, redaction, security, and publication.
The new intelligent viewer is build up from the ground to support the cloud. When you're not yet into the containerized world yet, it's also available to be run as local service with a traditional installer.
Content Suite is seamlessly integrated with intelligent viewing. That's the same for xECM. D2 also gets an integration, but it's still in experimental mode.
Complementary features:
In place viewing; shows off the highly customizable client API with viewing documents in context with the rest of your files. It provides a sap into and out of a full screen experience
Accessibility client; Keyboard shortcuts, text selection, accessibility for people with disabilities (WCAD 2.1 compatible)
Premium features:
CAD drawing capabilities; view native layered CAD files with annotation tools and measurement tools
Multiple redaction reasons
Multi file view; Load a document collection in a single view as VD with support for search, annotate and exporting the VD
…
Roadmap - Intelligent viewing from Brava! & Blazon
Feature comparison; There will be differences between intelligent viewing and Brava! & Blazon, but we will listen to feedback and close the gap as we continue to identify major use cases
Licensing; It comes with a much simpler pricing model. There will be a program to swap customers from their Brava! & Blazon licenses.
Migration; Markup conversion tools will be provided and APIs will be available to write your own migration tools
Integration; The APIs will be difference compared with Brava! & Blazon, but OpenText will handle these by integrating already with CS, DCTM and xECM
---
What's new & what's next with AppWorks (by Nick King)
A quick overview of what is done on the product, but first a quick introduction what AppWorks is and what are the broad functionalities…Well, if you follow this blog you're already by the time what value the product can bring.
In short:
Business Services layer; with processing, case modeling, role & security, tracking and auditing, information exchange, content management, business rules and analytics & reporting
Integration layer; with SAP, Microsoft, and Oracle. Here we see also user authentication, system APIs (SOAP/ReST), EIM and all the capture, ML, and predictive analytics
User Interface layer; responsive HTML5 on desktop and tablet. Role based, component reuse, external content, and themes
It's all low-code with just configuration!
Release themes:
Developer Agility where we focus on modern, intuitive low-code experience for rapid time to value
End User flexibility where we focus on more end-user customization and configuration to meet the unique requirements
Intelligent automation where we leverage OT EIM services for digital transformation
Cloud readiness where we run on private/public cloud and adhering compliance, security, and performance
Supportability where we just stay up to date while innovating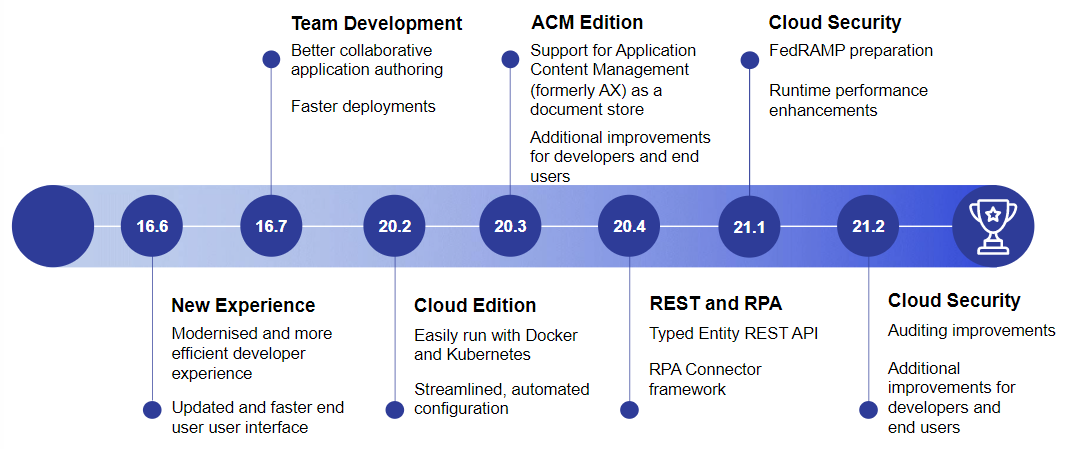 RELEASE 21.2…what's in it?
Activity flows can be copied and renamed
Entity renaming without broken references
Web services BB on EIS entities…finally!

CRUD operations
Relationship from native entities
Custom 'find' services

Configurable 'responsible' grid column with horizontal scrolling

Users can resize and re-order columns
The developer has the 'Auto resize' option to configure

Repeating group containers

Sections are more responsive
Filter options are available inside a group container

Autosuggest with static enumerated properties
Smart caching of static files (improves speed)
Office online support with content server (not for Documentum)
OpenText full intelligent viewing support (only with business workspace and xECM, so no Documentum yet, but it's there to come!)
FedRAMP compliance (looks like the lines are tightened every release)
Automatic logout confirmation (we already saw this feature passing by)
AppWorks Gateway (for building hybrid apps) goes into the cloud with a CE release

Push notifications
Updated the clients (iOS and Android)
Intune integration

Discontinues stuff: RHEL 6.X, CentOS 6.X, Apache Jackrabbit as CMS, iHub 16.7 (you need to upgrade!)

---
Meet the next generation of the OpenText™ CMS & roadmap (by Jason Jackson)
The plan for this session:
Digital experience strategy + vision
OpenText CMS roadmap and philosophy
OpenText and Google co-innovation (aha…Google again!)
Content is the heart of great customer experiences, but there are some challenges as content is exploding in confusion and noise. Secondly there is the personal experience at scale where data finds its drive with API integrations and AI. The third challenge is the omnichannel content delivery (assuring the same content in all the channels).
Content consumers want to have the choice when, why, where and what to consume from and this must be made consistent from the start till the end of the customer journey.
Barriers for this success:
Communication tools are disconnected
Limited awareness and insight
Content gets copied (loses correct brand voice)
Missed opportunities to grab relevant information
The solvation of this all is the OpenText Digital Experience Platform (= OpenText CMS/DX)…Aha!…And between the lines I also hear it's just the good old "TeamSite" product which is in general a Web Content Management System
The vision: create seamless and modern omnichannel experiences that all interconnect and deliver value. We do this by leverage technology, data, content, and communication to deliver intelligent, authenticated, personalized, and cohesive digital experiences for customers at every touchpoint.
That's a mouth full of vision! 😀
Cohesive content is key here, but we see a lot of separate systems that do their own specific thing really good. This is growing throughout the years when we see web content systems, email systems, mobile content systems all stick together with 'ducttape' where the customer might get a fragmented experience.
What we try to accomplish is what the customer experiences over here, matches what they experience over there!
A hybrid headless digital-experience is the solution that also drives the roadmap:
UX for Experience platform
Data, Integration & customer journey
AI/ML and automation
Omnichannel delivery
Cloud

…
OpenText & Google co-innovation…
Let's start with the 'Google remarketing audience lists' which is all the 'hidden' magic to talk about. It's a collection of website visitors or app users fathered by snippets of code added to your site or app. This list makes it possible to set rules when users should be added to such a list (like first-time, returning, geo-location)
It's remarketing in action where people get connected based on previous interaction on your site/app. Now we get to the heart of the product as it's just about strategic advertising and setting up a strategy around it.
So, it drives sales activity, increase registrations, and promote brand awareness. It gives that customer experience of 'How do they know that of me!?'…You recognize that question while browsing?
BUT…this list-feature can also be used for strategic content targeting. In other words 'OpenText CMS' users can target content with the same precision as Google can target its ads. With one simple search box on the website the unknown-user will become a known-user with a client ID and some "DXP targeting" information like page visits and click behavior. Next time a banner is shown based on this information. With filling up a form in a next session more information gets exposed from the user and this builds up a well-known user profile which is valuable for the company, so the now known-user can be steered on what content will be provided to him next time and the time after that. This is the same for targeted mail messages and other targeted communication.
---
Combining APIs to create unique value: How to be successful on OpenText Developer Cloud (by Cesar Vasquez & Ben Mens)
The 2 parts in this session:
How API can bring your success
How Delaware leverages the API
PART 1
OT developer helps you in the API world by facilitating a powerful integration to all OT solutions via APIs. "What you wish. As you wish"…In a secured manner and based on your feedback and proposals. More APIs will be available to keep enriching applications for success! It's all about extending your freedom in creativity to produce the best apps available.
When you are successful; we are successful…
Commitment; unleash creativity and invest on the developer segment. There is no limitation!
Revenue streams; Increase profits and unleash services and tolls that allow developers to open new streams of revenues!
Powerful ecosystem; OT is building on a solid API ecosystem!

We're leveraging a path to success:
Competitive advantage where you'll be the first to try our services and Information Management solutions
Help shape the IM landscape where you have a 'say' on what needs to be delivered
Be part of our marketing as developers and partners need to be involved on day-to-day activities
Get ahead of the curve to get access to information before-hand
PART 2
A nice statement: App-ification is changing our world; specialized apps can resolve pressing business challenges rapidly through thoughtful adoption and combination of smart services
Why and how to use the developer APIs? It all starts with a plan…
Setting objectives; what are we going to build
Building a team; who needs to be involved
Defining the concept; what will be our minimal viable product
The concept is a 'Course registration app' with a user interface build in Angular and Ionic. A modeled layer based on entities and relations. The backend will be an abstraction of OT2 APIs (content/metadata, signature, workflow, and viewer) and caching using RxJs.
Content service / metadata service
Store blob data and extend data models and subtyping. Access Control Lists define the security, and you get the possibility to create enhanced relationships. It's a clear and extensive API…You start to see patterns to generalize functionality to the upper layers of an application.
Viewer service
Can view almost any filetype. Easy embedding into your application. It has the ability for annotation and highlighting.
Workflow service
Has a powerful engine and is provided with a tool to create BPMN diagrams. From a BPM you can again call ReST APIs to do backend integrations, and it has support for custom scripting.
Signature service
To collect a signature for signing a document by external users via an email. It is also possible to have a tighter integration with an in-app embedded signature GUI.
…
Final conclusions:
Scalability; Indefinitely scalable cloud and relieves in terms of management
By devs for devs; Attention for feedback on usability of the DevX portal and how to improve it
Pick & Mix; Tons of flexibility with all the microservices to extend and build complete apps that incorporate with other services too
Speed to value; A developer can rapidly integrate OT2…way faster than using traditional software packages!?
Rapid evolution; OT is delivering vast amounts of new functionality each quarter
Community; Competitors share experience which fortifies adoption and growth of the platform
---
Product labs
During all the sessions it's possible to follow some product labs. I followed only one of them this time with some interesting content for you to consume:
Extended ECM Platform (xECM) that can be followed from this link where I followed these topics (all beginners level). Why? Well I'm just curious as I hear a lot about xECM, but it's always a black box to me on what you can do with it!?
Extended ECM for Engineering

Efficiently control engineering information, work processes, and risk across the lifecycle of projects and operations to accelerate revenue. This lab will take you through a number of different usage scenarios with the Extended ECM for Engineering product.

Extended ECM for Microsoft Office 365

In this lab you'll learn how to access Office 365 facilities via Content Server connected workspaces. You'll see how to work with Office 365 features in Content Server – including access to the Office 365 team calendar and threaded conversations. You learn how to access and work with documents that reside in Office 365 SharePoint from the extended ECM smart user interface and how to access connected workspace content from the SharePoint user experience.

Extended ECM for SAP SuccessFactors

Extended ECM for SAP SuccessFactors enhances the value of SAP SuccessFactors solutions by securely managing all unstructured content related to employee files and beyond. This lab will take you through a guided demo experience with the product

Extended ECM for Salesforce

In this introductory lab you'll learn about OpenText™ Extended ECM for Salesforce® which connects cloud services to the OpenText Extended ECM Platform and surfaces ECM capabilities and content inside the Salesforce user interface.

Vendor Invoice Management for SAP Solutions

OpenText™ Vendor Invoice Management for SAP® Solutions (VIM) optimizes and simplifies the process of receiving, managing, routing, and monitoring invoices and related documentation. This lab will take you through a guided demo experience with the product
Was it worth the hour of time to spend? In my opinion not really…I learned a lot, but nothing about any xECM stuff in the background. I would have expected to learn about the real insides of xECM, but for me it's still the black-box as it was before!?
What I did learn:
That OT can make the most nicely looking demo's
Sending out transmittals to external demo parties
Switching Smart UI with Content Server UI (both live in their own world…The same we see with AppWorks and Documentum)
Brava! Viewer for DWG files and boy did we learn to annotate
Geospatial Navigation (via a map)…Nice for demo's but will probably never be used in any of my projects.
Oh yeah…Also click quicker through the demo as the Azure image is shutdown under the blink of your eyes with a nice mail message: Your hands-on lab time is up!
O365 is integrated into OT content suite via (I guess) xECM, but it's still jumping forward and backward from the content server UI to the O365 applications
'innovate' has something to do with SAP SuccessFactors and they can sign a document with 'DocuSign'

With the 'InVision' demo you for sure learn how to find those 'red' circled clickable areas!

'SalesForce' is just another great OT product to play around with (maybe in the future…Maybe never…we'll see)
SAP is much more than the hour registration system I know it from! 😁
xECM has its own Smart UI portal, but I also saw some non-smart UI (= classic view) passing by during the demo
For me this video still explains best what xECM is and what it can do for you.
---
Innovation labs
Not much to say here…Why? Well, I signed a "One-Way Non-Disclosure Agreement" with OpenText which stated some 'General obligation' and 'Use limitations'…In simple words…"You are not allowed to share any content about what is presented or discussed".
But to make you a bit curious…I followed indeed some interesting sessions on these topics, but I can't tell any more details.
OpenText Developer
OpenText Documentum D2 Workflows
---
Final thoughts and expert questions
APIs and services make everything "Modern"

On-premise is now called the "Off-cloud"…Next to the private/public cloud

'Single source of truth' is key

We want to upgrade to the 'Ultimate' cloud

Place 'content into context'

Every demo I saw is shining bright with all the nice new SmartView UI

Expert questions I asked:

Gino Vicari: AppWorks with Documentum connector with multitenant OTDS still needed? As always you learn much more from Gino than the initial question, and the discussion quickly got a turn around to Kubernetes in combination with AppWorks…Highly valuable again with these topics:

The answer on the initial question: It should indeed be possible to use only one OTDS tenant to connect AppWorks with Documentum, but never tried it out…I got some inside contacts from people who tried it out…valuable again…THX!

Nick King: Simplified consumption of ReST in AppWorks? I wanted to know more on how Nick sees this particular feature as I also see more and more ReST consumption from the AppWorks platform. Let's ask this question during the monthly calls we already have!

Ethan Beisher: Say thank you for all the support and if we also have some AppWorks Mission Impossible session? I could get a grip this time…But I must admit that the time was also over!

Wim Boonzaaijer: Just say hi! and some chit-chat about current projects. Also, some thoughts about what to write about on this blob page on the subject called 'DigiGov'. The digital government build in AppWorks.

Kelli Smith: About the 'AppWorks Case Accelerator' as I would like to write about on this blog! This accelerator is now GA and publicly available for customers, and I got the approval to write about it in a future blog. I am even allowed to directly contact Kelli for questions and feedback…great!
---
And that, my friends, was a 'Grow' in digital experience for me with a very great (L)earned "DONE". I give it 5 👍👍👍👍👍 for this event that made me more curious on what the future will bring on my path of knowledge! Very well done 'OpenText'…Hooray! I see you in the next post…
Don't forget to subscribe to get updates on the activities happening on this site. Have you noticed the quiz where you find out if you are also "The AppWorks guy"?