Hi there AppWorks fans,
Welcome to a new installment of AppWorks tips.
This post will give you a wrap-up of the 'Enterprise World Europe Digital' event from last week (April 8, 2020)! For the first time it's a digital event so we'll see what we get. As far as I know it's also a fully free event for the first time…This is great for the value you get back from this event! Because these events can be very time consuming I made some focus points for myself to keep it all within the timeframe for this post.
Focus points for me as a technical consultant are:
"AppWorks" as it is the main topic on this site
"Documentum" for the 15+ years' experience I have with it…
"The resilient Cloud Edition 20.2" as that's where it's all about this time!
"AI and Analytics with Magellan" because AppWorks uses Magellan iHub for reporting and dashboarding
"OT2" because it's all new and the consultant in me is just curious what is happening here…I can tell you that it will be great stuff we're working with in the future!
---
Let get right into it…
And get into the portal from the registration mail! You can still register from here and also enter the portal from that same site!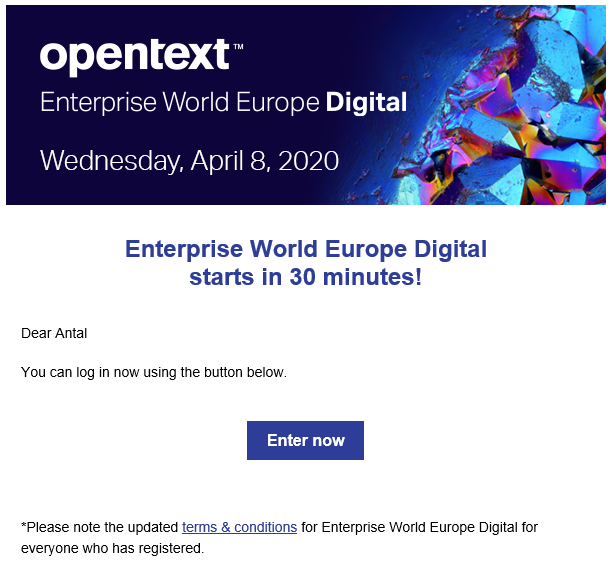 It all starts with The digital zone with all kind of lobbies to choose from…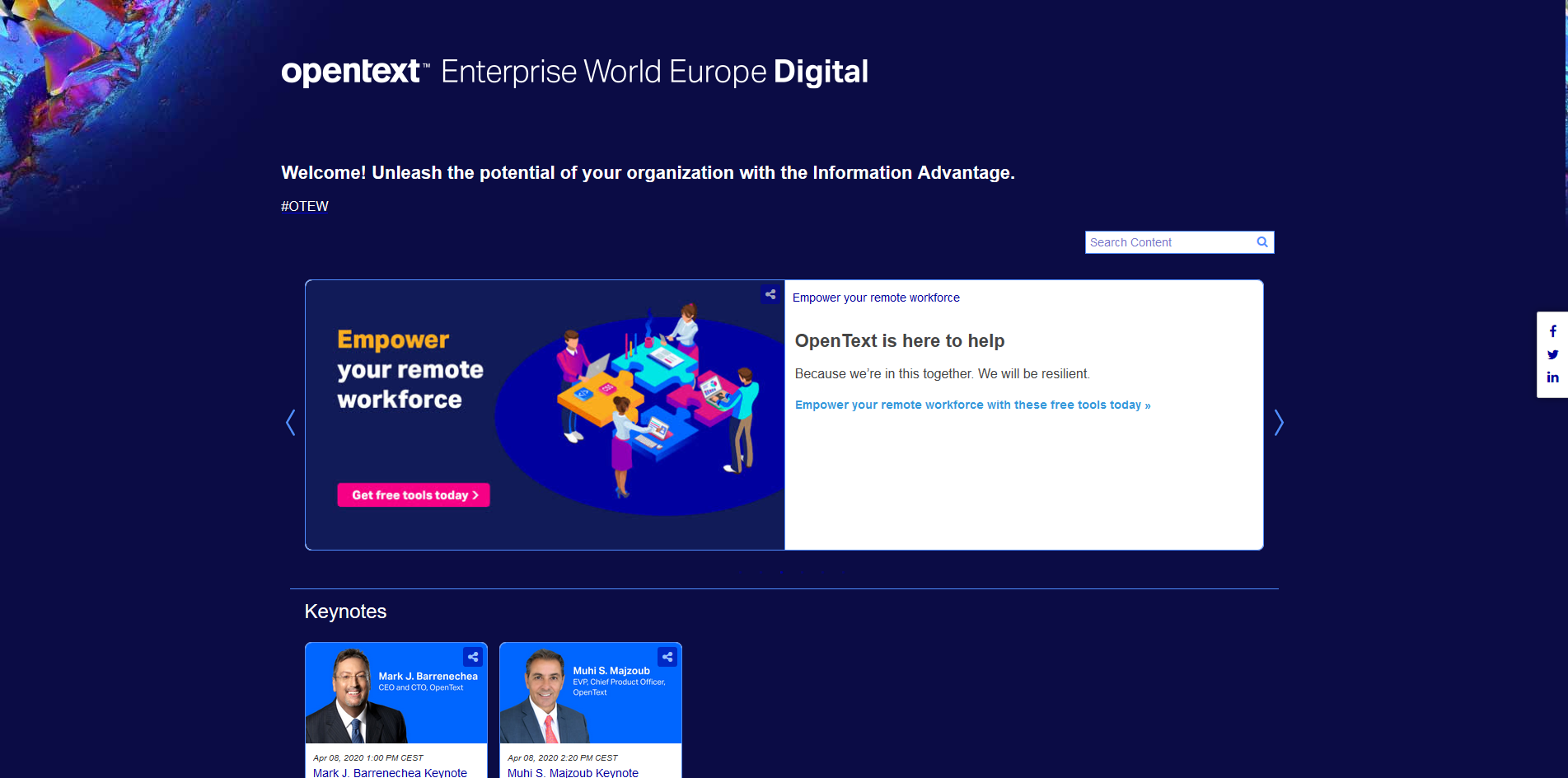 At one o'clock (13:00) the first keynote will start…Let's jump into it!
---
Keynote: The Resilient Organization (by Mark J. Barrenechea)
Let's start with some numbers
2500+ attendees
600+ partners
2 keynotes
5 sessions
12 breakouts
50+ Analysts
1 Digital experience
OpenText is still 'The information Company' you want to work with. They have 30 years of experience to help companies with the 'The Information Advantage'.
This decade brings a lot of differences like moving…
From on-premise to cloud
From analog to digital
From process to information
From local to global
OpenText is also the 'Resilient organization' that stands strong (also with COVID-19) where remote work is possible, but also contactless retail, data protection and cloud access is part of this all. Security needs to take its place and we see a lot of service API's that makes remote access possible to all the that data!
Customer experience is key and also the delivery of solutions is important for the customers. This is supported with certified consultants and the expertise you can rely on.
Enterprise Information Management (EIM) goes (Global) Information Management (IM)
It's an information journey!
20.2 CE is the go-for release and ready for the cloud with containerization
OT2 20.2 is getting closer to the developers
They move to a quarterly release cycle where 20 is the year and 2 is the quarter!
It's all about the digital experience with this CE release. We want to have a frictionless commerce and creating trust and innovation with cyber resilience. Client engagement is key and enterprise solutions most important. We are ready to serve, across the world. You need to train, block, and protect as well as handling backup and recovery. Together agile! 💪
Cloud keys
Now it's time to move to the OpenText cloud!

Bring your own license (BYOL) in the OpenText cloud.

There is a cloud delivery team standing by for all your help.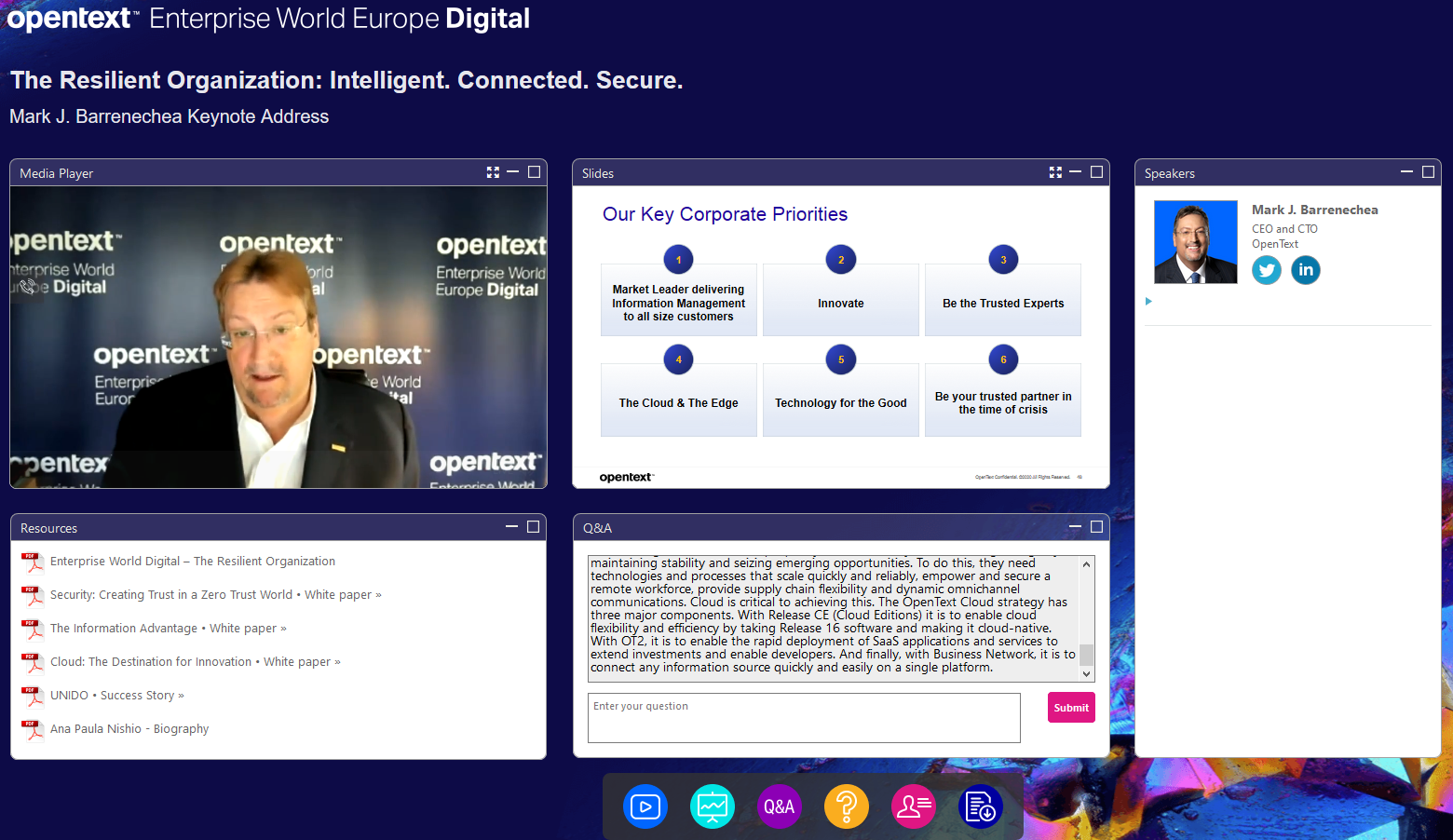 ---
Tech keynote: Innovations in Information Management (by Muhi Majzoub)
Release 16 EP7 was focused on integration, analytics, automation and User eXperience
Now we have the 20.2 Cloud Edition release that is superseding 16.7…what will it bring?
Cloud native with containers in a hyper scaled cloud
Customer drive innovation
Deploy into the OpenText cloud
Pair with managed services
Quarterly releases
Incentive upgrades
Delivering services and applications with "OT2"
https://developer.opentext.com/ is your main space!!
You can now (finally?) register for the OT2 beta on https://www.opentext.com/DeveloperBeta
Modernization of "Documentum" user experience
This is what's new in 20.2 CE

Rapidly build applications and automate processes with "AppWorks"
This is what's new in 20.2 CE

Advanced BI, Text Mining and Big Data Processing for Actionable Insights with "Magellan"
This is what's new in 20.2 CE

---
What's new and what's next with OpenText AppWorks
First an update from "Lori McKellar" on what AppWorks is and what it can benefit you, but that's what we already know…let's jump right into the update from "Nick King"…
We get a cloud ready platform where our beloved developer can do an agile way of working for rapid time to market solutions!
The cloud
Choose for a classic mode of the installation…Like we do on this website. Still a valid way of working, but there is also a container mode installation that is much smaller in the initial download size and will download the related software during the installation…What!? So, it's all prepared with docker-compose files that drag in the images automagically? It's on my backlog…we'll see! (Spoiler…Yes it is!) 😜
Benefits:
Scripted deployment with Docker containers
Kubernetes for scaling
Optimize you resources
Simplify configurations
Automatic deployments
We will get application specific images (like PostgreSQL, OTDS and platform) that can be configures in YAML files. Default settings are provided, but you can overrule that. The YAML files can be part of you source control which is also a big benefit.
The "new way of working"
Develop the solution
Build a CAP file
Add the CAP to the build folder
Build a new container from scratch with your solution!
This new image will be hand over to the operations people that can update the environment specific settings and update the Docker compose files so it can be ran on Docker/Kubernetes…Nice! 👍
This 'new working way' makes it all very compliant and repeatable! With Kubernetes we even get high availability support on top of it.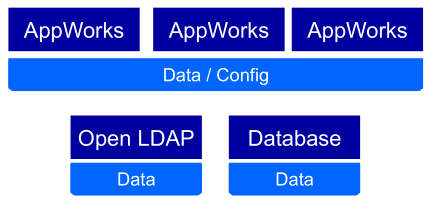 Patching and updating? It's all the same…build the image and deploy. Also, with an application update…We're in a new era!
Note on upgrade from classic to cloud

Only move what you want to container…Database can remain and even CARS can remain. Applications need to be validated. Document Store will be recreated so make a backup of your settings!
We can even run in hyper scaled cloud providers like:
OpenText cloud platform
Google cloud platform
Azure Kubernetes Services (AKS)
Amazon Elastic Kubernetes Services (EKS)
The "agile" developer
That is what you already saw in the previous post last week where we gave an update on the new 20.2 CE features!
Roadmap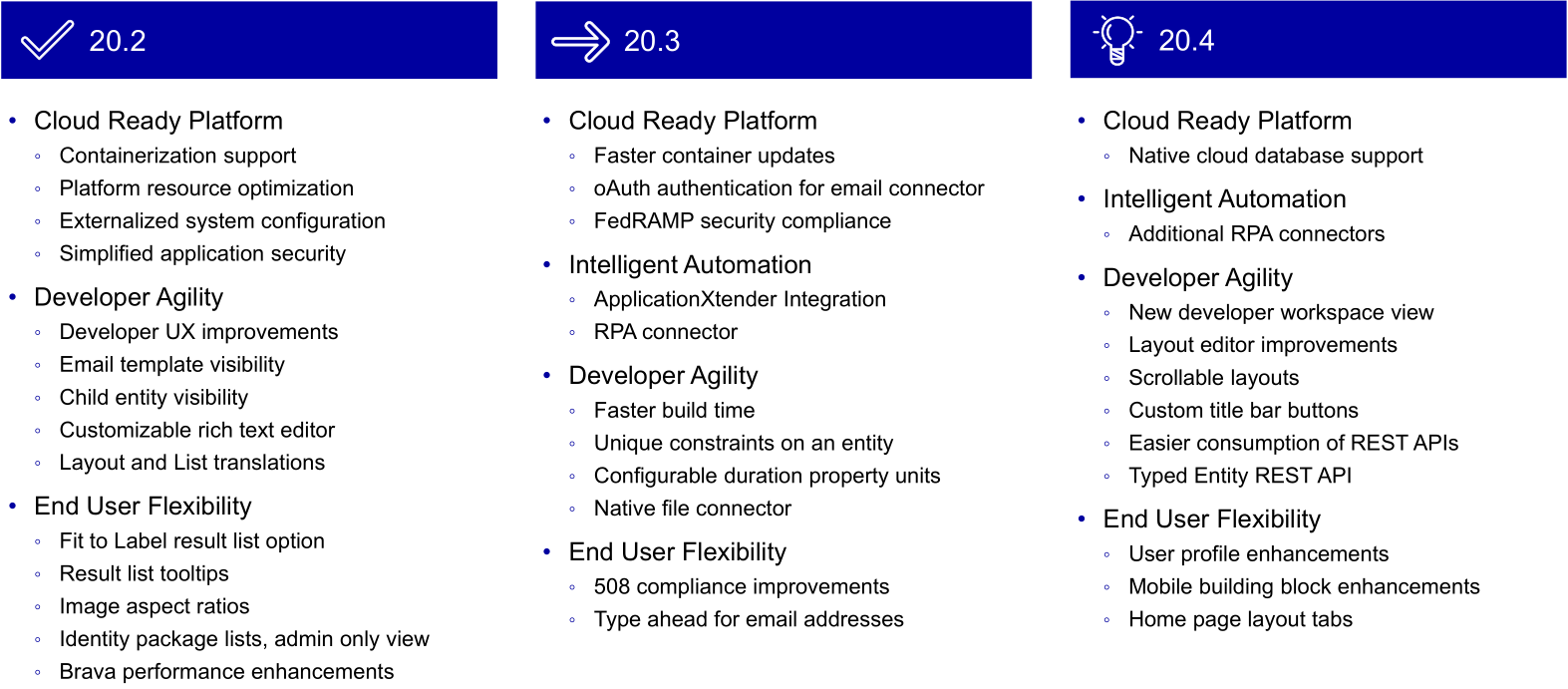 ---
What's new and what's next with OpenText Documentum (by Micah Byrd)
Documentum is getting more intelligent with the capture, archive, search, analytics components. The content services platform (that Documentum is) is still in the top-right corner of the Gartner MQ!
Research and development is still done to keep the platform in good shape!
D2 is also getting into the cloud with a lot of productivity enhancements that also involved virtual document support via the latest D2 Smart View client.
Secure mobile access via D2 Mobile that brings direct access to the repository from your phone/tablet to interact with the content in it.
Connectors and integrations with:
Also, Documentum has a cloud strategy to choose from. It can be at OpenText cloud platform but also other hyperscale providers can be chosen.
It's a bit the same story as we saw at the 'AppWorks' session. It's building container images rapidly and repeatedly for (also) scaling.
Here we see also these hyper scale cloud providers like:
Red Hat OpenShift
Cloud Foundry
The cloud is our "savior" for the future if we must believe this image!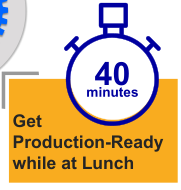 And I also agree on this, but a it requires a good CI/CD strategy which is a project on itself. From experience I can tell you that these projects are not the easiest to do and involve a lot of security bridges. But again, OpenText cloud platform can help you on that one! 👊
Some video samples can be found here in the "How to upgrade Documentum using Containers" section.
xCP update with a new 'Process Manager' solution that brings a blueprint for success! You get a head-start on app development with pre-built functionality. Also TensorFlow is integrated for predictive decision making!
Documentum meets the Information Governance Reference Model that makes the product more standard, stable, and compatible so it fits into the standard EDRM framework.
More secure and managed assets with redaction by Blazon with OCR and GDPR compliancy! Documentum is also the core for "federated compliance" together with InfoArchive.
Another great resource can be found here "Alvaro de Andres' Blog":
Recap (not a 'real' roadmap overview like we normally see)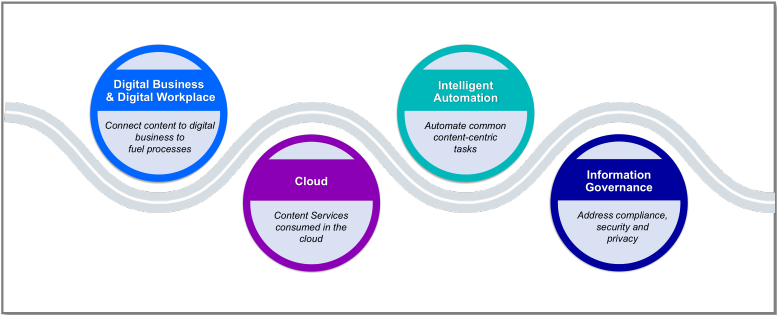 ---
Create innovative applications and drive digital transformation with the OT2 platform (by Nicholas Carter)
What is OT2?
The SaaS information platform for developers, partners, and customer for EIM application…Or should it be IM applications as we learned in the keynote!?
It has foundation services and core services for developers on build on "Cloud Foundry" and "OpenText Cloud" data centers. On top of these services you have the applications. Or better 'the containerized pre-build applications' for you to use; Like apps for capture and other integrations.
Services and applications on OT2 will now be 'really' brought to the developers…It's the next phase! 😘
What kind of services are we talking about?
| Selling services | Foundational services |
| --- | --- |
| Content | Authentication |
| Capture | Storage |
| Signature | Notification |
| Workflow | Event |
| Document creation | Search |
| … | … |
The 'selling services' are the heart of the platform!
For developers is the 'Core Content Service' the most innovative as it has a lot of updates in the 'Content Metadata', 'Content Storage' and 'Retention Services'.
OpenTextDirectoryServices is fully supported for user authentication now and in the OT2 Admin Center you are able to select multiple authentication options! The admin center is also updated with features to make user management much easier!
OT2 started with the capture service…nice to know! You can extract data from documents and do classification on it. The future is also bright with learning capabilities.
Brand new (5 days old) is the 'Workflow Service' where they learned from the xCP and AppWorks BPM capabilities. This comes with a new workflow modeler in the "developer experience" that can be published in the runtime of OT2 or in the runtime at the customer itself!
Also new is the 'Core Viewing Service' which is based on Brava!. Well, it does what it says…Viewing content!
With Blazon there is another service made available with the name of 'Core Transformation Service' to make content and document transformation possible.
And the last new service is the 'Core Signature Service' which makes it possible to sign-off your tasks that flow out from the 'Workflow service'. You can even involve external users with it!
What is there for the developers?
"EIM workloads" (the old OT2) is moved to the cloud now!
Why? Lower TCO, modern, innovation and one SLA with (E)IM experts.
It's called 'The Programmable Cloud' for the developer experience.
Released in the end of April 2020…Go to https://developer.opentext.com
What will be there?
New forum
Webinars
Podcasts
Code samples
Swagger documentation
SDK's
All the nice stuff for us developers….Hooray….Finally! 🆕
We move from low-code to pro-code!
And this is how it will look like…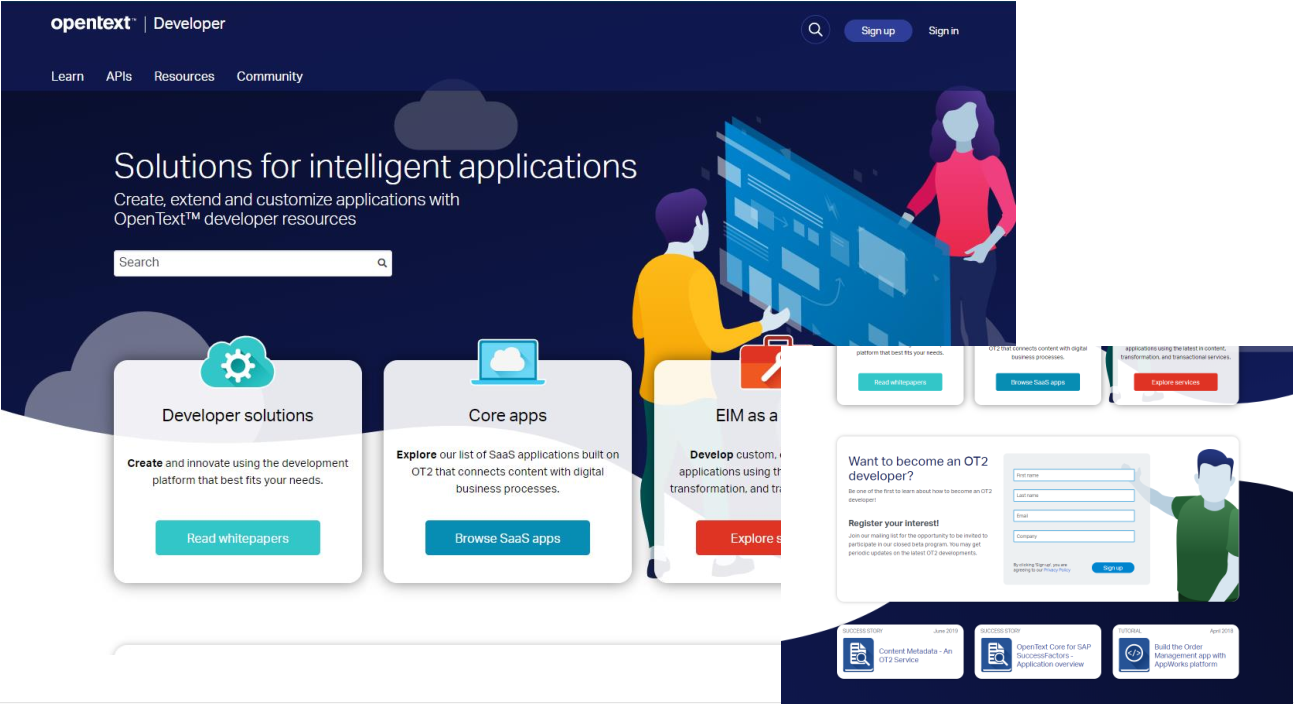 OpenText is making it as easy as possible to use and consume the API's. You need to select a developer plan based on your intentions on the OT2 platform. After login/authentication you get into the OT2 Console where you can view what you are doing! The whole back-end API management is done via 'Google Apigee'
Some sample applications
OpenText is using its own platform to deliver these pre-build applications to customers:
Core for Experience Insights
Analytics on event attributes
Dashboards with data and metrics
Core Signature
E-signatures in CMS
Templating
Core for Capital Projects
Managing documentation
Brava! viewer
Core for Supplier Exchange
Sharing content to external providers
Sounds like an external file sharing app
Core for Building Information Modelling (BIM)
Sharing metadata
Matching and managing the metadata with submission models
Core for Federated Compliance
Retention management and compliance
Consistent policy control
Core for SuccessFactors (with SAP)
Document Management (like the smart UI)
Document Generation (no CMS like Documentum or Content Server. Direct on OT2!)
Core Capture
Content processor (image clean-up and data extraction)
Machine learning capabilities for further automation
Roadmap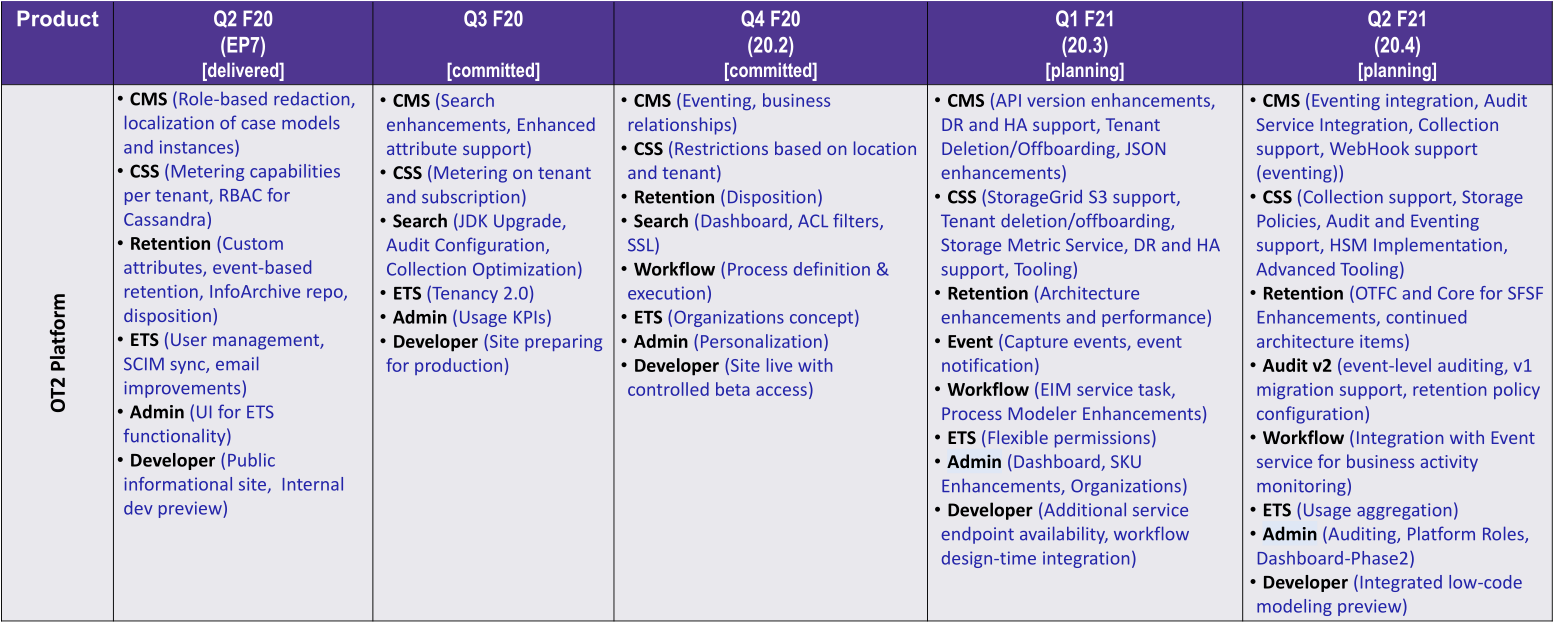 ---
Magellan AI optimizes your business processes
What is Magellan?
Reporting, Artificial Intelligent, big data, analytics and leveraging it all…Big content…The future! All the information makes it possible to make decisions based on this data. A sample can be found here
Components of Magellan are:
Text mining
Data Discovery
Analytics and Machine Learning (ML)
Business Intelligence (BI) and reporting
Data lake and spark processing
ECM can have (integrated) 'Magic folders' with intelligent filing that is powered by the Magellan analytics capabilities.
In Appworks we can have dashboard (that's iHub!). And not just dashboards….They are called *"High visibility and fascinatedly interactive dashboards"*…Holy crap…That's what we want! These dashboard 'work' with the data and don't just show it.
Data and Content
It's about semi-structured and unstructured content the that be put through the 'brains' of Magellan. The software can get and crawl content from repositories like Documentum. Even from just websites! It's all about text mining, extraction of data and classification. This all is done to make a summarization for future decisions!
We get more and more content that we want to 'understand' and that's why we need to normalize the data so solutions and application can work with it. Create "meaning" from the unstructured data!
The magic formula: CONTENT + CONTEXT = VALUE!
Roadmap with strategy
Deep integration with more product integration and greater data insights. Focused Solutions for your content and add interconnected information. Artificial Intelligence capabilities with open source technologies and the latest algorithms. Containerization with Kubernetes and easy manageable deployments.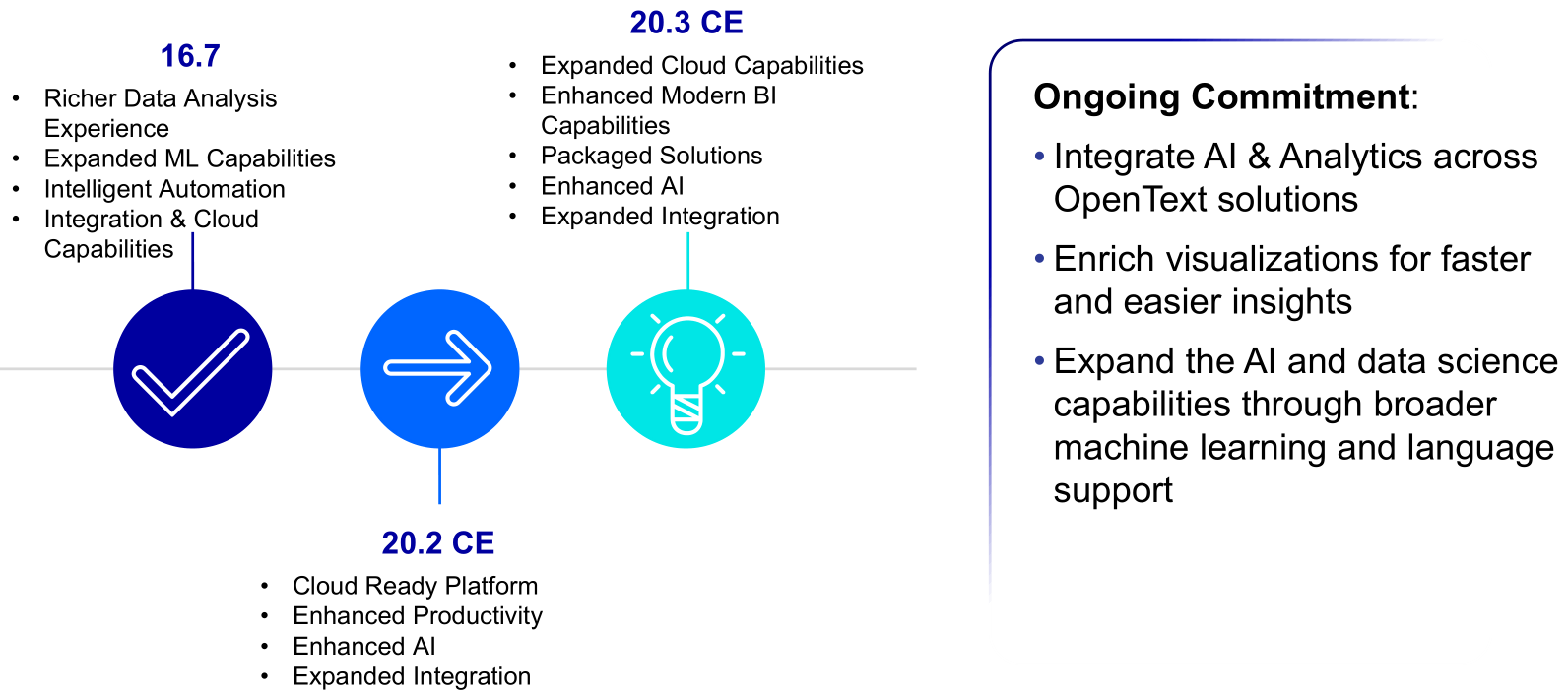 ---
And that, my friends, was a 'Resilient' digital experience for me with a very great valuable "DONE". I give it 5 👍👍👍👍👍 for this event that made me more curious on what the future will bring on my path of knowledge! Very well done 'OpenText'…Hooray! I see you in the next post…
Don't forget to subscribe to get updates on the activities happening on this site. Have you noticed the quiz where you find out if you are also "The AppWorks guy"?